By David McGee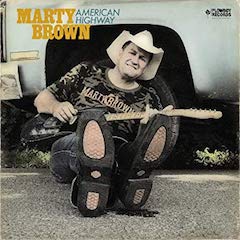 AMERICAN HIGHWAY
Marty Brown
Plowboy Records
You're only a second or two into American Highway when you hear a familiar twanging guitar and captivating melody before Marty Brown emerges in his self-penned title track celebrating an American landscape abundant not in carnage but rather overflowing with life and possibility "from sea to shining sea" with outward gestures of civility encapsulated in images of "people walking down sidewalks/saying 'how do you do?'"–sentiments served up with the heartening conclusion, "We're gonna make it after all." For the remaining nine songs on his first new studio album in 25 years, with songs co-written and co-produced by the estimable Jon Tiven, Brown reclaims the outlier traditionalist pedestal he occupied upon his emergence in the '90s' Garth Brooks arena-country era and promptly abandoned upon tiring of the mainstream rat race. This isn't a return to form; it's a reminder of how Marty Brown simply stuck to what he knew was right for him, and waited until the world came around to his side again.
Your faithful friend and narrator remembers Brown's 1991 debut, on MCA, and the excitement many in the country music business felt for his engaging, and honest, neotraditionalist style. I remember as well the disappointment in an MCA executive's voice only two years later, upon the release of the artist's second album, Wild Kentucky Skies. "Poor Marty Brown," she said. Which had nothing at all to do with the quality of music Brown was offering on his new long-player, but rather with him having to buck the latest trend in a country business then being radically transformed by the arena rock predilections of Garth Brooks and his ilk, which in turn was sucking the life out of the New Traditionalist movement that had so invigorated country in the '80s following the frivolities of the Urban Cowboy era. Like his High & Dry debut album, Wild Kentucky Skies and its followup, Cryin', Lovin,' Leavin', were greeted with great critical acclaim, even as country radio consigned artists such as Marty Brown to its version of history's dustbin. If major label success was not to be Brown's fate, however, he did have something to offer the next generation of artists in the way of songs, and so experienced success as a tunesmith while migrating to High Tone Records for a 1996 release, Here's to the Honky Tonks, the title of which tells you he was still dancing with what brung him. In the quarter-century that passed between the High Tone album and American Highway, Brown laid low for a long time, doing everything but making music for a living, until he got the bug again and wound up on America's Got Talent. That he advanced only to the semi-final round seems rather ridiculous, but the exposure served its purpose in re-establishing him in the public eye, with the Plowboy deal ensuing as a by-product of his AGT tenure.
'American Highway,' Marty Brown, title track from his new album
'I'm on a Roll (Better Than It's Ever Been),' Marty Brown, from American Highway
In fashioning the brilliance that is American Highway, Brown employed the services of Jon Tiven, Connecticut-born but deeply invested in southern soul, R&B, traditional rock 'n' roll and country, and boasting a career that included a few years as a solid music journalist (with credits from Rolling Stone and Melody Maker on his resume) and as the leader of two terrific, straight-ahead rock 'n' roll bands, The Yankees and the Jon Tiven Group. Over the years he also became a successful songwriter for everyone from Huey Lewis & the News to Robert Cray to Johnny Winter (and the list goes on in the soul/blues field) and an ace producer who re-introduced Alex Chilton to the music world with the artist's first-recorded solo album, Bach's Bottom, and was behind the board on lauded sessions with soul giants Wilson Pickett and Don Covay as well as the King of the Blues, B.B. King, along with steering tribute albums honoring the likes of Curtis Mayfield, Arthur Alexander, Van Morrison and Otis Blackwell. This is the abridged version of his extensive credits and impressive career. Teaming with Brown on American Highway, Tiven, in having a big hand in shaping a long-overdue major comeback event by a gifted artist (in much the same way he revived the recording careers of Don Covay, Arthur Alexander and Wilson Pickett), also reminds us of his own rich history and deep knowledge of music and music making on multiple levels.
'When the Blues Comes Around,' Marty Brown, from American Highway
'Mona Lisa Smiles,' Marty Brown, from American Highway
American Highway's sizzling soundscape is made for rocking and ruminating alike, and delivers an artist revitalized, as Brown himself articulates in the propulsive, driving energy of the self-portrait titled "I'm On a Roll (Better Than It's Ever Been)." This and the humanity of the title tune—and how we needed it right now—are enhanced by the beauty of the reflective heartbreaker "Kentucky Blues"; in the intensity of the internal battle between wanderlust and love permeating "Velvet Chains"; in the majesty and common sense perspective, bolstered by the gut-punch of Simon Kirke's (yes, Simon Kirke) drums and Tiven's majestic, soulful organ and searing guitar on "When the Blues Comes Around." Add to this mix the lighthearted sociological portrait of inveterate gamblers on the road in "Casino Winnebago" and an interesting, shimmering treatise, "Mona Lisa Smiles," juxtaposing the predictable passing of history and the brevity of life with the baffling, mysterious, sees-all and seen-it-all expression on the face of Leonardo's muse, unchanging as the centuries roll on—"still through it all/from her frame on the wall/Mona Lisa smiles," Brown sings with the knowing wink of a man who has learned much about endurance in his own time. He who laughs last, laughs best, so they say. Herein Marty Brown, on a roll, better than he's ever been, has the last laugh, big time. Welcome back. Now hang around.