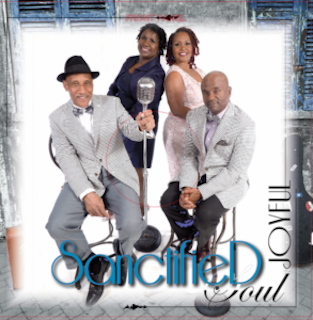 '…helpings of jazz and gospel, soul and R&B…'
JOYFUL
Sanctified Soul
Rampart Street Music
Gospel saxophonist Harold Rayford once said that jazz and gospel are first cousins. If that's so, New Orleans produced some of the first cousins' earliest progenitors, from King Oliver and Louis Armstrong to Mahalia Jackson and Bessie Griffin.
There's also the New Orleans ensemble Sanctified Soul, which offers helpings of jazz and gospel, soul and R&B.
The group lives up to its name on its latest album, Joyful, and the collection of gospel, inspirational and classic jazz songs lives up to the album title (which, based on lyric content, could easily have been Hopeful).
The opening track, "If U Want to Praise Him," sets the mood with its gospel lyrics, rhythm section and Earth Wind & Fire-style funky brass, courtesy of the New Orleans Horns. The album's finest track, "I've Got That Fiya," is a gospel blues with a Holiness focus on baptism by the Holy Spirit. Of the 10 cuts, it best blends the vernacular with the sacred.
'I've Got That Fiya,' gospel blues with a Holiness focus on baptism by the Holy Spirit, by Sanctified Soul, from Joyful
'Bridge Over Troubled Water,' by Sanctified Soul, from Joyful
Non-gospel songs like "Do You Know What It Means to Miss New Orleans" (with a dreamy trumpet solo) are included here, while others, like the Louis Armstrong favorite "What a Wonderful World" and an acoustic version of Leonard Cohen's "Hallelujah," have spiritual sensibility. For me, though, the breathtaking instrumental version of "Hallelujah" by fellow New Orleans duo Tanya and Dorise best captures the melancholy and hopeful spirit of Cohen's original than any other recorded version.
"I've Got a Feelin'" employs brassy funk to ruminate on how individuals can use their voice to bring "love, joy, peace, and understanding" to this "sad world" in which we live. It rolls along like a slow-motion Sly and the Family Stone workout. Another track like "I've Got a Feelin'" is "Let's Get Together." Not the Al Green love masterpiece, this one seeks brotherhood as a way to overcome strife. The melodic "B.S.U.R." (aka Be As You Are) declares we will find our star by being ourselves instead of trying to be like, sound like, or look like someone else.
'I've Got a Feeling',' by Sanctified Soul, from Joyful
'What a Wonderful World,' by Sanctified Soul, from Joyful
Sanctified Soul has a polished professional sound; there are no rough edges or raw moments on Joyful, and lead vocalists Rose Jackson, Timothy Ashmore and Curtis Mitchell are all skilled. This no doubt is what endears the troupe to New Orleans tourists and natives alike, and has gained them a fan following as far away as Europe. Appropriate to the group's musical pledge of allegiance to old school, Joyful is available on vinyl as well as on CD. As Louis Armstrong might say, "Oh yeaaahh!"
Pick: "I've Got That Fiya"
***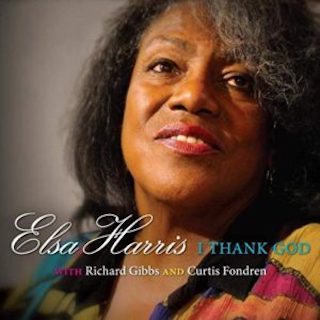 '…traditional gospel music should thank God for Elsa Harris…'
I THANK GOD
Elsa Harris
The Sirens
Chicago is the birthplace of gospel music and, in many respects, it's also the home of the genre's most ardent preservation efforts. In addition to the forthcoming National Museum of Gospel Music, the vitality of traditional gospel in the Windy City can be heard on veteran gospel artist Elsa Harris's mostly instrumental CD, I Thank God.
Harris's piano proclivities, forged in the practice room as well as the church, recalls the jauntiness of traditional gospel, a distinctive sound too often obscured in the wake of today's penchant for atmospheric, megachurch-filling rock-infused P&W anthems. Harris, on the other hand, sits at the piano and takes listeners back to the little wooden church on the hill (or on the block) with her rolling, hand-clapping old-school Baptist and Pentecostal style. This is especially evident on two of the CD's medleys: "Glory Glory Hallelujah"/"Down at the Cross" and "What A Mighty God We Serve"/"Oh the Blood"/"Nothing But the Blood"/"There is Power." The latter is a combination of congregational singalongs frequently used to open worship services.
Equally compelling and just as famous are Harris's musical companions on I Thank God: organist Richard Gibbs and drummer Curtis Fondren. With skills honed in the music school called the African American church, Gibbs (the son of Inez Andrews and Soul Stirrer Richard Gibbs and, for eighteen years, pianist for Aretha Franklin) is just as dynamic and engaging in his keyboard work as Harris. Fondren, well-known in Chicago for providing percussion at such iconic institutions as Fellowship Missionary Baptist Church, Cosmopolitan Church of Prayer, and Christian Tabernacle, keeps a steady beat while employing his own toolkit of improvisation at strategic points.
'I Thank God,' Elsa Harris, title track from her new album
A number of titles on the album hail from Harris's tenure with Jessy Dixon and the Thompson Community Singers. Among these are Dixon's "The Wicked Shall Cease from Troubling" (aka "Sit at His Feet and Be Blessed") and the congregational favorite, "I Love to Praise His Name." The title track, a piano-only cover of a song Harris did with the Tommies, is filled with thunderous arpeggios and graceful grace notes that transform the piano into a flatfooted church singer. Harris's "Lord Don't Move that Mountain" is a tribute to Gibbs' mother, the late Inez Andrews, who propelled Doris Akers' composition to national prominence in 1972.
Ironically, where the trio offers more of a contemporary flair is on the oldest song on the album, the spiritual "Joshua Fit the Battle." For "Down by the Riverside," Harris and Company borrow from a favorite arrangement of gospel choirs, one that contains a section which, when sung, is a rapid-fire repetition of the song's title.
'What a Mighty God We Serve/Oh the Blood/Nothing But the Blood/There is Power' (medley), Else Harris with Richard Gibbs and Curtis Fondren, from I Thank God
Harris sings on only one track, the bluesy "Looking for Trouble," which uses Muddy Waters' stop-time technique from 1955's "Mannish Boy." I wish she had sung on more selections; as a vocalist, Harris has plied her trade not only in gospel but, as a background singer, for the likes of Minnie Riperton and Phil Upchurch. Moving from "Trouble" to an introspective medley of church chestnuts "I Need Thee"/"How Great Thou Art" demonstrates not only Harris's eclectic tastes but the conundrum of musical classification.
As with other releases from Steven Dolins and The Sirens, the production for I Thank God is crystal clear, letting all the little light from the keys shine. Fans of traditional gospel music should thank God for Elsa Harris.
Picks: "What a Mighty God" medley, "Down by the Riverside"
***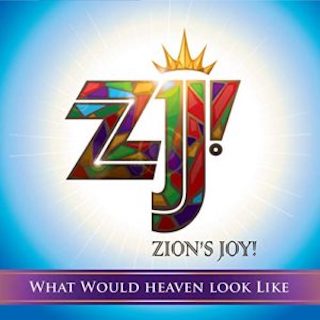 '…songs of hope and encouragement…'
WHAT WOULD HEAVEN LOOK LIKE
Zion's Joy!
Habakkuk Music
Hailing from Indianapolis, Indiana, the multicultural small choir called Zion's Joy! made national news in mid-2018 when the video for their single, "What Would Heaven Look Like," was erroneously blocked by Facebook.
From the "no good deed goes unpunished" department: it was only after the group paid to boost their Facebook post of the video that it was flagged by the social media giant as "political content" and subsequently blocked. The company ultimately apologized and restored the video on its platform, noting that "the post. . . does not violate our Community Standards and [we] have apologized to Zion's Joy."
Another irony of the situation is that, as demonstrated on their full-length album named for the song that became a cause celebre, this group cannot come off more fresh-faced and friendly than they do. Their harmonies are smiley and spit-polished, honed no doubt over more than a decade of singing together. They combine the gentle melodiousness of CCM with the hard-hitting emotional grit of gospel, though the arc of their sound bends toward the relaxed, comfortable vibe of CCM.
"Tis So Sweet,' Zion's Joy, from What Would Heaven Look Like
'What Would Heaven Look Like,' Zion's Joy, a call for peace, unity and brotherhood in the midst of racial and political tension in the title track from the new album
In addition to the title track, which calls for peace, unity, and brotherhood in the midst of racial and political tension, the ten-track album contains tender worship ballads such as "Jesus, Jesus, Jesus," as well as high energy praise workouts such as "Celebrate" and "Continuous Praise (Over and Over)."
Songs of hope and encouragement include the soulfully-sung "Tell Me (What's On Your Mind)." Sticking with the brain for a moment, another cut, "Brand New Piece of Mind," is as musically engaging as its message about adopting a fresh look at the world. On "Great Day," the group politely and pleasantly reminds listeners, especially the impatient ones, to prepare for the Rapture. "Time for us to stop playing games/before it's too late," they admonish.
'Celebrate,' Zion's Joy, from What Would Heaven Look Like
Founded in 2008 as Zion's Voice by Robert W. Stevenson, the group supported Richard O. Jackson on "Praise Him in the Dance," from Jackson's 2008 debut release on Damascus Road Recordings, He Who's Invisible. Today, renamed Zion's Joy! the eight-member ensemble offer up cheerful, contented fare on What Would Heaven Look Like.
Picks: "What Would Heaven Look Like," "Tell Me (What's On Your Mind)"
***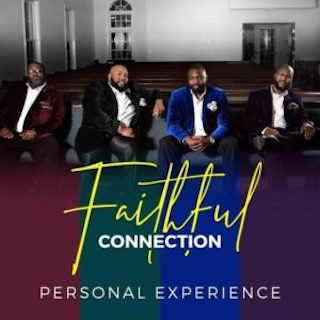 'Messages of hope, encouragement and victory…'
PERSONAL EXPERIENCE
Faithful Connection
https://store.cdbaby.com/cd/faithfulconnection12
Rhythm of Gospel Awardee Faithful Connection of Fredericksburg, Virginia, is a gospel quartet that blends elements of traditional gospel singing and lyricism with contemporary instrumentation and bass-heavy beats. They celebrate their tenth anniversary with a new EP, Personal Experience, produced by Richard Davis.
As on the quartet's 2015 album Thank You, the majority of the tracks on Personal Experience are led by group founder Jonathan Mercer, with cameos and ad-libs by TaWan Gray. The EP's initial single and opening track, "I Made It," is a gritty piece of quartet work with funky underpinnings courtesy of the rhythm section, which consists of Anthony Silver on bass, Nathan Silver on electric guitar, Gabriel Armstead on keys, and group manager JaLil Brown on drums.
'I Made It,' Faithful Connection, from Personal Experience
'Through Your Eyes," Faithful Connection, from Personal Experience
Equally effective is "Work on Me," a drive-tempo selection propelled by a strong backbeat and an exciting quartet vamp that makes it one to see live. "Through Your Eyes" is a harmonic ballad with elastic lead vocalizing designed to appeal to fans of today's charting gospel music. Like Margaret Douroux's "I'm Glad," the quartet members are thankful for being important in the sight of God because their fellow men are way too judgmental: "I'm glad God doesn't see me through your eyes," they sing.
A slow and smooth contemporary arrangement of the spiritual "Standing in the Need of Prayer" contains alternating flowing and shouting lead work. "In the Morning" is another smooth selection; it references Psalm 30:5 ("Joy cometh in the morning") for its explanation of trials as tests of one's faith: "Don't let it get you down/God is about to turn things around."
The southern soul quartet pieces like "Work on Me" and "I Made It" are the EP's most interesting offerings, though "Through Your Eyes" has radio potential. Whether Personal Experience is autobiographical for the members of Faithful Connection, the messages of hope, encouragement and victory are certainly someone's reality.
Pick: "Work on Me"
***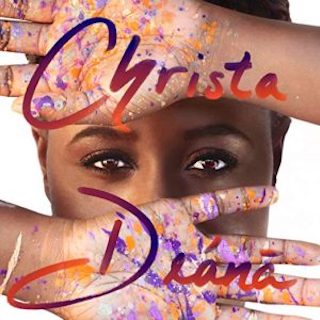 '…running music for the Christian walk…'
CHRISTA DEANA
Christa Deana
Hitman Records
Philadelphia singer-songwriter Christa Deana (pron. Duh-nay) opens her self-titled CD with a forthright narrative about her calling, accepted at a very young age, to be a fisher of souls.
But, she recounts, upon encountering one painful challenge and disappointment after another in pursuit of her calling, she almost gave up and even contemplated suicide. Angry at God for putting her in such a precarious position, she said: "I threw my Christianity on the floor and built it back up from scratch."
That made all the difference.
'Shine,' Christa Deana from her eponymous album
'Plenty of Confidence,' Christa Deana from her eponymous album
Christa defines the album as "running music for the Christian walk." The journey imagery is appropriate, because the songs chronicle a walk through pain and an almost unendurable frustration to a solid relationship with God and the victory afterward. Musically, the album moves to a neo-soul groove, heavy on soft chords and new-age atmospheric arrangements, even on the more rhythmic songs.
Christa's vocals sparkle on the buoyant and inspirational "Plenty of Confidence," the whispery "Here," and the lyrically-dense "If God Doesn't Want It," which features a rap interlude from an uncredited male artist. On the other hand, the high tessitura of "Never Stop Believing" pulls the vocalist out of her sweet spot. The song should have been keyed lower so she didn't have to strain to hit the high notes. The optimistic "Shine" is the album's most radio-friendly track, its most distinctive selection, and the brightest spot on the CD.
In the end, the song lyrics, combined with interludes of inner conflict spoken as dramatic monologues, give Christa Deana the sensation of being the soundtrack to a one-woman play.
Picks: "Shine," Plenty of Confidence"
***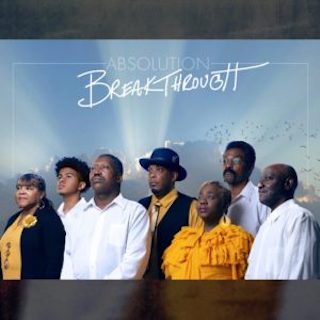 '…religious and inspirational songs inspired by personal experience…'
BREAKTHROUGH
Absolution
Independent
On the album Breakthrough, Absolution adopts an '80s R&B vocal group style mixed with elements of smooth jazz to deliver religious and inspirational songs inspired by personal experience.
The mixed-voice group Absolution was organized in North Augusta, South Carolina, in 2014 by singer-songwriter Wayne Mims and lead guitarist John Henry Walker. The members' ages run from teenager to senior, so it seems as if they found a happy medium in laying down '80s-vintage smooth R&B as their musical foundation.
While the members of Absolution don't go into great detail about the circumstances behind their testimonies, you do catch snippets about illnesses, hard choices and life changes. Notwithstanding the privacy, lyrics to cuts such as "Thank God for Another Day" and "You Did So Much" demonstrate immense gratitude for divine intercession. "Ten Thousand Tongues" gushes with appreciation for God's breakthrough intercession ("If I had 10,000 tongues, I could not thank Him enough"). "Can't Take My Faith" adds a declaration of steadfastness in the midst of trials: "when Satan tried to pull me down, he didn't claim me."
'Thank God for Another Day,' Absolution, from Breakthrough
Songs like "Calling Jesus" and "Favor" are the most faithful to the '80s R&B vocal group style, and on "Oh How Great," the synth punctuates spaces in the lyrics with Gap Band-style sonic lightning bolts. "J.E.S.U.S" and "Calling Jesus" share sonic kinship and reflect on turning to Jesus in prayer.
"Gospel Shuffle," the album's most interesting track, is an up-tempo traditional-style hand-clapper with a clattering tambourine. While it sounds like a song about a new dance style, it's actually about moving (aka "shuffling") from town to town spreading the good news, just like Jesus did.
'GospelShuffle,' Absolution, from Breakthrough
Spoken word "skits" that appear from time to time to illuminate song themes sound mixed at a lower volume than the musical portions. A 3db boost would have made them more consistent with the rest of the project.
While the quality of the lead singing is hit and miss, Absolution is especially adept at harmonizing.
Pick: "Gospel Shuffle"
***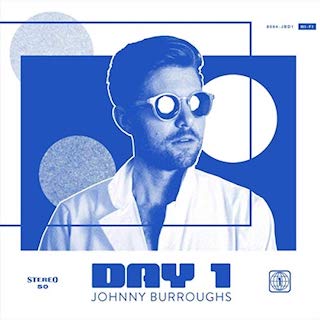 '…ventures forth into territory that embraces rock, jazz and pop…'
DAY 1
Johnny Burroughs
The debut solo release by Johnny Burroughs, lead vocalist for Denver band The Burroughs, is not a romp through the "sweaty soul music" for which the band is known but a thrumming Christian album titled DAY 1.
Though it would be unnatural for Burroughs to not channel some "sweaty soul" into DAY 1, he draws more heavily on his other life as a pastor and music minister. This self-penned, self-produced batch of lyrically and melodically uncomplicated songs of praise and worship invokes the sonic inventiveness of Bryan Popin, the blue-eyed soul of Eli "Paperboy" Reed, and the simple cool of Jonathan McReynolds.
Rather than follow the conventions of gospel or soul exclusively, Burroughs ventures forth into territory that embraces rock, jazz, and pop music. The overarching vibe is an understated exuberance, full of rhythm but not overproduced. "Unabashedly" is an excellent example of his style, with its low-key manner of making a bold statement that blossoms like a tulip into an expansive and thunderous clap of worship. "God is Love" is another cut emblematic of Burroughs' slender sound, as is the hypnotic and nearly eight-minute "Symphony of Love."
'Your Love Makes Me Happy,' Johnny Burroughs, from DAY 1
'God is Love,' Johnny Burroughs, from DAY 1
Tom Amend's organ simmers at the start of the rhythmic "I Will Sing" and comes out from behind the shadows at the vamp to serve as a second voice. His organ work also charms on "Your Love Makes Me Happy." The most gospel-sounding cut on the album, "Your Love Makes Me Happy" opens with a funky mid-tempo bounce, then lets loose with a drive-tempo backbeat.
While chopping a 1950s doo-wop chord pattern on electric guitar, Burroughs sings the lovely "You Are My Home."  The praiser "YHWH" also has a retro feel in its chord progression and insistently staccato keyboard work. And there are real brass players on the album, not synthesized horns.
DAY 1 may confuse people seeking a typical gospel or CCM experience, but on the other hand, it is the kind of album that will attract people to Christian music who do not consider themselves sacred music enthusiasts.
Pick: "Your Love Makes Me Happy"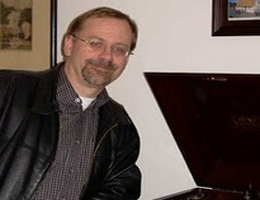 Bob Marovich is a gospel music historian, radio announcer and author. His "Gospel Memories" radio program of vintage black gospel music and artist interviews airs live first Sundays from 3 a.m. to 7:30 a.m. on Chicago's WLUW 88.7 FM, and streams live at the station's website. Snippets of recent broadcasts can be heard online at the Gospel Memories Radio Show. Bob is also the founder and editor of The Black Gospel Blog, now the Journal of Gospel Music, the source for the reviews published here with Bob's permission. Bob launched JGM on the tenth anniversary of The Black Gospel Blog, which he founded July 28, 2004, as the first blog to cover African American gospel music. His first book, Shout Troubles Over: The Birth of Gospel Music in Chicago, is scheduled for publication in March 2015 by the University of Illinois Press as part of its Music in American Life Series. Bob lives in Chicago with his wife, author Laurel Delaney, and their two cats.