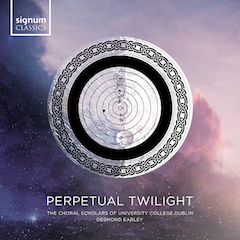 PERPETUAL TWILIGHT
The Choral Scholars of University College Dublin
Desmond Earley (Conductor)
Signum Classics
On March 13th, the Choral Scholars of University College Dublin will celebrate their 20th anniversary and the release of their new Signum recording, Perpetual Twilight. Under the artistic direction of Desmond Earley, the Choral Scholars has become Ireland's leading collegiate choral ensemble. Perpetual Twilight is the follow-up to the Choral Scholars of University College Dublin's best-selling 2016 album, Invisible Stars, their debut recording of Irish and Scottish choral music on Signum Records. With over 1.5 million streams on Spotify, Invisible Stars was one of the most successful choral releases of 2016.
"Song is central to the Irish musical imagination," conductor Desmond Earley recently told public radio's New Classical Tracks. "And a glimpse at Irish history would reveal a whole catalog of songs exploring themes of loss, happiness, emigration, lamenting." In Gramophone Magazine, Earley went on to say, "It is not difficult to see why song is so important (perhaps now more than ever) to Irish culture and the Irish musical imagination: song is about identity, relating back to our shared history, and it is about the future."
***
'My 2019 fave so far. LOVE IT! SHARE IT!' —Jeff Spurgeon, morning host, WQXR, New York City's classical music station
***
'Dúlamán (Seaweed),' Choral Scholars of University College Dublin, from Perpetual Twilight
***
The Choral Scholars is an internationally acclaimed chamber choir of gifted student singers led by founding Artistic Director, Dr. Desmond Earley, based at University College Dublin School of Music. Scholars come from various academic disciplines and commit to an intensive program of choral study. Throughout each semester they receive intense vocal coaching, language instruction, and performance-practice studies.
Since its formation in 1999, the choir has maintained strong links with its family of over two hundred alumni who often return to perform with the ensemble on the national and international concert stage. With a classical focus, and an inspiration found in the music and literature of Ireland, the ensemble's repertoire ranges from contemporary choral music to the re-imagining of Irish traditional song. What differentiates the Choral Scholars from other choirs is a strong national identity, a commitment to artistic excellence, an ambitious vision, a joyful camaraderie and a dynamic, youthful sound.
The choir frequently performs with Ireland's leading instrumentalists and orchestras and has in recent years collaborated with the RTE Concert Orchestra and the European Union Chamber Orchestra. In touring the Netherlands, Hungary, Italy, Belgium, Luxembourg, the United Kingdom and the United States of America, the group has brought University College Dublin and its music to an international audience. The choir regularly broadcasts on television and radio. Notable recent appearances include Centenary (RTE), for which the ensemble provided the choral soundtrack. Concerts with Hans Zimmer and Ennio Morricone are among their recent prestigious collaborations.
The performance and commissioning of works by living composers is a hallmark of this ensemble. New compositions have been written for the group by Ivo Antognini, Eoghan Desmond, Desmond Earley, Colin Mawby, Michael McGlynn, Timothy Stephens, and Bill Whelan.
In December 2015 the group released Invisible Stars, its debut international album on Signum Records, which has been well received by audiences and critics alike in the U.K., U.S. and Germany. The disc is a collection of traditional and contemporary choral music from Ireland and Scotland and features arrangements and new compositions by some of Ireland's most celebrated composers.
***
'Sun and Moon and Stars,' Choral Scholars of University College Dublin, from its debut album, Invisible Stars: Choral Works of Ireland and Scotland, released in 2016
***
The Choral Scholars of University College Dublin and Artistic Director Desmond Earley follow up their debut release with a program of new choral music inspired by the evocative imagery of the natural world in traditional Irish and Scottish folksong and poetry. The album includes a number of world-premiere recordings of new works and arrangements commissioned by the choir. The choir's first release, Invisible Stars, was praised by critics and reviewers: The Lady: "Blending 'folk' voices with choral precision and tight harmony isn't easy, but Desmond Earley has a passionate stake in both and doesn't put a foot wrong." Choir and Organ: The Choral Scholars of University College Dublin, under the artistic direction of Desmond Earley, is Ireland's leading collegiate choral ensemble. With a large repertoire ranging from art to popular music, and stretching from the medieval to the contemporary in style, this choir gives many concerts throughout the academic year, both in Ireland and abroad. (from Naxos Direct)
***
The Choral Scholars' [Perpetual Twilight] features the premieres of seven brand-new pieces, as well as new arrangements of a few favorites. The album pays tribute to the beauty of Ireland's twilight hours, taking inspiration from Galileo Galilei, with lyrics featuring the poetry of James Joyce, classic Irish folk songs and odes to the cosmos. The Choral Scholars soaring and expansive harmonies shine in Perpetual Twilight, accompanied by atmospheric and inventive instrumentation. –Julia Marcantonio, from a review published at Hot Press