By David McGee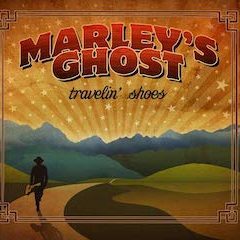 TRAVELIN' SHOES
Marley's Ghost
Sage Arts
For three decades-plus Marley's Ghost has delivered adventurous, roots-oriented albums notable for instrumental virtuosity and soulful vocalizing. On the heels of 2016's acclaimed, Larry Campbell-produced The Woodstock Sessions, and in the spirit of the group's enduring 2006 long-player, Gospel: How Can I Keep From Singing, comes Travelin' Shoes, another powerful, surprising outing, again produced by Campbell, reflecting the bluegrass gospel affections of Messrs. Wheetman, Wilcox, Phelan, Littlefield Jr., Fletcher and Nichols.
Nine of the dozen tunes are traditional evergreens, most celebrating rewards awaiting us in the afterlife, all performed with soaring emotions and close, multi-part harmonizing reminiscent of great southern gospel quartets such as the Blackwood Brothers, who are summoned most evocatively not on one of the evergreens but on a Campbell original, "Someday," a rustic, classic quartet workout reminding listeners of how suddenly earthly conditions can change and hence the value of squaring things with everyone from your significant others to the Lord. With Campbell's warm soundscape lending the proceedings an intimate feel, the band delivers in and out of the box in abundance. Consider the delightful tropicalia feel infusing "Run Come See Jerusalem," the title track's backwoods, banjo-driven mountain gospel setting and the classic bluegrass gospel rendering of Flatt & Scruggs' "So Happy I'll Be" (featuring a tasty, upper neck guitar solo by Phelan channeling Carl Perkins).
'Someday,' a Larry Campbell original featured by Marley's Ghost on Travelin' Shoes
'Standing By The Bedside of a Neighbor,' Marley's Ghost, as featured on Travelin' Shoes
The Blackwood Brothers influence surfaces again, albeit indirectly, when Marley's Ghost suddenly materializes as the Sons of the Pioneers, all smooth harmony and plaintive, keening solo parts in the western gospel strains of "Standing by The Bedside of a Neighbor." This seeming oddity has been attributed to Thomas A. Dorsey and has been given a legendary, straight-ahead quartet P&W treatment by the Ira Tucker-led Dixie Hummingbirds. But here the fellows take it out of the church and relocate it to a campfire on the western plains in a version that sounds more like the work of western song poet laureate Bob Nolan than the great Dorsey, a fact emphasized by Ed Littlefield's quite tasty pedal steel flourishes. Truth be told, the Blackwood Brothers effected much the same transformation on a tune they recorded in 1953, "The End of the Trail," a western gospel gem written by Southern Gospel giant Vep B. Ellis. This be but one of a multitude of cleansing moments herein. Enter, and feel the spirit.