By Duncan Strauss
It's a measure of how personal and probing my Talking Animals interview with Ted Leo became that the first thing my wife said to me afterwards was: "You have some giant balls!"
I knew what she meant, but I hadn't exactly been channeling the spirit of Mike Wallace, or angling for some incendiary confrontation. (For the record, I'm a huge, longtime Ted Leo fan.) It's not like I decided, just before the interview, to break format and mount an all-out assault on Leo's privacy. These sorts of inquiries might've seemed jarring to some (including, apparently, my wife), but they weren't out of the blue.
Indeed, there was clear context for the line of questioning I pursued: A sprawling, deep-dive July 2017 profile in Stereogum that transformed some of the most profound elements of Ted Leo's private life into something very, very public. So I wasn't pretending to yield revelations in my on-air conversation. Rather, I was keenly interested in hearing, 10 months later, how Leo felt about the revelations he provided in the Stereogum piece, and what impact they had had on those closest to him.
By now it would be reasonable to ask: What were the revelations?  
Well, Leo disclosed that he was molested by his piano teacher at age 10, while suggesting that his family was aware he was being violated, and didn't intervene:  "…it was never dealt with in my family," he told Stereogum. "It was largely ignored." (He later elaborated in that article that a neighbor boy sexually assaulted him at six or seven, the piano teacher also preyed on Leo's younger brothers, one of them talked about it; the parents fired the teacher and moved the family.)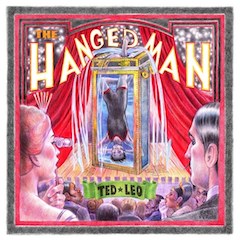 That's plenty powerful in and of itself, but other disclosures included that Leo and his wife, Jodi, experienced a late-term miscarriage, losing their daughter…separately, Jodi became seriously ill, a development with significant medical, emotional and financial implications…the collective strain took its toll on the couple, leading to a brief separation…he parted ways with his record company, because they were aggrieved by his work with Aimee Mann–they toured and recorded as The Both, but made that debut album for her record company….he was so strapped financially that, a quarter century into his career, he concluded the only way to make his new album,  The Hanged Man, was by crowd funding for it.
Believe it or not, there's more, but that's enough for now, and pretty darn singular in the realm of music biz artist profiles. So I was deeply curious in our radio conversation to hear how Leo felt when the Stereogum piece was first published.
"Well, yeah, I spoke candidly about a lot of things, a lot of very personal things that, in the moment, seemed like it was time to begin talking about," Leo told me. "Since then, I have settled into being comfortable continuing to talk about those things, but I will be honest with you: the moment I first saw the piece, I had a complete freak out."
Something akin to buyer's remorse about how candid you were?
"Exactly," he answered. "It required some conversations with other people in my life–family, I warned them I was going to be talking about some personal things that might be surprising to hear. Still, knowing something's going to be surprising doesn't mean you're not going to be surprised by it."
"September was a heavy month last year, but ultimately I think getting a lot of that stuff out was the right move…[The sexual abuse] was something that needed to be discussed. I think clearing the air has ultimately been good. I hope that it has maybe helped some other people out there as well."
A singer-songwriter-guitarist and veteran vegan who played in a handful of bands before forming Ted Leo and the Pharmacists in 1999, Leo had carried around the dark secret of the molestations for decades.
He also recognized that carrying it around had shaped his behavior in ways he didn't always like, including a simmering temper that, when ignited, could become volcanic. "You're just dealing with things as they come because you have to," he said. "You're seeing the preponderance of these things building up and how they are collectively weighing on you."
He decided it was time to talk. In detail. About a lot of things.
"As far as talking about it [with Stereogum], sometimes you have to dive in and accept that you can't control how people are going to react," Leo recalled thinking. "You have to give other people the dignity of their own response to certain things.
"The people closest to me, who I had to have some of the longest and deepest conversations about all of this with, were ultimately very kind and very open and very understanding. I think we're all in a much better place of understanding each other, and understanding what the last 40 years of our lives have been in terms of having this looming in the background."
'Bottled in Cork,' Ted Leo & the Pharmacists
Perhaps, I suggested, in the wake of an extended written profile containing deeply personal revelations, sometimes the subject of the piece learns as much along the way as the readers do.
"Absolutely," he answered without hesitatio. "To be able to speak about it, I will say that I was already starting to process some of this stuff over the last couple of years in ways that I hadn't been previously.
"Making that proactive step to actually be public about this and deal with the fallout, being comfortable stepping into a place that was going to be definitely uncomfortable, really did help me continue to process it, and to figure a lot of things out. Honestly, I think I know so much more about myself, my own behaviors, my own patterns, my own ways of reacting to things and modes of thought just since talking about it in this one article."
That article also served as a colossal calling card for The Hanged Man, the record funded by the Kickstarter campaign he launched after splitting from his record company. He did so with great reluctance, and some resentment–at first.
"Crowd funding initially felt like something I was very uncomfortable with," Leo recalled. "It felt a little bit like, 'Are you kidding me? After 25 years doing this or whatever, now I have to go hat in hand to get people to just pony up for a record?' "
Ultimately, Leo came around on crowd funding, and even if he didn't end up accepting all aspects of the Kickstarter–he was never and still is not keen to run his own record label–he was pleased with the resulting album.
So was just about everyone who heard it, who found The Hanged Man inspired and inspiring, a lyrically and musically adventurous collection in which Leo explored sounds and themes that many longtime Leo devotees found at once surprising and thrilling. 
Still, the inventive spirit and unshackled vision in no way promised listeners could sidestep having to occasionally absorb a stark roundhouse to the gut, as when when he sings, "We had a daughter and she died."  
Not surprisingly, this bold, colorful album collected a passel of rave reviews.  If I were a record company, I would've been proud to release The Hanged Man. However, it's all but obvious that The Hanged Man became a powerhouse achievement precisely because it wasn't for a record company,. Once embraced, the crowd funding approved proved creatively liberating.
Ted Leo, 'Can't Go Back'
The video for the first single, "Can't Go Back," a catchy tune made catchier by snappy vocal harmonies, immediately telegraphed that whatever struggles may have accompanied his Stereogum disclosures and a new way of recording an album, the artist's keen sense of humor emerged undented. 
The clip is like a spoof sandwich, with nutso intro and outro voiceovers by longtime crony and comedian-actor Paul F. Tompkins wrapped around the visual of Leo performing as lounge singer with shirt open several buttons, in front of shiny curtains, often seeming unconcerned with the mic he's singing into or piano he's playing–all by way of a parody TV ad hawking the new album.
This is hardly the first Leo video featuring Tompkins (Mr. Show with Bob and David alum, Largo denizen, etc.), and the singer has not only long been a fan of the smartest wing of the comedy scene, but has also long had a foot in it himself.
In fact, about three weeks before our interview, Leo had performed in Austin at the Moontower Comedy Festival's Evening For The Comedy Resistance–a collective of comedians and political professionals seeking to encourage more people to engage with the political process, and especially to vote–on a bill also featuring David Cross, Maria Bamford and Mike Birbiglia, among others.
'Milwaukee,' by The Both (Aimee Mann and Ted Leo)
Not too shabby. This merely reflects his longstanding track record of performing on comedy shows of all stripes (most often in New York), which in turn reflects another of his longstanding passions as both fan and practitioner.
"Well, I've always been into comedy," he said. "I think since I was a child–I was buying comedy records in the '70s and the '80s.
"As we know, comedians are also humans, and they apparently listen to music in the same way that us musicians listen to comedy. David Cross, in particular, was one of the first to approach me about playing on one of his shows, doing a weekly show in New York called 'Tinkle,' with Jon Benjamin. 
'Then, through those connections, and also through people such as Tom Scharpling who did a show on WFMU, I met lots of other people with whom I already had a mutual appreciation, that we didn't know"–citing, among others, Tompkins, Patton Oswalt, and Julie Klausner, for whom Leo served as musical director on her acclaimed podcast How Was Your Week? with Julie Klausner.
Some time after this interview, I began wondering how much hearing, seeing and–especially, doing–comedy may have served as a hedge, maybe even more than music, against being more destructively tormented by the molestations and personal sorrows.
Never got the chance to ask the question. Wish I had. But I don't think the reason, as we established earlier, was insufficiently sized balls.
Click here to listen to the complete Ted Leo interview on Talking Animals.