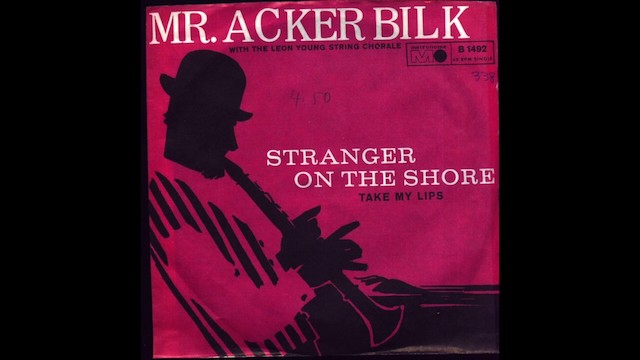 'Stranger on the Shore,' Acker Bilk (1962)
Bernard Stanley "Acker" Bilk (28 January 1929-2 November 2014), from Pensford, Somerset, England (his nickname, "Acker," was Somerset slang for "friend" or "mate'), had been working local jazz circuits with a band since the early '50s when late in the decade he fell into London's vibrant Trad jazz scene. An original single he co-wrote with his bandmate Dave Collett, titled "Summer Set," peaked at #5 on the British Singles Chart and became the first of his 11 successive chart hits. None were bigger than the instrumental he wrote in 1962 and titled "Jenny" in honor of his daughter. Producers of a British TV series asked him to change the title to "Stranger on the Shore" for use in their series. He agreed, then cut the tune for his own album, with a lush string section (the Leon Young String Chorale) supporting his breathy, quavering, lower register clarinet solo, which bespoke epic loneliness. In addition to being a huge smash in Britain (a chart item for no less than 55 weeks), "Stranger on the Shore" topped the American charts too and sold more than a million copies. Like that, Acker Bilk was an international star. Coming well over a year before the Beatles arrived on these shores, some historians have cited "Stranger on the Shore" as the beginning of the British Invasion that would flower in '64. Thereafter he was known not merely as Acker Bilk but rather as Mr. Acker Bilk—he was even billed thus on his album covers.
Sporting a neatly trimmed goatee, bowler hat and striped vest, the always natty Bilk cut a distinctive figure that served him well on the concert and cabaret circuit here and abroad. Never duplicating his debut hit, Bilk nonetheless went on to a solid international recording and touring career with his Paramount Jazz Band and would sometimes perform with Kenny Ball and Chris Barber, who had also come out of the British jazz and Trad jazz scenes (they billed themselves as "The 3Bs"). He was honored with an MBE in 2001 for services to the music industry. Interviewed by the BBC on the 50th anniversary of "Stranger on the Shore"'s success, Bilk confessed he was "fed up" with playing his signature tune, although he referred to it at times as "my old-age pension." After fighting throat cancer, bladder cancer and surviving a minor stroke in his later years, Acker Bilk passed away on November 2, 2014, in Bath, Somerset, at the age of 85. He was survived by his wife and two children. For him, the thrill may have been gone in playing "Stranger on the Shore," but as commenters to the YouTube video of the song attest below, his performance retains great emotional pull, spanning generations and linking loved ones even beyond the grave. Herewith a sampling of those comments, unedited, as they appear on YouTube. Never deny the power of a song. –David McGee
KATIE BURGESS: My daddy die when i was 7… i didn't know him much due to him and mother parting…i only have 3 memories …his ashes were put in the sea and i fell in love with this song at the age of 8 and when I hear it ..i know he is close . Once I was sad ..away from home and wanted so bad to hear it …i turn on the radio and the dj said" this something I dont offen play but just feel like playing tonight !! " i am 45 now and this song is were i can close my eyes and feel my daddys arms around me .
ALLAN TERRELL: My Dad's favourite tune–he would have been 108 years young today.
BILL CHAMBERS: When my wife Carol was alive, we were watching a classical music concert on TV — back when they used to broadcast those — and they were playing a clarinet concerto.  Carol played the clarinet in her high-school band.  She said, "Honey, if I had known that there was serious music for the clarinet, I would have taken it more seriously."  Remembering that conversation, I wish that I had had this record available so she could hear what Acker Bilk did with the clarinet.  The low-register notes on his clarinet absolutely dissolve me.
DIANA WEEMS: Brings me back to easier and much better times, I remember this song when I was around 7 years old and it reminds me of my mom whom I lost two weeks ago…Luv you Mom
BETH PERRY: Ahh this takes me back….Acker Bilk was from the village where I grew up and a very close friend of my grandfather….a truly humble and dedicated musician right until the end!
DEE TEE: Brings me back to my first love, nearly 50+ years ago, man, such memories, never be music like this anymore, bless you Ack for the memories.
JOHN PARKER: The first record I heard sitting with my brother in our dad's car back in the early 60's, he was 6 and I was only 4. Sadly my brother passed away 2 years ago in New Zealand, walking into the funeral home to pay my last respects  Strangers on the shore was playing, you couldn't have written it. Sometimes I wonder.
THEODORE ECKHART: When our family owned a loung and italian restaraunt in the early sixties, my father used to put a quarter in the jukebox and he'd play this song. Fond memories i have of my late father behind the bar with his white shirt and loving face. This song takes me right back. Its startling.
PAUL ACRI: I was overseas [USN] when this song came out. I fell absolutely in love with it cause it epitomized how I felt, 'a stranger on the shore'. I told my Dad about it [who was an accomplished clarinettist, not as good as Acker though] and unbenounced to me he went out and bought the record and the sheet music to 'Stranger'. When I came home from overseas, Dad told me to sit down in the living room. He put 'Stranger' on the stereo system and came into the living room playing his clarinet along with Acker. Simply beautiful and I cried ! I love that song so much and get tears in my eyes every time I hear it. Reminds me of my Dad who I miss so much ! Thank you Acker (up in heaven) for this beautiful instrumental