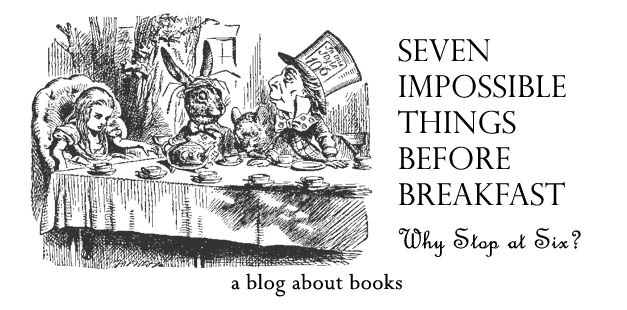 It's such a pleasure to have author-illustrator Juana Martinez-Neal visit 7-Imp today to talk about her new picture book, Alma and How She Got Her Name, which is publishing simultaneously in both Spanish and English (Candlewick) this week. Juana, fresh on the heels of winning a 2018 Pura Belpré Illustrator Award for Susan Middleton Elya's La Princesa and the Pea, was born in Peru and is the daughter and granddaughter of painters. (She discusses this below.) Now living in Arizona, she sees with this book her debut as an author.
And what a book it is, this story of one girl, Alma Sofia Esperanza José Pura Candela; her very long name; and what she learns from her father about that name and her family heritage. It's a book celebrating cultural identity in specific ways while, simultaneously, inviting children, no matter where they're from, to consider their own family stories. Its distinctive palette (which Juana also discusses below), soft and endearing illustrations, and beautiful lettering make it sing. It's a beauty, this one, with inviting, uncluttered spreads and a protagonist whose charms will draw in readers (particularly, preschool-aged ones, those more likely being read to) like a magnet.
I thank Juana for visiting 7-Imp today to share lots of art (including the art of her father and grandfather) and to talk about the book.
* * *
Jules: This is your author-illustrator debut. What was the best part about both penning and illustrating your own story?
Juana: There was so much about Alma that felt amazing. Being able to create the artwork and the words together to tell a story was empowering, as I had dreamed of doing this for years.
Alma started as a personal story that I knew well — the story of my name. In the beginning, "Alma" was "Juana Carlota," as I began telling the story of the origin of my name, given to me when I was born in Peru. The story started small and then grew from there until it became the book that is now published.
Some of the first areas I worked through were the appearance of the main character, Alma, and the overall artistic direction. I had been searching for this little girl on and off for a few years by creating many, many sketches. It was not until I drew this sketch [below] that I finally knew I had found Alma. I drew my grandma next to her and started playing with the mixing of names. The idea of the book that today is Alma exploded in that sketch.
Right away, I moved forward working on more character sketches of this little girl, Alma. Something about her felt real and alive. I loved her.
Finally, Alma showed up as she is today—completely perfect.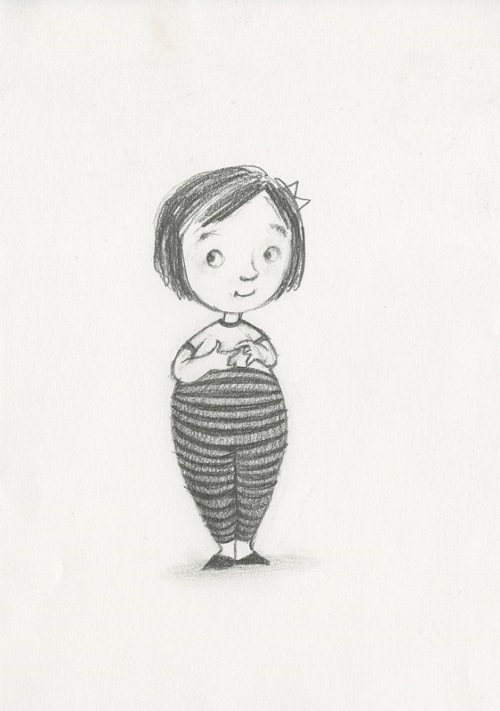 One early artistic direction was about my use of typography throughout the book. I have a fascination with lettering, and I wanted to use it in the book as a tool to help me tell the story of the relatives from the past. Here is my first attempt at mixing type with images in the book.
The meaning of each of the names was vital to the story, and I picked them carefully. In Spanish, Esperanza means hope, Pura means pure, and Candela means fire. Alma means soul. Alma's name needed to feel grounded and solid, as Alma has a little bit of all of her relatives within her. As I was sketching her name, and without thinking, I added five dots inside the first A as a way to signify that her relatives are always with her. Each one of the dots represents one of her relatives in the story.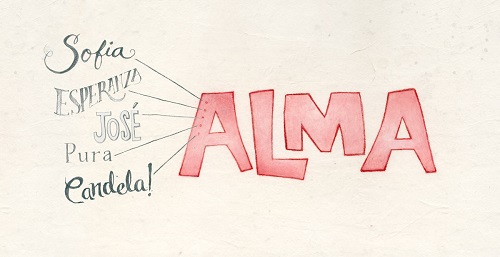 Alma's relatives in the book are based on my own family members. Those stories told in the book are the stories told in my family, ones I grew up listening to in Peru.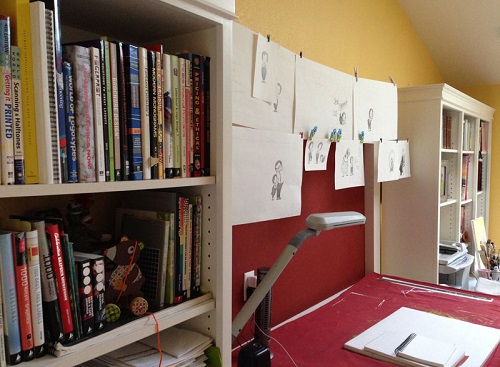 Sofia was one of the first illustrations of the relatives I sketched. I started drawing this photo of my grandmother, Juana Gómez Muñoz, with my dad standing next to her. I was named after her. I never met her, as she had passed fifteen years before I was born. Everything I knew about her came from listening to my dad talking about her and from old photos he kept. This quiet image, the expression in my grandmother's eyes, and her body posture really spoke to me.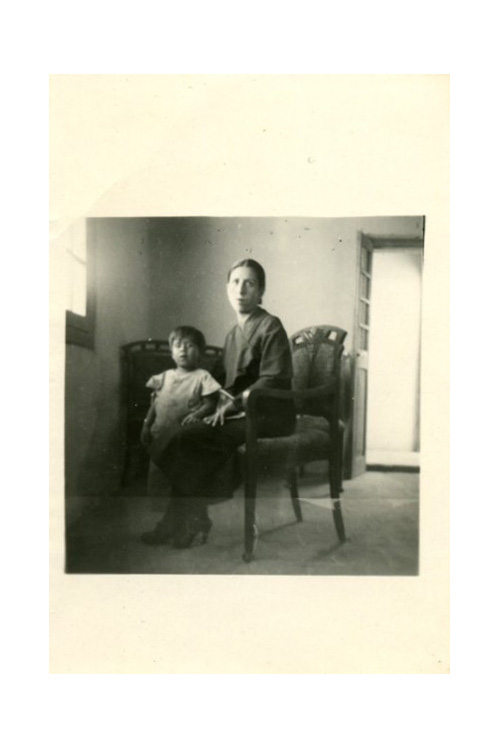 So, I sketched her. I took this photo as I was working on that first sketch.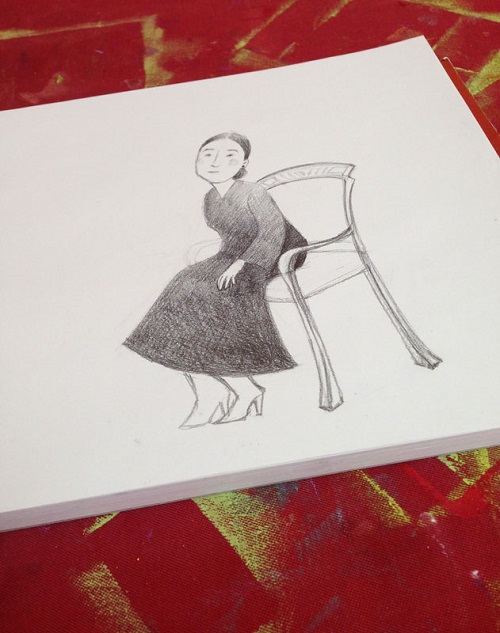 The finished initial sketch of Sofia . . .
And the sketch of Sofia as it appears in the book . .
This is the finished illustration…
…and the completed spread!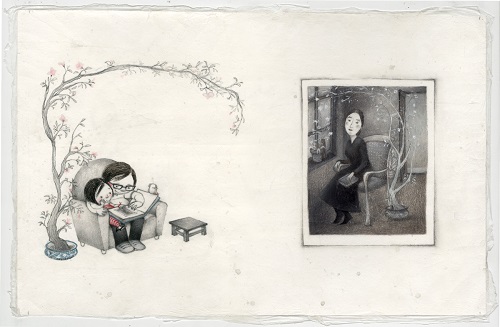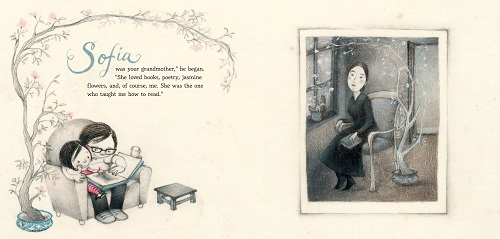 The final spread with text: "'Sofia was your grandmother,' he began.
'She loved books, poetry, jasmine flowers, and, of course, me.
She was the one who taught me how to read.'" (Click to enlarge spread)
The process of the character of José was very similar to Sofia's. My grandfather Manuel—the inspiration behind José—lived in a different province of Peru. We didn't get to see him very often, and he died when I was five, so I have very few memories of him. But the photos of him at the studio, with artist friends and with his family, told fantastic stories.
The character of Esperanza was based on my maternal great-grandmother, Rosa Marquina Zavaleta de Davis — "Tota," as we used to call her. I knew Tota. While growing up, we spent every Saturday at her and my grandmother's house. My great-grandmother needed hearing aids but refused to wear them. She quietly watched things happen from her settee in the busiest room of the house. Nothing would happen without her knowing. This is Tota at my first birthday:
Since I knew Tota well, I had more artistic freedom for her illustration. This is the first rough sketch of Esperanza .
…and the completed initial sketch:
As we worked on revisions for the book, the manuscript changed slightly and I added more details to the sketch that would help me tell the story of Esperanza. This is the revised completed sketch for the book . .
…and the completed illustration of Esperanza.
The sketches of Pura and Candela went through a very similar process, because they were based on family members. Pura is a mix of my grandmother and my mom. With Pura, I wanted to show the convergence of religion and indigenous beliefs that are such a characteristic way of understanding life (and death) in Latin America. Candela was inspired by my grandmother Fredes, mi Lita.
And since we are showing details of the work, here's a detail of the "I am José" spread.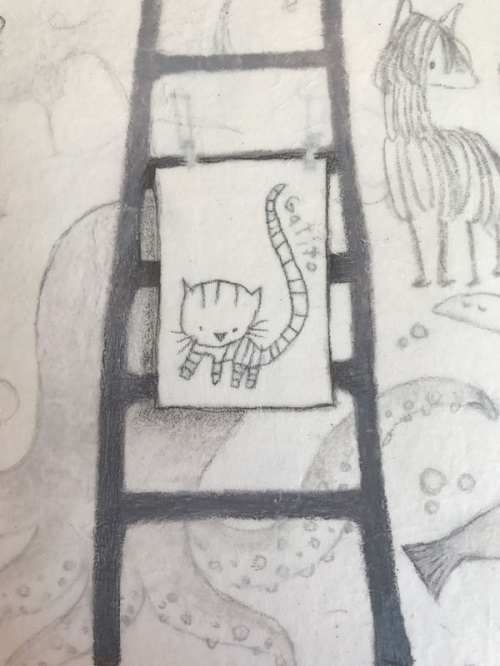 Alma keeps surprising me. Seeing the response to the book amazes me. I feel lucky I was able to write the manuscript in both English and in my native language, Spanish, and that it will be simultaneously published in both English and Spanish editions, Alma and How She Got Her Name and Alma y cómo obtuvo su nombre. I have to thank Stefanie, my literary agent, for pushing to make that happen and to Candlewick for their commitment to the Spanish edition. I will get to share my story with children in both of my languages!
Jules: You are the daughter and granddaughter of painters, yes? Tell me about the type of artwork your family made.
Juana: My family is from Peru, and I was born and lived in Peru until I was 24. My dad, Victor Martínez Gómez, is a realistic traditional watercolor artist. He paints the indigenous people from Peru. His subject matter ranges from portraits of old men or women, to young mothers with their children, and from architectural pieces of 400-year-old churches, to fishermen hard at work on their boats. Alma's dad in the book was inspired by my own dad.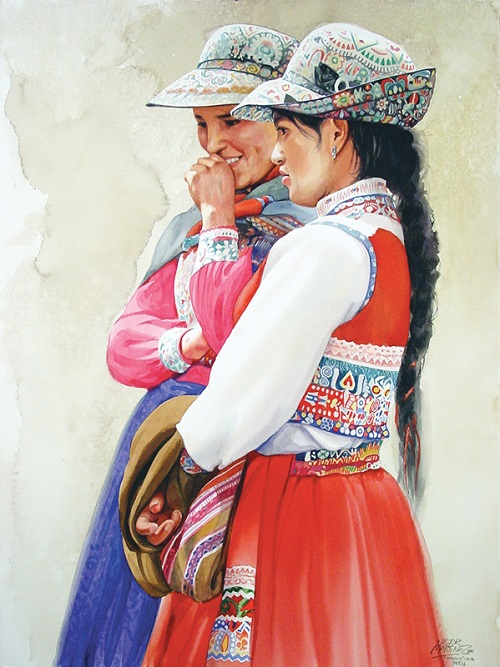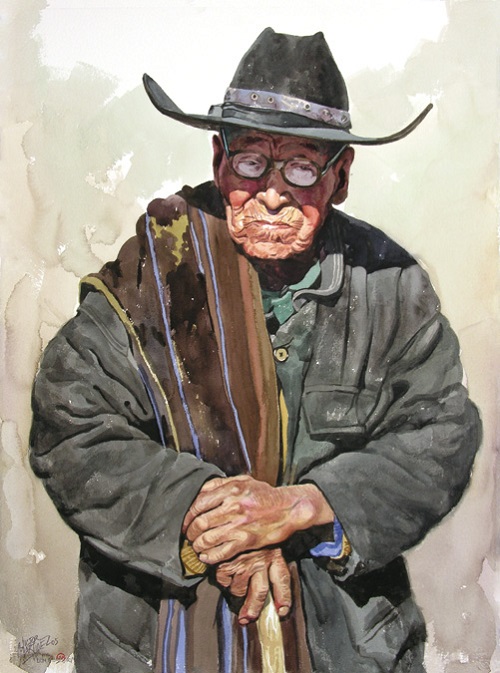 Top: Amigas by Victor Martinez (watercolor); bottom: Don Eusebio by Victor Martinez (watercolor)
My dad's dad, Victor Manuel Martínez Málaga, was an oil painter. His story is the story of José in the book. My grandfather's favorite subject matter was the native people from Peru, although sometimes he painted traditional portraits of prominent people from his city. It was his way of supplementing his income and keeping food at the table. I find his use of color and composition, as well as his way of drawing in his more personal pieces, very interesting. They both inspired me to be an artist.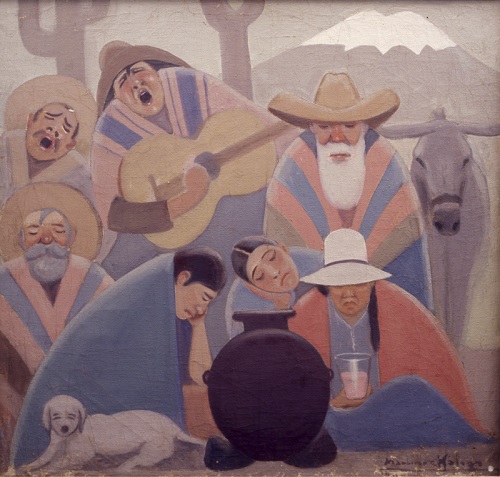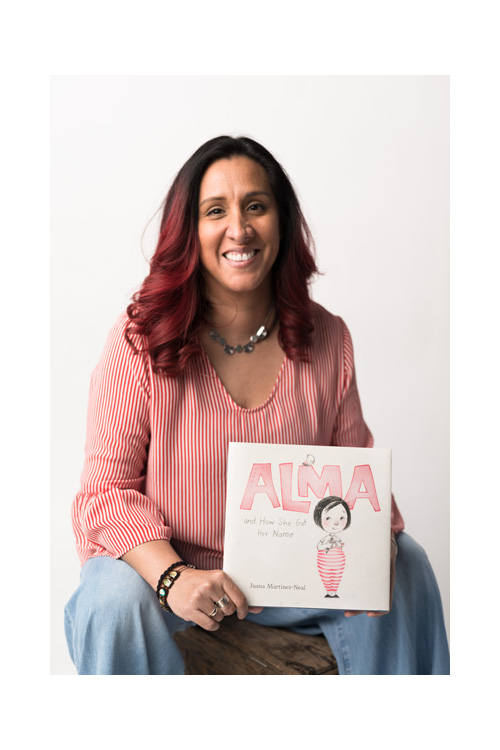 I continued helping my dad until I was 21, when I was accepted to the Art School I wanted so badly to attend. I was going to be a painter! In my third year finals, my professors told me I was not a painter. Confused and without knowing what to do next, I decided to take a break. My dad sent me to the United State for one year, and I never moved back.
I found a new life. I started a graphic and web design business, got married, and gave birth to my first son. But in my attempts to find a new future, I stopped painting and writing.
A month after the birth of our second son, I realized I needed to make a change and go back to painting. I finally listened to my husband who had been telling me for a long time to explore children's illustration. And he was right. I joined SCBWI, attended my first regional event a month later, and with that my career in children's books began. I was thirty-four.
Jules: I love Alma's soft pink palette. Tell me about deciding to use that. Was it your favorite color as a child?
Juana: Thank you, Jules! I had been wanting to make pieces with a limited palette for awhile. Alma, being my author-illustrator debut, was the perfect opportunity to do that. I had the freedom to do something completely different from what I had done for La Madre Goose or La Princesa and the Pea.
As the sketches were completed and I began thinking about colors, I knew I wanted to use grays and sepias. Old family photos were part of the story, and I wanted the artwork to reflect the old photos that had inspired me. I also wanted a soft, warm pink as the one key color in the book. After I completed a few pieces of artwork, I had the idea to add the gray-teal color to represent Alma's relatives from the past. In this way the warm pink and the gray-teal colors bring the present and the past together in the book.
I made a third attempt and repainted the "I am Sofia" spread [the one that opens this post] — this time with grays, being very careful with the amount of speckles and splashes added and where I saturated the colored pencils for a smooth finish. I found the way I wanted to illustrate the book.
Jules: Can you talk about how you created these illustrations? Can you explain what print transfers are?
Juana: My technique is constant experimentation. For these illustrations, I worked on acrylic paper. I don't work directly on the surface but add texture with different papers and mediums. Then, I drew my illustrations with colored pencils and graphite.
For the old photos, I transferred my sketches and then added colored pencils and graphite on top. First, I drew the old photos with graphite. When they were completed, I scanned them, reversed them in the computer, and made a print-out. Then, I made copies and transferred the images to my surface. After that, I went over the image with colored pencils and graphite.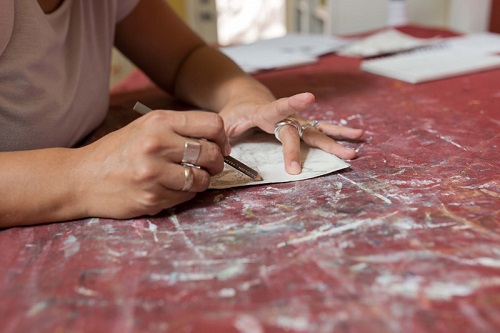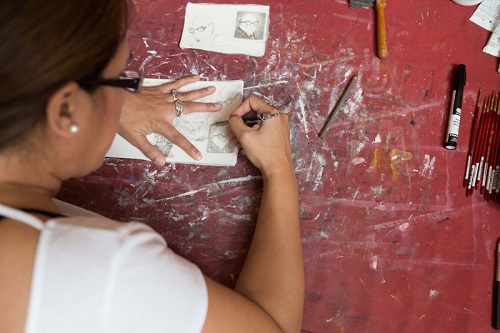 Adding colored pencils to print transfers (Click each to enlarge)
Jules: This is such a powerful, self-affirming story for children to read. Do you have big plans for school visits?
Juana: Well, thanks, Jules! This means a lot coming from you.
In Alma, I wanted to show the rich heritage and identity immigrants bring to their new country. During school visits, I want students to see that, so they feel motivated to embrace their own stories. I want them to be proud of their names, their heritage, and where their families come from.
When I first moved to the U.S., I moved to Los Angeles, a city where the majority of Spanish-speaking immigrants come from Mexico. At times, it felt like there was no room for any other Latinx story. I wanted to share some of the richness of Peru. And there are so many different Latinx stories. I feel strongly that children need to hear and see many stories, so they know how important it is to be open to more than the one story that is most heard from a country or place.
But the most fun about my book is that everyone has a name and that every name has a story behind it! I hope Alma and How She Got Her Name inspires students to learn about their own names and who they are.
Oh, and I have one question for you, Jules. What's the story of your name?
Jules: Well, I asked my mother once, hoping for some rich story of family heritage. She said that, while lying in the hospital and due to give birth to me at any second, she saw on television the character Julie in the television show Mod Squad (which I've never even seen), and she thought it sounded like a great name. (Julie was also an extremely popular name in America in the 1970s.) Not terrifically meaningful, is it? "Jules" is more meaningful to me, as it's a nickname friends call me, and I love my friends. And my middle name (Michelle) is from my aunt. I think my mother just liked the sound of that name, too, but my aunt is pretty flippin' great. So, there is actually a little bit of a family story in my name.
I much prefer your story, honestly, which sparkles in all kinds of ways. Thank you for visiting 7-Imp!
***
Want to see Juana draw?
https://www.youtube.com/watch?v=YBu3Ci5qsR4
Juana Martinez-Neal Draws Alma
And here she is, speaking in Spanish about the book:
https://www.youtube.com/watch?v=5mv2rKP6A94
ALMA AND HOW SHE GOT HER NAME. Copyright © 2018 by Juana Martinez-Neal. Illustrations reproduced by permission of the publisher, Candlewick Press, Somerville, MA.
All others images reproduced by permission of Juana Martinez-Neal.
Photo of Juana holding a copy of ALMA was taken by Jade Beall.
 Photo of Juana as a child was taken by her father, Victor Martínez Málaga.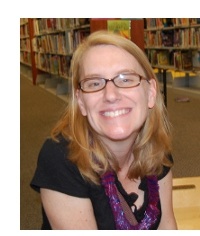 Julie Davidson (Jules) conducts interviews and features of authors and illustrators at her acclaimed blog, Seven Impossible Things Before Breakfast, a children's literature blog primarily focused on illustration and picture books. The above blog was posted at 7-Imp on April 10, 2018.