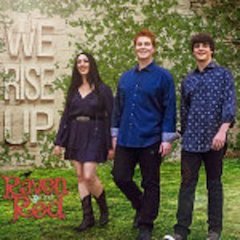 WE RISE UP
Raven and Red
Line Crossing Records
Hailing from Georgia and Pennsylvania, now Nashville-based, the Raven and Red trio (supplemented here by Paul Leech [electric and upright bass, cello] and Justin Collins [drums, percussion]) makes a great leap forward on its first full album following a 2014 EP and an impressive 2015 collection of Celtic music titled, simply, Celtic Collection. All but two of the dozen tunes are penned by band members Brittany Lynn Jones (a multi-instrumentalist featured on five-string violin, tenor guitar, mandolin, banjolin in addition to affecting harmony and lead vocals) and guitarist Mitchell Lane, and let's say they have it going on. These young adults either have lived with ferocity in matters of the heart and learned hard lessons or gleaned much from the experiences of those older and more seasoned in such matters. The remarkable aspect of their point of view, though, is the belief they advance of being undaunted in the face of romantic debacles. When Mitchell sings plaintively in "It Could Have Been You," How can I trust that you love me now/when you didn't love me then—sentiments he is addressing to an old flame suddenly popping up when he's deeply committed to another—there's no spite, no bitterness, really even no sadness—just a searing existential query hanging in the air. If anything, Raven and Red's animating impulse is announced in the title track, which happens to close the album but which has been illustrated in many of the ten songs preceding it (the penultimate track is an impressive, near-seven-minute instrumental medley comprised of a reprise of and earlier song, "Wild Roses," coupled to "Winter Raven" and "World Traveler"). To wit: We all wander together even when we walk alone/We rise up, we fall down, we get lost, and we get found/we hit dead ends and we turn around/keep pushing through to higher ground.
'Lead Me Back to You,' Raven and Red, from We Rise Up
So "pushing through to higher ground," takes Raven and Red through much heartbreak and heartache along the way but somehow the journey is absent the numbing despair you might expect from romantic misfortune piled on romantic misfortune. Give credit for this not only to the writing but to the clear, ringing, expressive tenor voice of Mitchell Lane, who carries the vocal load simply magnificently. In the opening track, "Living and Loving You," the seasoned listener might wonder for a moment where he/she has heard that voice before. In fact, on this and another country-tinged number, "Another Empty Bottle," Lane sounds like no one so much as Sweetheart of the Rodeo-era Roger McGuinn, and both of those songs sound like outtakes from said long player. But then, on the lovely ballad "Wild Roses," he sounds more like an artist he cites as one of the band's key influences, the late Jim Croce, just as the minuteness of detail in the poignant lyrics mirror the Croce style as well (it also has the benefit of a soulful supporting fiddle solo from Ms. Jones). But ultimately Marshall Lane sounds like Marshall Lane, and enough cannot be said about the power of his performances here. You'll have to listen long and hard to find a young vocalist delivering more sustained intensity and emotional commitment—there isn't a moment, not a single moment, when he doesn't exude the urgency of something being at stake. What's at stake, clearly, is the heart, always searching in these original songs for the higher ground where balance and perspective allow the heart to love anew instead of sinking into cynicism and mistrust, or simply retreating from engagement. In the country-folk strains of "Grandpa's Beers," framed by Ms. Jones's evocative fiddling, another guiding principle emerges in the form of some timeless advice from the titular character that clearly informs everything else playing out in the songs: Don't worry about those tough days, son/ride 'em out until they're done/let the Sunday sermons catch your ear/if you're into taking more than giving/you're the only one you're kidding/ain't no use in living life in fear…
'Another Empty Bottle,' Raven and Red, from We Rise Up
In the context of this album, one song stands out as perhaps an object lesson in what happens when one chooses to remain oblivious to the lessons imparted elsewhere in the tunes leading up to it. "Moonlight and Makeup (One More Mistake)" is an old story, the girl whose outer beauty masks a desolate, lost interior, a total lack of self-worth and self-respect in a corrosive quest for connection. Over mournful guitar and fiddle, Lane calmly lays out the sorrowful scenario with all the signposts of destruction clearly visible in her mien: She's only ever focused on/her outer beauty that will be gone/and leave her stranded in a sea of abandoned dreams/she knows a night with him/won't take away her loneliness/and mascara can't hide the sadness in her eyes/there's a growing hole that can't be filled/while she loses herself in drinks and pills/it's her temporary escape/so tonight she'll make one more mistake. If that isn't a song for our time, or one of the songs for our time, then there isn't one.
'Moonshine and Makeup (One More Mistake),' Raven and Red, from We Rise Up
'Today,' a beautiful cover of the New Christy Minstrels' 1964 hit, Raven and Red, from We Rise Up
But the album in a sense ends with the song preceding "Moonshine and Makeup," a surprising, and exceedingly touching, mountain-flavored reading of Larry Sparks's heart tugging "Today," a major hit in 1964—and one of the Sixties' greatest singles–for Sparks's group The New Christy Minstrels (fun fact: those passing through the Minstrels' '60s lineup included Barry "Eve of Destructin" McGuire, Kenny Rogers and there other First Edition founders in Thelma Camacho, Terry Williams and Mike Settle, soon-to-be-Byrd Gene Clark, actress/singer Karen Black, Kim Carnes with "Betty Davis Eyes" far in her future, future Miss America Terry Ann Meeuwsen, and future Lovin' Spoonful member Jerry Yester). Raven and Red pick up the pace a bit from the original but the aching beauty of the original is intact, and Lane, with a velvety harmony assist from Ms. Jones, who adds another tender fiddle solo to tear you up just a little bit more, brings it all home with abundant beauty infusing his reading. What a moment.
Raven and Red, title track from We Rise Up
So after today comes "Moonshine and Makeup," followed by the aforementioned instrumental medley (which does give the third member of the basic trio, Cole King, a star turn on mandolin—and get this, he's still in high school) and winding up with the mission statement, "We Rise Up," perhaps the starting point for the next album as much as it is a summation of the big theme of this project. Whatever you make of this theory, the fact of the matter is We Rise Up is a stunning debut for Raven and Red as a self-contained unit and, at once, reason to keep a close eye on these young artists. They're going places, and fast.