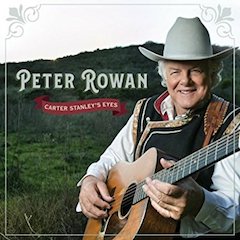 CARTER STANLEY'S EYES
Peter Rowan
Rebel
If any artist belongs in Deep Roots, it's Peter Rowan. For the past few years Rowan has been on some kind of powerful journey exploring his deepest roots, and on Carter Stanley's Eyes, the journey continues unabated and stirring as ever. This new album follow's the 2017 surprise he gave us with My Aloha!, in which he explored the links between traditional Hawaiian music and bluegrass. Immediately preceding that album, his challenging Dharma Blues—part of a triptych of albums revelatory of what I declared to be an "intensely interior, deeply personal journey" producing the most personal songs of his storied career. (Dharma Blues was a Deep Roots Album of the Year in 2014 too.) Naturally, those songs were mostly bluegrass, but there were also tips of the hat to Rowan's folk, progressive bluegrass and country-rock roots as well.
'Let Me Love You One More Time,' written by Ralph Stanley, from Peter Rowan's Carter Stanley's Eyes
On Carter Stanley's Eyes, the journey winds back to the beginning of Rowan's professional career, when he was befriended by Bill Monroe and the Stanley Brothers while still in his teens. Upon being introduced by Monroe to Carter Stanley, the latter asked the young Rowan, "Are you going to stick with it, son?" We know the answer to that was yes, and we know also how profoundly Rowan has answered Carter's question as the years have passed. On this outing Rowan brings the past and present together seamlessly and soulfully, paying homage to the Stanleys in three of their original numbers, while elsewhere doing more than justice to tunes by the Louvin Brothers (a sensitive treatment of "A Tiny Broken Heart" with a smooth, crooning vocal oddly heightening the tragedy of a farm being foreclosed and with it a seven-year-old losing his little playmate); Bill Monroe (a haunting rendition of the heartbreaking ballad, "Can't You Hear Me Calling," with a stirring mandolin solo presumably from veteran Don Rigsby, of Ralph Stanley's Clinch Mountain Boys); Ralph Stanley, via a sprightly, banjo-fired (courtesy Rowan band member Patrick Sauber, one of the album's younger generation bluegrassers seamlessly meshing with the vets) workout on the earnest farewell to a beloved paramour on the eve of her wedding to another, "Let Me Love You One More Time," which also benefits from lively fiddle (Blaine Sprouse, also a former Blue Grass Boy) and mandolin solos.
Bill Monroe's 'Can't You Hear Me Calling,' Peter Rowan, from Carter Stanley's Eyes
A.P. Carter's 'Will You Miss Me,' Peter Rowan, from Carter Stanley's Eyes
The traditional country of A.P. Carter is honored in an austere, gospel-influenced treatment of "Will You Miss Me," which is followed in the sequence by a true bluegrass gospel number, "A Crown He Wore," by Lois Mann and Mac Odell, delivered in close, anguished four-part harmony so potent on its own a listener could be forgiven for thinking the tune is done a cappella. Again blurring the line between folk and bluegrass, Rowan and friends strut through a joyous version of Lead Belly's "Alabama Bound," allowing room for tasty mandolin and fiddle solos along the way. And whereas the album begins on an upbeat note with an intense take on Peter's "Drumbeats on the Watchtower" (Ralph's retitling of a song Peter wrote as "Wild Geese Cry Again"), with multiple searing solos underscoring the urgency of the singer's fruitless journey to find a wayward lover, the penultimate tune, from Ralph's own pen, "Ridin' on That Midnight Train" frames a keening vocal lamenting an unfaithful lover in ever more heated banjo, mandolin and fiddle solos in breathtaking displays of bluegrass virtuosity.
Several songs here speak of journeys, and so it is that Peter Rowan's own journey continues, into his deepest roots and more fruitfully than some of the desolate ones we encounter in song on Carter Stanley's Eyes. In pure musical terms, he continues to alight in the most interesting places and make the most of each moment. That's what happens when you stick with it.