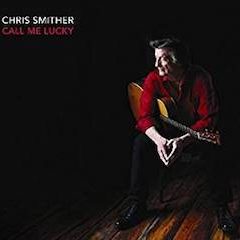 CALL ME LUCKY
Chris Smither
Signature Sounds
On this, his 18th long player, his first in six years, Chris Smither emphasizes—then re-emphasizes–the irony of the collection's title while taking a couple of interesting detours to explore new perceptions of vintage classics. He does all this with the help of his longtime producer (and multi-instrumentalist) David Goodrich, along with drummer Billy Conway and another multi-instrumentalist in Matt Lorenz pitching in on violins, electric guitar, electric baritone guitar, pump organ and whistling. The concept evolving from their sessions at Blue Rock Studio outside of Austin is heard over the course of two CDs—one, the A Side, as it's called, features eight Smither originals and two covers; the B Side gives us five of the songs on the A Side but slightly reconfigured in different arrangements, some longer, some shorter than the earlier versions, plus one startling, reimagined cover.
Backed by this tight, rootsy quartet (including his own guitar—this is, after all a Chris Smither album), the artist contemplates his own relationship failures in humorous, self-deprecating fashion in the shambling "The Blame's On Me" ("I think the universe is guilty/the blame's on me…") but later takes it all in existential stride in the bluesy, carefree shuffle of "Too Bad, So Sad" (a telling title, indeed, enhanced by nigh-on-to-sardonic lyrics such as "If I need someone to hold me, if I need someone to take my hand/don't say I should have thought of that, babe/when I was a younger man…" ). The tender ballad "By the Numbers," sounding very much like an early Tom Waits reflection, contemplates, in essence, strength in numbers; that is, a person alone (one) has certain deficiencies that a partner (two) allays with love and support, whereas three is the sustaining je ne sais quoi—your own self-worth and moral compass to guide you through troubled times. How he returns the discussion to the one is a thing of beauty. As for the problem of feeling unconnected in a connected world, in the jaunty pace of "By the Numbers" Smither offers numerous examples of same, ranging from the preacher who can't be bothered to look up from his phone to save a soul to a certain denizen of Pennsylvania Avenue herein described as "a clown with a combover tryin' to float a loan/Through the CIA while he tweeted on his phone/there was nobody home…," all leading to the conclusion that "It's gettin' hard to maintain connections in a personal way/Everybody wants to text me 'cause they ain't got nothing to say/Believe me when I tell you it's like bein' alone/Hangin' out with numbers in a cyber zone…"
'They call me lucky, but I don't know why': 'The Blame's on Me,' Chris Smither, from Call Me Lucky
'Down to the Sound,' Chris Smither, a live performance of the song from Call Me Lucky
Feeling disoriented as age creeps up on you? The eerie, swirling soundscape of a bluesy ballad, "Down to the Sound," perfectly shadows the artist's wearily articulated particulars of a splintered internal reality. Then there's Chuck Berry's "Maybellene," brisk, fingerpicked but positively foreboding when delivered as a minor-key blues dirge as Smither does here. It's not easy to say this about a song as iconic as "Maybellene," but Smither, in tapping into some inherent despair long subdued by the scalding pace of Berry's original and that of every other artist that's tackled the song, will actually have you hearing this 62-year-old classic with new ears.
'She Said She Said,' Chris Smither's cover of the Lennon-McCartney song, from Call Me Lucky
On the B Side, Smither turns five of the A Side songs inside out. In "Everything on Top," the somber reflections of a disappointing life become a searing, existential, guitar driven rock 'n' roll howl, whereas "Down to the Sound" is less bluesy and more evocative of a dry, southwestern desert ballad, dark and foreboding. In "By the Numbers," the jauntiness of the A version is supplanted by the introspective quietude of a piano ballad arrangement from which emerges one of the most touching vocals Smither has ever laid down. Then there's another cover to match the surprise of "Maybellene," it being Lennon-McCartney's "She Said She Said," from Revolver, transformed into a spooky, medieval sounding folk tune evoking Brian Jones-era Stones. Through it all, Smither sounds very live and abundantly present in the mix, but lucky? The inside front cover reprints the first line from "The Blame's on Me," to wit: "They call me lucky but I don't know why." You have to say all available evidence supports this statement. Which detracts not a whit from Smither's triumph.