Ed. Note: On April 15, 2008, we launched the first issue of TheBluegrassSpecial.com. Our concept was not to publish a pure bluegrass magazine but rather to spotlight music from across the roots spectrum that met the high standards of bluegrass musicianship in addition to featuring the best of contemporary bluegrass from veteran and developing artists alike. The Punch Brothers, our debut cover story, qualified in the "young, developing veterans" category with their groundbreaking vision of bluegrass/newgrass that is still being expanded upon, ten years later, in 2018. In the intervening years, the group's most prominent figure, Chris Thile, has been awarded a MacArthur Grant (the "Genius Grant" of legend) and become the affable, erudite and regular guy host of Prairie Home Companion. Gabe Witcher has become an in-demand session player, working with a veritable Hall of Fame roster of artists (Paul Simon, Rosanne Cash, Dwight Yoakam, et al.), played on two Oscar winning film soundtrack and been nominated on two others, and has rolled up extensive film and TV credits. Former Leftover Salmon/John Cowan Band member Noam Pikelny has been awarded the first Steve Martin Prize for Excellence in Banjo and Bluegrass (2010) and twice been awarded the IBMA's Banjo Player of the Year award (2014 and 2017), received an IBMA Album of the Year award for his 2013 solo album Noam Pikelny Plays Kenny Baker Plays Bill Monroe, which was also earned a Grammy nomination in 2015. His acclaimed 2017 solo album, Universal Favorite, was a Deep Roots Album of the Week and #5 in our Elite Half Hundred of 2017. In late 2008 Greg Garrison left the Punch Brothers and was replaced by double bassist Paul Kowert, a graduate of the Curtis Institute who studied under Thile's friend and sometime musical partner, Edgar Meyer. The band now has four albums, two EPs and a documentary (2015's How to Grow a Band, directed by Mark Meatto), a boatload of critical praise and a devoted following.
To mark the beginning of our 10th anniversary salute to ourselves, if you will, we are reprinting throughout the coming year, what we feel would amount to our "greatest hits" album of archived features and reviews, especially from TheBluegrassSpecial.com, which is now on an unsupported platform that might soon collapse like the planet Krypton. We start, appropriately enough, with our first cover story. The photographs accompanying the feature were taken by AUDREY HARROD, an outstanding photographer based in Louisville, KY, who did exemplary work for us in our previous incarnation and continues to do outstanding work outside of her day job with the United States Post Office. You can see more of her photography at her website. It's well worth the visit. We tip our hat to Audrey for believing in what we were doing and pitching in to help us get off the ground.
If you care to view the original feature (it remains unaltered here, save for the inclusion of embedded videos), follow this link. The design of TheBluegrassSpecial.com was created by the great and awesomely talented JOHN MENDELSSOHN, a legendary rock journalist from the early Rolling Stone days, who continues to amaze and fascinate with his Mendel Illness blog and his own music projects. As per the latter, the Mendelssohn-produced (and -written, and featuring his instrumental skills as well) debut album by Isambard Jones & His Orchestra, We Used to Have an Empire, We Now Have Diabetes, came in at #14 on the Deep Roots Elite Half Hundred of 2017, and was our Album of the Week this past January 30.
Following the first issue, the design and maintenance of the site became the purview of Kieran McGee, who produced  all of the publication's amazing covers up to July 2012, when we took a month's hiatus to transform ourselves into Deep Roots (there was one more memorable issue of TheBluegrassSpecial: the Christmas issue of 2013, complete with snow falling across the cover). Kieran went on to design Deep Roots, with one of our new contributors, John S. Simpson, stepping in late last year with a major assist in returning us to the land of the living after the site succumbed to a hacking attack. In the coming months we will be honoring the writers that have labored so hard and so well for scant (as in mostly nothing) wages to support this crazy venture. For now…on to the Punch Brothers, as they were then. 
1st Movement: It Happens
"This has never happened to us before."
A rumpled Chris Thile is grinning from ear to ear as he stands at one of only two microphones on stage in the elegantly appointed Schubert Theater in New Haven, CT, one of the early stops on the first tour his new band has made as The Punch Brothers. The occasion for his somewhat stupefied confession is the second of two standing ovations the band has received from a near-packed house of fans ranging in age from senior citizens to sub-teens, a healthy percentage of them looking to be in the Punches' mid-20-ish range, which perhaps makes sense with Yale University only half a block away. This, the close of the second of two sets of scintillating progressive bluegrass drawn mostly from the band's ambitious new Punch! album and from its predecessor, How To Grow A Woman From the Ground (which was billed as a Chris Thile solo album, but was the first recorded work of the quintet now billed as the Punch Brothers), inspires in the fellows a reflective moment on which to end the night's festivities. Disdaining any more electrifying improvisational set-tos, they settle into the laconic pace of Norman Blake's touching "Green Light, Southern Rail," a rustic, poignant, folk reminiscence of, and longing for, a youth spent railroading. Its wistful recollections summon from Thile his most evocative vocal of the night, tender and slight, heightening the yearning melancholy of Blake's finely crafted lyrics, as the band offers support in subdued, sepia tones.
And then it's over. Thile makes a slight bow to the audience, his thick brown hair now damp and plastered to his head in places—a bit of an improvement, actually, over the burgeoning Flock of Seagulls look it had when dry—as his mates bid adieu and hustle off the stage.
'The Blind Leaving the Blind,' Movement 1, Punch Brothers, from the group's first album, Punch (2008)
In a near-three-hour show, the Punch Brothers offered ample evidence as to exactly what this New Guard progressive bluegrass of theirs is all about. The crowd ate it up, across the generational spectrum. In addition to the Thile originals—notably, of course, his breathtaking four-movement suite born of a wrecked marriage, "The Blind Leaving the Blind"—the band's repertoire embraced the whole of country and bluegrass history, at once linking it to the Old Guard and the founding fathers while marking distinctive new turf of its own, of a new generation. Thile said as much in introducing a keening, dramatic rendering of The Strokes's "Heart In a Cage," finding a high lonesome strain in it that would make Bill Monroe (and, one assumes, Julian Casablancas) proud, as surely as Mr. Bill would tip his hat in appreciation of the arresting, "Uncle Pen"-like stop-time passage that sets up a chorus done in four-part gospel harmony.
Thile prefaced the performance of "Heart In a Çage" by articulating the Brothers' raison d'etre: "We're testing the hypothesis that any song, regardless of genre or style, would be better done in a bluegrass version."
So it was that our heroes did slay an audience with innumerable demonstrations of instrumental virtuosity, solo and ensemble style, by Thile (mandolin), Noam Pikelny (or "Pickles," as Thile referred to him, on banjo), Greg Garrison (bass), Chris Eldridge (guitar), and one of Thile's closest friends dating back to their not-so-long-ago childhood, Gabe ("Gabbers," in Thile-speak) Witcher on violin. Over the course of the two-set evening, the quintet demonstrated an acute sense of dynamics, both musical and personal; Thile naturally was the focus of the action, but Pikelny and Witcher played willing comic foils, absorbing their leader's gentle ribbing between songs and giving as good as they got when the opportunity arose, then settling into serious music making when the kidding ceased. Throughout the show the band stepped away from original material to range from the 20th Century into the early 21st of contemporary music in covering Jimmie Rodgers's (and Bill Monroe's) "Brakeman's Blues," the aforementioned Strokes number, "Morning Bell" by Radiohead, "Baby's in Black" courtesy Lennon-McCartney (as time goes on, the Beatles' influence on country music from the New Traditionalists forward seems ever more pronounced) and the Norman Blake song that sounded an introspective note at night's end, all the better to consider what the Punch Brothers had wrought in their time on stage in New Haven.
A new world it was, but one in which the past is emphatically recognized and respected, reflecting a bluegrass tradition hearkening back to the manner in which the progressives of the '60s and '70s embraced certain elements of rock 'n' roll propulsion while honoring the music's true beating heart as nourished by Monroe, Flatt & Scruggs, the Stanley Brothers, Jim & Jesse, et al., back in the day. The line that runs from Monroe through Flatt & Scruggs to the Seldom Scene, J.D. Crowe & the New South and the New Grass Revival doesn't end but grows tauter as the Punch Brothers grab hold and stretch it into the present day. Same as it ever was.
2nd Movement: 'A Way Of Life in Disrepair'
Although Chris Thile is submerging his identity in the Punch Brothers (it's not billed, after all, as Chris Thile & the Punch Brothers), he sports the highest public profile in the group and is its natural focal point. Its legend, such as it is, is intrinsically linked to his story.
Born in Oceanside, CA, in 1981, Thile began playing the mandolin at age five, was home schooled and joined with his family and the Watkins neighbors, who had a son, Sean, and daughter, Sara, to form Nickel Creek (so named after a like-titled song by Byron Berline, who was Sara's fiddle instructor), with Chris's father Scott on standup bass (he's shown with the youngsters in an early cover photo for band's first Sugar Hill album); at age 12, Sean was the oldest, playing mandolin before he switched instruments with then-guitarist Thile. The band recorded two albums, Little Cowpoke (1993) for Choo Choo Records, and Here to There, self-released in 1997 and now long out of print. Alison Krauss crossed paths with the band during a show at the Ryman Auditorium in Nashville; impressed by the teens' performance, she agreed to produce NC's eponymous Sugar Hill debut, released in 2000 to widespread critical acclaim, two Grammy Award nominations and a citing in Time magazine as one of "Five Music Innovators of the Millennium." Another Alison Krauss-produced album, 2002's This Side, continued the pattern set on the first of seamlessly melding bluegrass and pop strains in a neat balancing act that induced more critical plaudits for the band even as it left some bluegrass purists grumbling. A third album, 2005's Why Should the Fire Die?, brought a change of producers and a harder edge: Eric Valentine and Tony Berg were behind the board, sculpting a dense soundscape rich with sonic buzzes, clicks, sighs and bleeps that served as an electronic Greek chorus signaling another romance shorting out. All three musicians have memorable moments on the album, but the most telling was the Thile-Sean Watkins-composed title track, the album's chilling closer, a subversively lovely folk-styled tune with gentle finger picking and breathy harmonies in which Thile sings wistfully of the elusiveness of lasting passion.
'Sometimes,' The Punch Brothers perform a song from their first album, Punch. Video from Guitarist DVD Volume IV.
In 1993 Thile, all of 13 at the time, released his first solo album, Leading Off, setting him on a course in which he would roam far beyond Nickel Creek's musical boundaries and test himself against some of the giants of bluegrass. His startling 2001 solo effort, Not All Who Wander Are Lost, featured an instrumental lineup of Stuart Duncan, Jerry Douglas, Bryan Sutton, Bela Fleck and Edgar Meyer. Two years later he cut a duet record, Into the Cauldron, with veteran mandolin virtuoso Mike Marshall of the Modern Mandolin Quartet. Its 11 tunes found the pair rethinking everything from song structure to melody lines on Charlie Parker's "Scrapple from the Apple" and Bach's "Goldberg Variations," engaging one another in musical tête-à-têtes spotlighting both the tenderness and the feistiness in their fretwork. More intriguing, in light of succeeding events, is Thile's self-penned, near-seven-minute "Stranded in Kodiak," a work that unfolds in movements, with a delicate opening stanza giving way to a frenzied middle section of insistent single-note cries and the howl of hammered chords, before the drama is resolved in a final, peaceful passage of lightly strummed chords. The duo reunited on 2006's Live: Duets, not a reprise of the studio album but a clutch of new, original compositions. In between the two pairings with Marshall, Thile cut another solo album, 2004's Deceiver, on which the then-23-year-old played all the instruments, sang all the vocals, and co-produced; he also heightened the musical intensity, offering tunes that matched the fractured psyche revealed in his lyrics. In contrast to the tender, acoustic meditations on Not All Who Wander Are Lost, Thile mated lyrics such as "nothing feels good unless I've felt it before" and "I'm enchanted by a way of life in disrepair" with abrupt tempo changes, layers of electric and acoustic instruments, and dramatic protests from various instrumental combinations, including string quartets reminiscent of the Beatles. The Fab Four, in fact, were a major influence on Deceiver, sonically and lyrically. Thile here crafted a self-portrait of a young man fed up with himself, searching for answers to an existential crisis, in deeply intimate and searing interior monologues resembling an embryonic version of John Lennon's first solo album.
By this time Watkins, Watkins and Thile realized Nickel Creek had pretty much run its course, after three studio albums, a best-of collection (Reasons Why) and two million albums sold. In an interview with this writer in 2006, Thile attributed what he was calling the band's "indefinite hiatus" to the trio having "said all we want to say for a while" after the release of Why Should the Fire Die? "Couldn't see our way to topping that record," he said, "and we always said the minute we felt we weren't progressing, we weren't going to do it anymore. I think we all felt like the progression had slowed substantially after Fire; felt like Fire was the culmination of our efforts and we weren't going to top it any time soon. So it was time to give it a break."
One final tour, and Nickel Creek was history. So was Thile's ill-fated marriage of some four years' standing. And therein lies another tale altogether.
3rd Movement: I Thee Wed
At the moment Thile reunited with his childhood buddy Gabe Witcher, and crossed paths with Noam Pikelny, Chris Eldridge and Greg Garrison, he had already begun working on his most ambitious compositional piece, taking what was suggested by the structure of "Stranded in Kodiak" on Into the Cauldron and adding flesh, blood and bone to it; in time it would become an instrumental and lyrical forensic investigation into Thile's matrimonial debacle in four movements, a work rich in dialogue between the instruments, its shape and texture abruptly shifting within a single movement, but always in purposeful fashion, designed to heighten the already elevated, brittle emotions revealed in the angular narrative line. The work as a whole reveals Thile's deep immersion in classical music as well as his understanding of the bluegrass ethos, placing a premium on challenging instrumental work but never forgetting to tell a story, too (in his case a rather tortured story exploring the thin line between love and hate), the better to avoid making the entire endeavor a sterile exercise in virtuosity for virtuosity's sake, again hearkening back to the challenging duets he had fashioned with Mike Marshall.
But there was no song without a band to play it. For years he and Witcher—who grew up together in the same California neighborhood and treasured a friendship of 20 years' duration—had bandied about the idea of forming a little ensemble. But between Thile's blooming career and Witcher's demanding session work (his credits range from Willie Nelson to Randy Newman; he's also featured on the soundtracks of several films, including Brokeback Mountain), it remained only an idea.
'The Blind Leaving the Blind,' Movement 2, Punch Brothers, from their debut album, Punch (2008)
In the 2005 Telluride Bluegrass Festival Thile connected with Pikelny, who had recorded as a solo artist while establishing an impressive newgrass resume accompanying the likes of former New Grass Revival vocalist/bassist John Cowan and banjo master Tony Trishka. His next encounter with "Pickles" was in Nashville, and they had soon expanded their twosome-about-town with the additions of guitarist Chris Eldridge (a founding member of the redoubtable Infamous Stringdusters and son of one of progressive bluegrass's most respected instrumentalists, Ben Eldridge of the Seldom Scene) and bassist Greg Garrison, late of the adventurous Leftover Salmon brigade. Thile told the others about his work-in-progress.
"Chris was telling us about what he was writing and that he was getting to the point compositionally where he wanted to start working on a large scale piece for the bluegrass instruments," Pikelny later recalled to a reporter. "I don't think we had any idea that evening that he was hinting that we could be the guys to do it with him."
The next day an exuberant Thile was on the phone in a hurry to Witcher, summoning him to New York, where all five musicians would meet and assess a future playing together. The first tune they warmed up on was the old fiddle classic, "St. Anne's Reel." According to Witcher, about five seconds into it everyone knew something special was happening. "Within the first couple of beats, we were all looking at each other going, 'Hey, this sounds pretty good. This is working very nicely," Witcher says. "I can say this about everybody in the band—there's a lot overlap as far as our musical interests go. That's one of the things that makes the band possible and makes the fit so nice between everyone."
Thile: "After that fiddle tune we launched into the first movement and almost within the same amount of time realized (laughs) we were gonna have to work really hard."
"The fact that everybody does fit together so nicely and it came so easy was a big help in our ability to achieve the things we wanted to achieve as an ensemble," Witcher adds. "It gave us a head start. If we had to take the time just to develop the kind of chemistry we have together, it would have been so much more difficult."
"It would have been a nightmare, and probably not really possible," Thile states emphatically.
"I think that's a huge reason we even exist, because it was so instant," concludes Witcher.
So there was a record to make, 2006's How To Grow A Woman From the Ground, a mix of raw-nerve Thile originals and covers from sources as varied as the legendary Spanish Celtic band Milladoira (whose lively instrumental, "O Santo De Polvora," is a moment of pure joy, an irresistible Irish reel abundant in infectious, life-affirming fiddle-banjo) to Jack White's uptempo, slightly skewed explication of a relationship gone sour in the driving, bluesy "Dead Leaves and the Dirty Ground," to the bustling, fiddle-fired workout on Jimmie Rodgers's classic "Brakeman's Blues" that has now assumed its place in the band's concert repertoire. Casablancas's "Heart In a Cage" was reimagined here as well, with all the gospel inflections intact as heard on stage these days.
In a 2006 interview with this writer, Thile explained that the selection of his new musical compadres was a direct reaction to having employed his "heroes" on his other solo albums, as well as him satisfying a need for a long-term home for his musical endeavors apart from designed solo projects.
"I wanted to construct a band of equals that wouldn't react negatively to being placed under my leadership, for one," he explained. "That was the original idea, and what I got as a result of pursuing that was always and continues to be surprising. I loved making Not All Who Wander Are Not Lost with all my heroes, but there's something immobilizing about your heroes. There's so much respect, and there should be—they're my elders, they're why I do what I do, and I'm not comfortable just flat-out telling them what to do, or saying, 'No, that's just not good enough,' or 'Why don't you try something else there? That sounds like what you'd do on a different song.' Or, 'Reach a little deeper.' The kind of things you want to be able to say to the musicians you're working with on an important project are things I can't say to those guys. I'll never be able to say it to those guys. Again, there's too much respect; and moreover, I'm liable not even to think those thoughts at all; it won't even be that I'm holding back, but rather that I'm just dazed by my good fortune of being able to work with those guys on a regular basis. It's one of the miracles of my life. It was great for Not All Who Wander, and I'll do many more projects with them, for sure.
"And I also wanted to create an ensemble that had a lot of potential for longevity, 'cause I kinda felt like this transition from Nickel Creek to something was probably imminent, and I wanted to start cultivating a new project to focus on. So finding these guys mostly my age and just stupid talented, these kids—unbelievable—I call them kids but I include myself in the 'kid' label until I reach about 40—but these guys are so amazing. We all come from relatively the same place but have reached out in different areas. The way we've all chosen to evolve our musicianship after bluegrass has been drastically different, so I feel like there's very little redundancy within the group, which is great—but you need some, so that the vocabulary is common enough for you to communicate properly. I couldn't imagine being in a happier situation as far a the band is concerned. These guys are just absolutely amazing."
In a telling addendum he averred, "I've sort of assumed leadership, and this record has my name on it, but it's a band record. And after a little while we'll start calling them band records; it's not going to be my name up there anymore. My solo projects will be things that are not those band projects.
"It's so exciting, man, to form a band at this time in my life, having been part of a reasonably successful outfit for so long. But that one was already developed by the time I was mature enough to make any developmental impact on it. It's nice to have another chance at creating a band, envisioning something and attempting to fashion it into a project."
'Nothing Then,' Punch Brothers, from their debut album, Punch (2008)
The How to Grow band, as it was called, went on the road and honed its performances, learned how to communicate and anticipate in the midst of rapid-fire improvisatory passages, got used to being watched, for that matter, and developed an on-stage personality.
Then the serious work got underway. Or rather, it was already underway, in a song Thile wrote for and recorded on the How To Grow a Woman from the Ground album, "I'm Yours If You Want Me," addressed to an unnamed lover whose affection for him was dwindling, or was at least suspect. Even as he wrote the song, Thile knew the answer was "No!" From this seed sprouted the ambitious suite, "The Blind Leaving the Blind," which was little more than a bud when How to Grow's principals convened in Nashville, but soon flowered into something wondrous, beautiful and captivating.
4th Movement: And the Twain Shall Meet
"Punch, brothers! punch with care! Punch in the presence of the passenjare!" –from the Mark Twain short story, "Punch, Brothers, Punch!"
The Mark Twain short story, "Punch, Brothers, Punch!" originally titled "A Literary Nightmare," concerns a jingle that sticks in a man's mind and slowly drives him crazy until he manages to transfer it, virus-like, to another unwitting soul. The accepted term for this condition: earworms. We've all had one, a song you can't stop hearing in your head—remember the Seinfeld episode in which George Costanza couldn't stop singing "Master Of the House" from Les Miserables? It's enough to drive one to extreme behavior. Or to writing a four-movement bluegrass suite.
Chris Thile's form of earworm was not a song but rather his unhappy marital union, a personal Waterloo he couldn't dismiss until he had reckoned with it in his art. The four movements of "The Blind Leaving the Blind" only tangentially hew to the definition of a classical suite comprised of Allemand, Courante, Sarabande and Gigue components, each having specific rhythmic and harmonic characteristics. In Thile's progressive bluegrass interpretation of a classical suite, these characteristics are intertwined in each movement, as lovely, long lines conjuring pastoral pleasures worthy of comparison to Copeland or Grofé give way to furious, speed-picked solo and ensemble discourses designed to underscore lyrical excursions revelatory of an inner life roiled by feelings of rage, betrayal, heartbreak and, finally, conciliation as the reality of the unfolding debacle, and the narrator's culpability in it, hits home with a thudding finality. In true Shakespearean fashion, "all are punished" in the text—the bride, the in-laws, and not least of all the groom. Still, the composition's angular, shifting shape results in a surprisingly buoyant, sometimes celebratory, soundscape, a winter of discontent made glorious summer. Though Thile is a devotee of J.S. Bach, the lively, asymmetrical structure of "The Blind Leaving the Blind" is more reminiscent of later Robert Schumann piano compositions, rife with a schizoid quality, never signaling what will happen around the next corner, always pulling the listener in different directions in an intimate conversation with the composer. As for that conversation, it's oblique, teasing, employing religious imagery at times and evoking the splintered reality the narrator is trying to piece together into a coherent explanation of what went wrong. Answers are elusive, not so peace within. At the end of the 40-minutes-plus journey, a vibrant beam of light bursts through the shadows to illuminate a new path; the quintet rushes towards it in a frantic ensemble exultation, then a final exhalation, before sounding one last, soft, soothing chord of resurrection.
Thus murmuring faint and fainter, my friend sank into a peaceful trance and forgot his sufferings in a blessed respite. –Mark Twain, "Punch, Brothers, Punch!"
The disjointed nature of the suite was a conscious compositional choice, in lyrics and music. Thile, one of the most analytic artists working today, plotted it as deliberately as did Alfred Hitchcock in storyboarding his films.
"There's lots of common themes, but their treatment will fragment to the point of being unrecognizable at times," he explains. "I also feel like no one catches all the lyrics to a song first time through, and even afterwards I think the most powerful impressions of a song are given in those first couple of listens, and you get this vague, beautiful picture that can hit you harder. It can be more impactful because of its ambiguity and you can actually start plugging yourself into the material a little bit more meaningfully because the meaning of the song is not too personal or specific. Switching viewpoints, switching places in the story, and I was trying to tell a story but not to tell it so specifically and personally that it would exclude people. And I definitely wanted to avoid painting too definite a picture because I think the best lyricists leave so much room for personal interpretation."
Witcher then becomes interlocutor. A dialogue ensues between he and Thile, as pointed and succinct as one of their instrumental dialogues.
Witcher: Doesn't it also have to do a lot with your concept of the piece as having the voice be treated as just another element, another instrument, within the composition?
Thile: Absolutely.
Witcher: Not be the focus of the music as it is in pop songs or in songs in general. So in treating that way it helps bring it back to the level of all the instruments.
Thile: Absolutely, because if you paint too definite a picture it's less like a musical instrument and more like poetry, or a novel. One of the last high concept motivations for the piece was the simple fact that there's not much vocal music out there that the vocal doesn't rule with an iron fist. And personally I feel I'm more of an instrumentalist than a vocalist, but that doesn't mean I want to ditch singing. I just feel like I want music out there that's written for people like that. I think we're all that way; we've all put more time into our instruments than we have our singing. But we love to sing, it's part of what we do. That was the more practical origin to the piece in addition to the more theoretical reasons.
Yet in spite of all this high-minded discourse, Thile knows a piece of more than 40 minutes in length poses some problems in a commercial sense. Analytic though he be, this California kid is comfortable enough in his own skin to crack jokes about his masterwork. Onstage in New Haven, he introduced the first two movements (the band played the third and fourth movements in the second set) by announcing, "This thing has Top 40 written all over it. Yeah. It's a runaway train. Get on board before it runs you over."
'It'll Happen,' Punch Brothers, from their debut album, Punch (2008)
Later he went on about how the Punch Brothers experience has been "really positive" on multiple fronts for him, especially in its promise of a bountiful future. He's a man with a plan, clearly. "I got to re-evaluate what's important in life," he says of the Punch Brothers experience to date, "and also was open to dramatic change, which led to being able to play music with these guys. Which is honestly the most amazing experience I've ever had as a musician. I'm so excited to keep doing it and what develops from it. The first thing we ever did was work on this piece, but now the thing I'm most excited about is the potential for some really interesting collaboration. I think we're all really psyched about the next step."
And about that oft-referenced marriage?
"All done!" he exclaims gleefully. "Absolutely done with it. Got it all flushed out. I understand there's a couple of people who are saying, 'You know what? I'm sick of you bitching and moaning about this!' I have a lot of empathy for them. I'm really proud of [the suite], but I'm definitely ready to move on as far as lyrical content is concerned."
Can we get that in writing?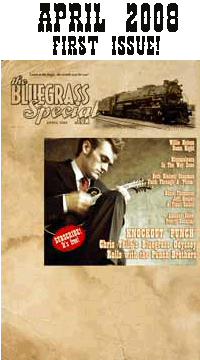 Originally published in the April 2008 premier issue of TheBluegrassSpecial.com