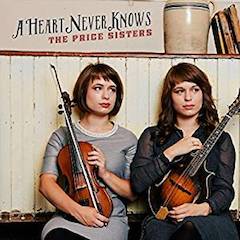 A HEART NEVER KNOWS
The Price Sisters
Rebel Records
Hailing from Monroe Country, Ohio—"the very heart of Hatfield-McCoy territory," as the liner notes observe—Price Sisters Lauren and Leanna not only step boldly into a rich history of bluegrass sibling duos but may also have lessons to impart about teleportation, so authentic is their otherworldliness. With Charlie Cushman leading the charge on banjo, the sisters kick off the festivities with Bill Bryson's sprightly ultimatum, "Love or Leave Me," with Lauren adding a tasty mandolin solo at the halfway mark; then seamlessly bring Cushman back to set the tone for a midtempo meditation on A.P. Carter's heartwarming "You've Been a Friend to Me," featuring backwoods atmospherics courtesy Lauren's fiddle and Leanna's mandolin, with the sisters' lush harmonizing lingering in memory; which segues to a keening country heartbreaker, Shawn Camp's "If I'm Gonna Be Lonely"—all done so thoroughly in the Price style you'd never know they hadn't written them yesterday. Some sounds, some sentiments, never go out of style.
Selected Track: 'Remembrance Is a Golden Chain,' The Price Sisters, written by Bill Castle, from A Heart Never Knows
Ace producer Bill VornDick fashions an intimate, down-home soundscape, while the stellar players (Bryan Sutton, Mike Bub, Justin Moses, Dennis Crouch, Charlie Cushman and, on one cut, cellist Gary Tussing) provide subtle, soulful support. Even so, the sisters remain a constant source of wonder, not subservient to their all-star band but rather meshing perfectly with their cohorts. It gets downright breathtaking at points: the spirited, bright harmony singing they bring to the Delmore Brothers' "Singing My Troubles Away" makes the tune sound like an uncanny cross between a bluegrass toe-tapper and a '40s pop tune (calling Patty, Maxine and Laverne Andrews!). Sometimes the gals don't need to sing a lick to take your breath away: witness the warp-speed instrumental workout on Bill Monroe's rollicking "The Lee Wedding Tune," wherein Leanna and Lauren give object lessons in why their musicianship is so highly respected among their peers, while Charlie Cushman more than rises to the occasion in true legend fashion with a powerhouse burst of banjo prowess when his time comes around.
Selected Track: 'Singing My Troubles Away,' written by Alton Delmore and Rabon Delmore, as performed by the Price Sisters on A Heart Never Knows
But, as noted above, the tunestack embraces the new as well as the vintage. Songwriter Bill Castle is represented with not one but two affecting tunes: the spiritually resonant "God's Beautiful Hills," a soothing bluegrass appreciation of the natural world and the hand that made it in rich, detailed observations worthy of John Muir, with the sisters' stirring harmonies revealing the depth of feeling Castle plumbs in his lyrical poetry; and "Remembrance Is a Golden Chain," a hard charging fiddle- and banjo-driven exaltation of love undiminished by a partner's death.
Selected Track: 'Widow of the Mountain,' written by Twangtown Paramours MaryBeth Zamer and Mike T. Lewis, as performed by the Price Sisters on A Heart Never Knows
The newest tune here may well be the one that most haunts listeners: "Widow of the Mountain," a Gothic bluegrass ballad penned by Twangtown Paramours MaryBeth Zamer and Mike T. Lewis, finds Lauren chillingly expressing the equanimity of a coal miner's wife realizing she was wed not to the husband who died on the job but rather to the mountain they depended on for survival—and the afterlife reunion she is certain lies ahead when her days are done. A raft of history informs this narrative, appropriately dating back to the tales of loss and longing and death's long reach permeating the A.P. Carter catalogue (fittingly represented on this album by two songs). The Paramours' is a tale both poignant and unforgettable, like the entire album, and a boldface underscoring of this outing's animating concept: Verily, a heart never knows.