Directed by David Bradley
Produced by Basil Bradbury (associated producer), Jonathan Daniels (executive producer), O'Dale Ireland (producer), Victor Purcell (executive producer)
Screenplay by George Hodgins with additional story and dialogue by V.J. Rheims
 Music by Nicholas Carras, Carl Eugster (lyrics)
Cinematography by Gilbert Warrenton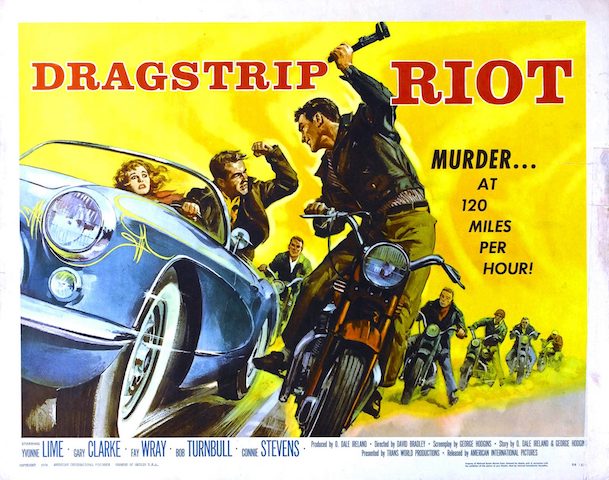 CAST
Yvonne Lime as Janet Pearson
Gary Clarke as Rick Martin
Fay Wray as Norman Martin (Mrs. Martin)
Bob Turnbull as Bart Thorson
Connie Stevens as Marge
John Garwood (billed as Gabe DeLutri) as Silva
Stanley Dyrector (billed as Marcus Dyrector) as Cliff
Ted Wedderspoon as Gramps
Barry Truex as Gordie
Marilyn Carroll as Rae
Marlo Ryan as Helen
Tony Butala as Joe
Carolyn Mitchell as Betty
Steve Inhat as Dutch
Marc Thompson as Gary
Allan Carter as. Mike
Aileen Carlyle as Café Manager
In a beach community near Malibu, California, Rick Martin (Gary Clarke) and several friends prepare for a car race the following day. Rick's family recently moved to the area from San Francisco, where Rick served time in a juvenile detention hall for beating up a fellow student, and Rick's mother Norma (Fay Wray) and grandfather (Ted Wedderspoon) argue about how much freedom to allow Rick. The strict Gramps chastises Norma for being too lenient, but she insists that Rick has promised never to fight again.
One afternoon at a beach party, Rick is challenged by Bart Thorsen (Bob Turnbull) for the attentions of Janet Pearson (Yvonne Lime), but Rick refuses to rise to Bart's taunts. Later at the local beach diner, a motorcycle gang interrupts the teens' dancing, and a fight breaks out among the girls. When Rick intervenes, he is confronted by gang leader Silva (Gabe DeLutri), but walks out of the diner rather than fight, to Janet's bewilderment. In the diner parking lot, however, Silva makes a pass at Janet, and Rick can no longer contain himself and beats up Silva, amazing the other teenagers. Back at home, Gramps demands that Norma take action when Rick returns, having clearly been in a fight. Norma questions Rick, who apologizes for having broken his promise, then explains his need to defend Janet. Under pressure from Gramps, Norma takes Rick's car keys and forbids him to attend the race. Dismayed, Rick telephones his friend, mechanic Cliff (Marcus Dyrector), who comes over later that night and hot-wires Rick's car. Cliff cautions Rick about disobeying his kindly mother, but Rick explains that he believes the overly severe Gramps is responsible for his grounding and divulges his frustration that he has never won his grandfather's respect.
The next day, Rick sneaks away, retrieves his car at Cliff's and enters the race, only to lose when Bart cuts him off intentionally at the final turn. Angered by Bart's action, Rick demands satisfaction, and Bart agrees by suggesting the two meet in a "train drag" contest, where each driver sits on a train track facing an oncoming train. The first driver to panic and turn off the track loses. With two of the other boys as official witnesses, Rick and Bart meet at the diner, then go out to the tracks. Panicking, Bart loses the contest, and humiliated, drives off in search of the bike gang to demand that Silva help him get revenge on Rick. Silva agrees and, taking other gang members Gordie (Barry Truex) and Dutch (Steve Inhat) along, follows Rick on his bike after he takes Janet home that night. Rick attempts to outdrive the gang, but on the winding ocean drive, is unable to evade them. Silva and the others surround Rick's car, but when Silva hurls a large wrench at Rick, he slams on his brakes and the wrench strikes Gordie, sending him over the cliff. Silva, Dutch and Bart hasten to Gordie, who dies in Silva's arms. Stunned, Rick considers running away, then reconsiders and, returning home, telephones the police to report the accident. Rick is arrested when Silva's gang insists that Gordie was the victim of a hit-and-run accident. Norma gets Rick out on bail, under the stipulation that Rick remain at home.
From Dragstrip Riot, The Ripchords perform 'Only One To a Customer,' a bit of faux calypso on the beach. These are not the Rip Chords of 'Hey Little Cobra' fame. These Ripchords seem to have faded completely from history.
The next day at the diner, Bart and the others read the news reports of Rick's previous arrest in San Francisco, and some of the boys believe he has lied to them. When Janet is doubtful, however, her friend Marge encourages her to believe in Rick. Rick telephones Janet and entreats her to meet him so that he might explain how the accident really happened. Janet agrees to meet Rick at the beach, unaware that Bart is eavesdropping on their conversation. That evening, Norma tries to prevent Rick from leaving the house, but he storms off after a heated argument with Gramps. Distraught, Norma breaks down, until Gramps promises to bring Rick back, and Norma agrees to go with him in search of her son. Meanwhile, Rick arrives at the beach only to find Janet being harassed by Bart. When Bart flees to Silva, Rick reveals the details of the accident to Janet and his arrest at the age of fourteen for assault precipitated when the other boy threatened him with a knife. Janet assures Rick that she trusts him, then Silva, his gang and Bart return and encircle the couple. Silva plans to kill Rick with an arrow-shooting gun, but when he insists that Janet too must be killed, Bart protests. Silva demands that Bart hold Rick, but Bart is distracted when Janet screams, and Rick is able to break away, causing Bart to be impaled by the arrow. Janet's screams attract the attention of the other teens in the diner, and they rush to the beach, where a violent brawl breaks out.
Driving by, Norma and Gramps are attracted by the commotion, and when Gramps sees how well Rick fights, he is pleased. The police arrive and stop the fight and assist the wounded Bart, who declares that Silva was responsible for Gordie's death, not Rick. Heartened to have Gramps's approval and knowing his name will be cleared, Rick reunites with Janet and heads home.
From Dragstrip Riot, Connie Stevens, in her third film, performs 'Jamaica Rock.' Actor/singer Connie Stevens was born Concetta Rosalie Ann Ingolia on August 8, 1938, in Brooklyn, NY. Coming from an accomplished musical family (both her parents were jazz musicians and her brother was a drummer), the promising singer adopted her father Teddy's stage surname and became Connie Stevens. At the age of 16, she was singing in her first group, the Three Debs. By the late '50s, Stevens had launched a singing and acting career, signing with Warner Bros. and issuing her debut album, Conchetta, in 1958 and acting in several movies and TV series (Young and Dangerous, Dragstrip Riot, Rock-a-Bye Baby, et al.). Stevens continued her musical career through the '60s, scoring two big hit singles–a duet with 77 Sunset Strip star Ed 'Kookie' Burns on his signature 'Kookie Kookie (Lend Me Your Comb)' and the dreamy teen ballad 'Sixteen Reasons,' a #1 single in 1961. But her role as Cricket Blake in the popular TV series Hawaiian Eye made Stevens a cultural icon and star. In 1967 she married singer Eddie Fisher, and although the union would only last two years (the couple divorced in1969), Stevens and Fisher had two daughters together, future actress Joely Fisher and future actress/singer Tricia Leigh Fisher. In addition, Stevens has developed her own cosmetic skin care product line, Forever Spring, and in the late '90s, she opened the Connie Stevens Garden Sanctuary Executive Day Spa in Los Angeles, CA. Stevens has also founded the Windfeather project, which awards scholarships to Native American Indians. In 1991, she was awarded the Lady of Humanities Award from the Shriners Hospital and Humanitarian of the Year by the Sons of Italy in Washington. 
***
Selected Short Subject: Tom Terrific, 'Crabby Appleton's Dragon'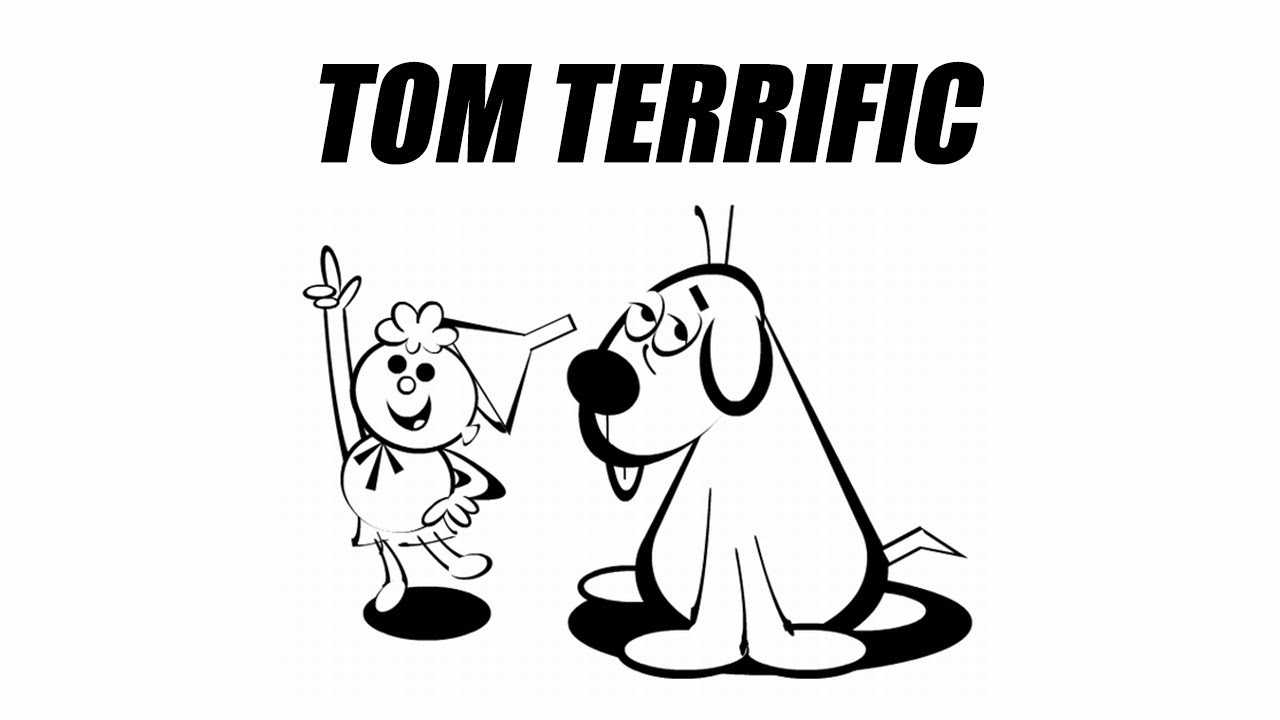 Tom Terrific, an early animated series on American television, was presented as part of the Captain Kangaroo children's television show.
Created by Gene Deitch under the Terrytoons studio (which by that time was a subsidiary of CBS, the network that broadcast Captain Kangaroo), Tom Terrific ran in a series of five-minute cartoons created specifically for the Captain Kangaroo show from 1957-1959, and was rerun on Kangaroo for years thereafter. For several years after 1962, Tom Terrific would be broadcast every other week, alternating with Lariat Sam, another Terrytoons creation.
Gene Deitch adapted the feature from his earlier newspaper comic strip, "Terr'ble Thompson." Terr'ble Thompson was a six-year-old boy who imagined himself to be the "Hero of Hist'ry" and freely travelled back in time to assist historical figures. An illustrated book reprinting the adventures of this precursor to Tom Terrific was published by Fantagraphics Books.
All the voices were performed by Lionel Wilson (who later voiced Eustace Bagge from the Cartoon Network series Courage the Cowardly Dog).
Drawn in a simple black-and white style reminiscent of children's drawings, it featured a gee-whiz boy hero, Tom Terrific, who lived in a treehouse and could transform himself into anything he wanted thanks to his magic, funnel-shaped "thinking cap," which also enhanced his intelligence. He had a comic lazybones of a sidekick, Mighty Manfred the Wonder Dog, and an arch-foe named Crabby Appleton, whose motto was, "I'm rotten to the core!"
Terrific was ranked # 32 by TV Guide magazine among its "50 Greatest TV Cartoon Characters." There has never been an authorized VHS or DVD release of the series. (Source: Wikipedia)