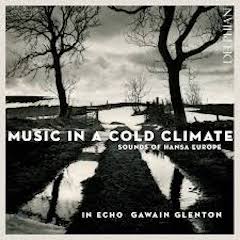 MUSIC IN A COLD CLIMATE
The Sounds of Hansa Europe
In Echo (Gawain Glenton, Director)
Delphian
Until the late 17th century, the Hanseatic League was an important trade linkage in Northern Europe and the resulting sea routes provided cultural as well as mercantile links. So a flow of composers and their music travelled the seas. Music in a Cold Climate: Sounds of Hansa Europe, from cornetto player Gawain Glenton and his group In Echo on Delphian, explores the music which was crossing the sea routes during the 17th century with pieces by Nicolaus a Kempis, William Brade, Antonio Bertali, Heinrich Albert, Johann Sommer,  Thomas Baltzar, Dietrich Becker, Melchior Schildt, Antony Holborn, Johann Staden, Johann Schop plus a new work, Andrew Keeling's Northern Soul which was written in 2016 for Gawain Glenton and In Echo.
Some of the composers featured on the disc travelled and found employment at the other end of a sea route. Violin virtuoso Thomas Baltzar travelled from Lübeck to London. Both William Brade and John Dowland found employment at the court of King Christian IV of Denmark, as did Melchior Schildt and Johann Schop. Brade and Schop both left Copenhagen to avoid the plague and both would end up in Hamburg. Hamburg-based Dietrich Becker travelled both to Sweden and other German towns like Lübeck. The Thirty Years War inevitably caused problems and Heinrich Albert would be held captive by Swedish soldiers for a year.
A new signing for Delphian, In Echo is made up of some of Europe's finest early-music specialists. Each a soloist in their own right, under director Gawain Glenton, they have put together a fascinating snapshot of the musical landscape during the heyday of the Hanseatic League. The seafaring nations of northern Europe have always been connected: London to Tallinn via Lübeck, Hamburg, Bremen and the ports of Holland, Denmark and Sweden. The sixteenth- and seventeenth-century composer/musicians on this recording each looked beyond their own shores and toward a sense of shared European culture and understanding. Andrew Keeling's new work Northern Soul was commissioned specially to complement this program.
As musicians travelled, so did their music. Trade routes meant that music by Brussels-born Nicolaus a Kempis; Italian-born, Vienna-based Antonio Bertali; Nuremberg-based Johann Staden; and Anthony Holborne found its way along the sea routes, thus creating a sense of common culture. Publications such as Christian Hildebrant's 1607 collection Ausslesener Paduannen & Galliarden Erster Theil display this sense of shared culture and the way music moved around the sea ways, with Hildebrant's publication including a wide range of composers.
'The image of melancholy,' Anthony Holborne – Paduana, performed by In Echo as heard on Music in a Cold Climate
A short film about In Echo's recital program 'Music in a Cold Climate.' Featuring 17th century music from North European composers such as Buxtehude, Kempis, Albert, Becker and Dowland, as well as the Italian Giovanni Bertali, whose music was widely copied in Germany. There's also a clip of 'Northern Soul,' an exciting new composition by English Composer Andrew Keeling. The footage is taken from In Echo's recital at the 2016 Dartington International Summer School.
The eight instrumentalists play a total of nine different instruments, and these are employed in a variety of different combinations ranging from solos by Bojan Cicic (violin) and Silas Wollston (harpsichord) through to ensembles of six players, though we never hear all eight together. Rather impressively, the organ used is a copy of an English organ of the period rather than the usual small scale portable organ. The result is to provide a lovely tapestry of textures and timbres. There is a nice chamber feel to the playing; no matter the combination of instruments, we get real dialogue and Gawain Glenton's sophisticated cornetto playing never dominates.
Andrew Keeling's Northern Soul, whilst perhaps not strictly linked to the disc's theme, provides a lovely contrasting work with inventive use of the period instruments in modern context.
Many of the composers on this disc were new to me and I suspect will be new to many people. The styles of music vary from the fashionable melancholy to lively, folk- and dance-inspired pieces. A varied mix it is. We tend to forget how important the sea routes of the North Sea and Baltic Sea were, and this lovely disc provides an illuminating window on the shared musical culture created in the 17th century.
Posted at Planet Hugill on 13 February 2018

Reprinted by permission of Robert Hugill, a contemporary classical composer based in London. Recent performances of his works have included sacred motets, orchestral music and the opera The Genesis of Franknenstein. His 2017 album, Quickening, his settings of texts by the poets Ivor Burney, Christina Rosetti and A.E. Housman, has been widely acclaimed and came in at #25 on The Deep Roots Elite Half-Hundred of 2017. Click here for his full biography. For more of Mr. Hugill's classical reviews and interviews, visit Planet Hugill—A World of Classical Music.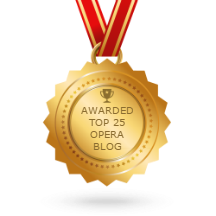 Congratulations to Robert Hugill for Planet Hugill being named as one of Feedspot Blog Readers' Top 25 Opera Blogs & Websites.