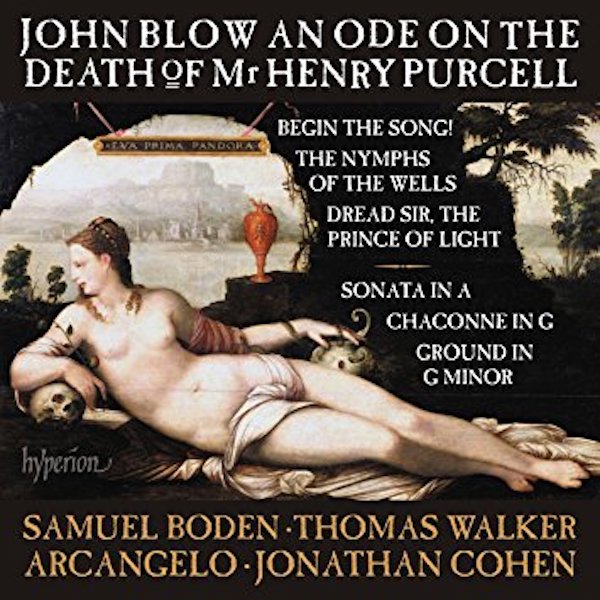 BLOW: AN ODE ON THE DEATH OF MR. HENRY PURCELL & OTHER WORKS
Arcangelo (Artist, Orchestra), Jonathan Cohen (Artist, Conductor), Samuel Boden (Tenor), Thomas Walker (Tenorr), Emma Walshe and Zoe Brookshaw (Sopranos), David Allsopp (Counter-tenor), tenor Nicholas Madden (Tenor) and William Gaunt and Callum Thorpe (Basses).
Hyperion (Released September 2017)
John Blow is very much the nearly man of English 17th century music, forever in the shadow of his great pupil Henry Purcell. And on this new Hyperion disc from Jonathan Cohen and Arcangelo, we have a group of Blow's occasional odes with An Ode on the Death of Mr Henry Purcell as its centerpiece. The main soloists are tenors Samuel Boden and Thomas Walker, and they are joined by sopranos Emma Walshe and Zoe Brookshaw, counter-tenor David Allsopp, tenor Nicholas Madden and basses William Gaunt and Callum Thorpe
Though John Blow became Purcell's teacher and famously stepped down from his post as organist at Westminster Abbey in Purcell's favour, in fact the master was only 10 years older than the pupil and the outputs of the two composers intertwine in ways made obscure by the dearth of accurate period detail and dates. So, on this disc the final solo in "Begin the Song" was originally written for the wide-ranging bass voice of John Gostling and bears a striking resemblance to a passage in one of Purcell's anthems, but we have no way of knowing who inspired whom.
Blow's An Ode on the Death of Mr Henry Purcell is just one of four odes on the disc, each written for different occasional use. We have only relatively recently begun to properly appreciate Purcell's odes (Robert King's complete recording led the way) and this disc is a welcome chance to explore Blow's output. The Purcell ode, with its text by John Dryden, has the advantage of having the best quality text and the others illustrate a problem with 17th century odes, the sheer variable quality of the text can blind you to the imagination of the music. John Blow might lack the ultimate quirky genius that Henry Purcell had, but there is much to enjoy here.
A preview of Blow: An Ode on the Death Of Mr. Henry Purcell & Other Works
The casting shows a striking difference to earlier recording of the Purcell ode, here the main soloists are a pair of tenors singing in haute-contre range, tenor voice with an admixture of falsetto; of course, the nub of this is "first catch your haut-contre." Here Jonathan Cohen has a wonderful pair of contrasting voices in Samuel Boden and Thomas Walker. Both capable of some finely heroic singing, but subtle refinement too, and the moments when the voices shade off into falsetto are beautifully handled.
The other soloists form a strong group, with all the singing forming an ensemble for the choral tutti sections. Perhaps Callum Thorpe's bass does not quite have the necessary swagger in its lowest reaches, but then who does.
This is a richly sophisticated disc, and enables us to enjoy more of Blow's genius. The odes are more than just Royal Court ones, the commissioners were varied, from the public St Cecilia's Day celebrations to the court of Princess Anne. And a group of instrumental works is included too, varying the textures and giving us a further view of this composer.
I enjoyed this disc so much. I do hope that Arcangelo is thinking of a follow-up.
Posted at Planet Hugill on December 7, 2017.
Reprinted by permission of Robert Hugill, a contemporary classical composer based in London. Recent performances of his works have included sacred motets, orchestral music and the opera The Genesis of Franknenstein. His 2017 album, Quickening, his settings of texts by the poets Ivor Burney, Christina Rosetti and A.E. Housman, has been widely acclaimed and came in at #25 on The Deep Roots Elite Half-Hundred of 2017. Click here for his full biography. For more of Mr. Hugill's classical reviews and interviews, visit Planet Hugill—A World of Classical Music.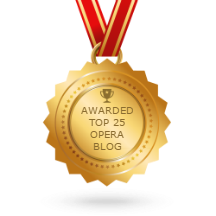 Congratulations to Robert Hugill for Planet Hugill being named as one of Feedspot Blog Readers' Top 25 Opera Blogs & Websites.