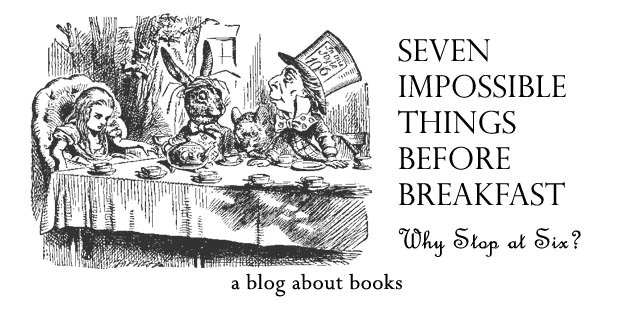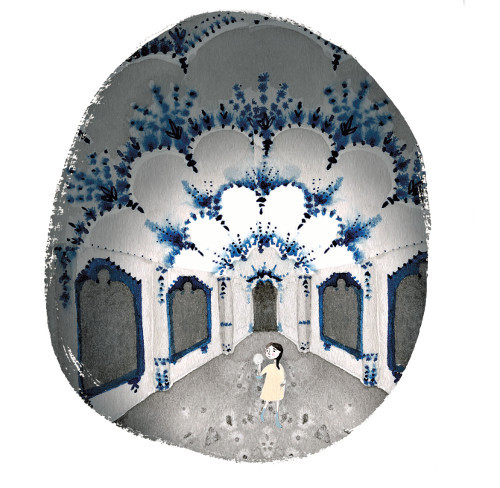 Today, I've an original, modern fairy tale for you, dear Imps. I'm featuring a story the creators, sisters Natalie and Lauren O'Hara (a writer and an illustrator), describe as "a dark fairy tale, inspired by the stories our Polish grandma told on snowy nights." Hortense and the Shadow (Little, Brown) will be on shelves early next month.
The protagonist of this lyrical, atmospheric tale (which I think would make Florence Parry Heide proud) is a young girl named Hortense (I love this), and she lives "through the dark and wolfish woods" and "the white and silent snow." Hortense is kind and brave, but she's also sad and, to be precise about it, quite frustrated — because she would like to be sans shadow. Everywhere she goes, her shadow goes, "tall and dark and crooked," and she's weary of it. She even figures that her shadow hates her too. One day, she manages to cleave her shadow via slamming down the sash of a window. The shadow puts up a fight but eventually wanders off in the dusk.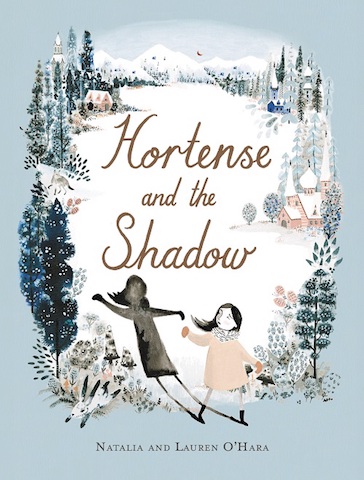 Later, thinking she's safe, Hortense is accosted by bandits, but her shadow appears to save the day. I won't ruin the surprise of how for you (though there are hints in the art below), but it's pretty flippin' cool.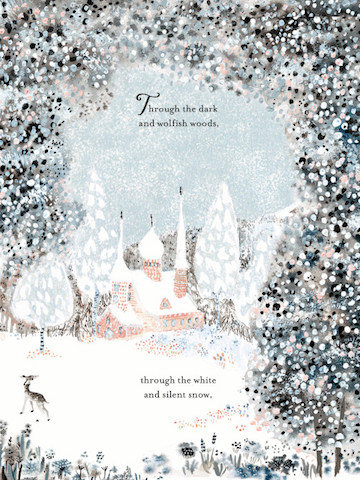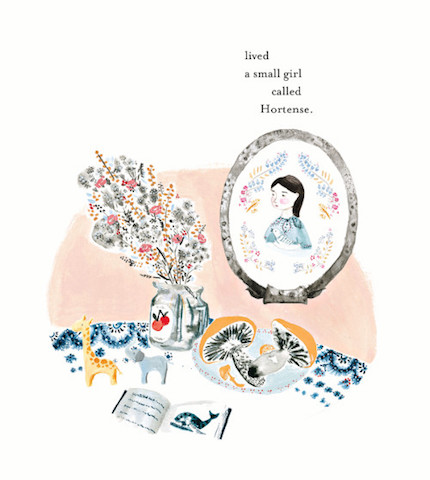 (Click either image to see spread in its entirety)
Natalia and Lauren are two sisters, who live in northern England. The book actually came with a note from the two of them—not a personal note to me, mind you, but one the publisher distributed with review copies—that I love. It explains more about how the two sisters knew they wanted to grow up to write (Natalia) and illustrate (Lauren) stories—and each other's stories, to be exact. I've linked to the letter here. "What if Hortense died, and became the shadow?" made me laugh out loud. I love their mother already.
Lauren's illustrations, featuring dark, spectral, snowy landscapes (perfect for a Winter read), are lush and delicate, and observant readers will spot the bandits early in the story. It's a promising debut. I hope we see more from the sisters, and maybe, if we're lucky, we'll see further stories about Hortense.
Here are some more spreads, since the beautiful art says much more than I can.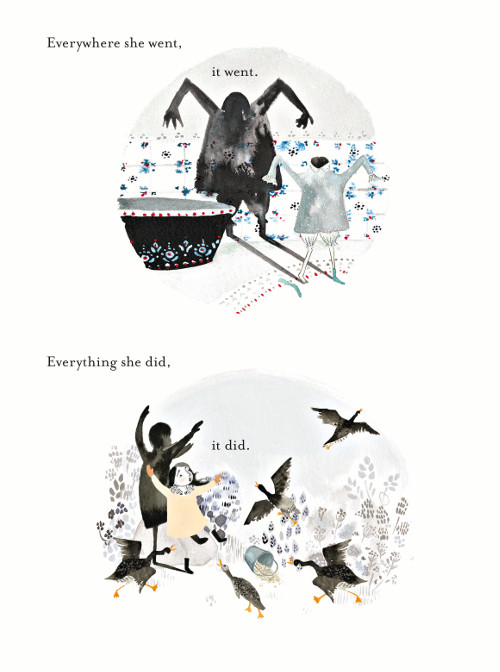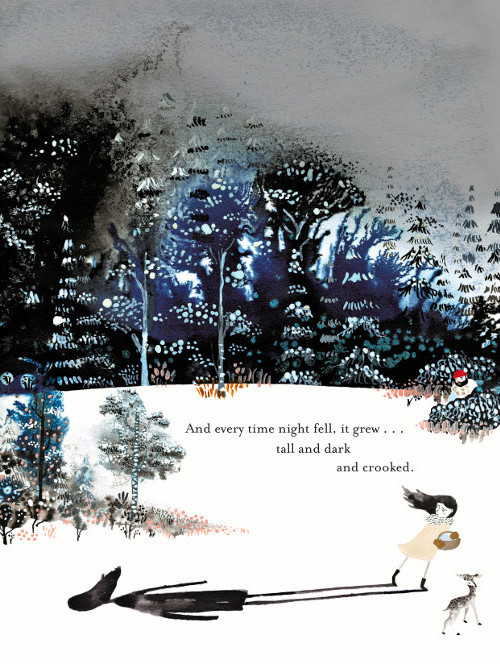 (Click either image to see spread in its entirety)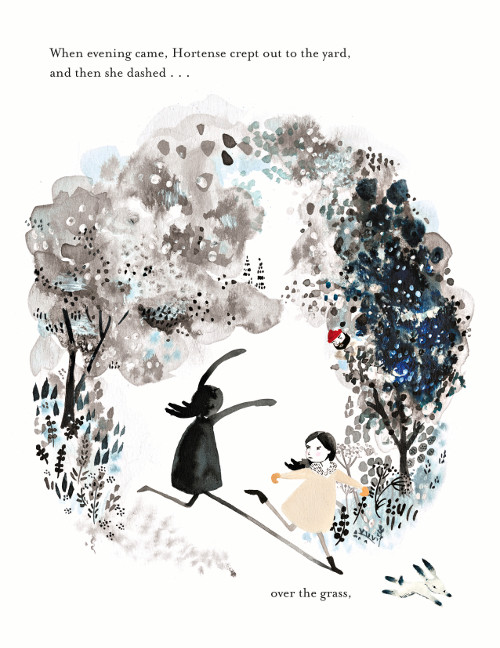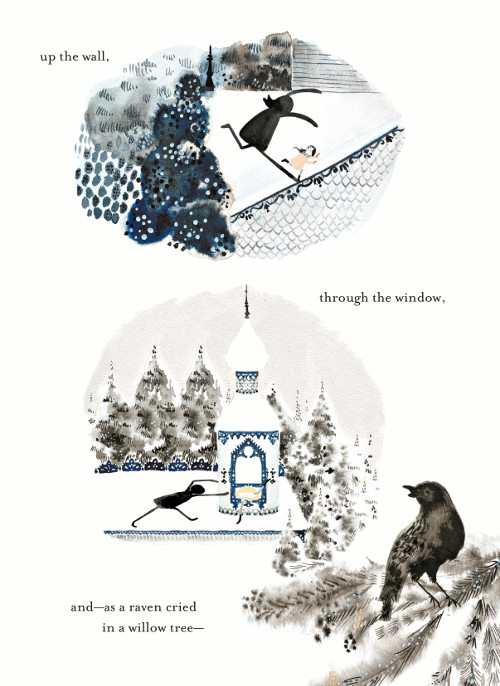 (Click either image to see spread in its entirety)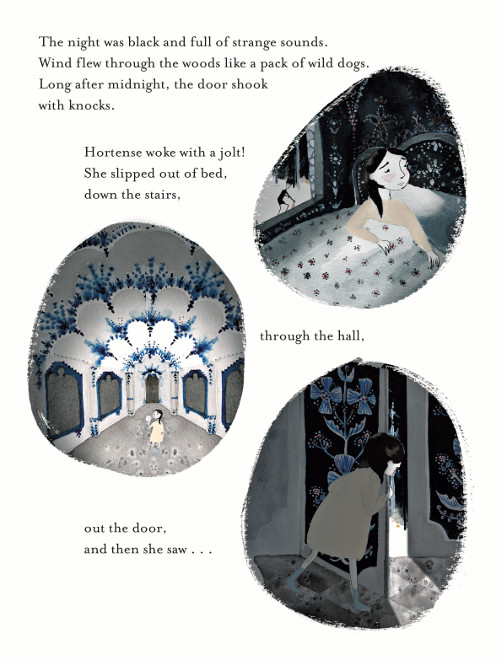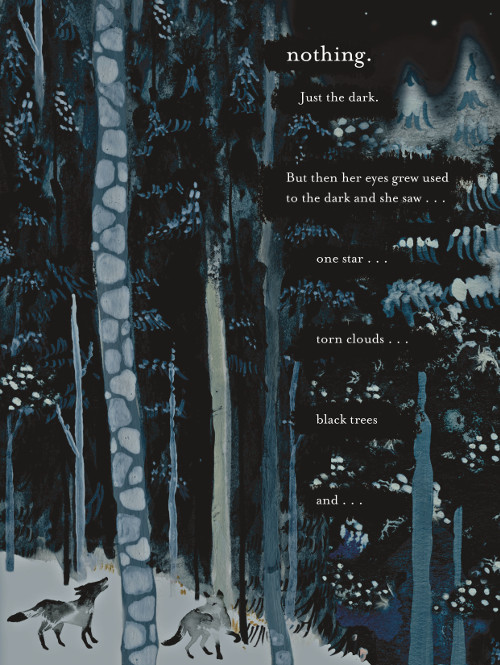 (Click either image to see spread in its entirety)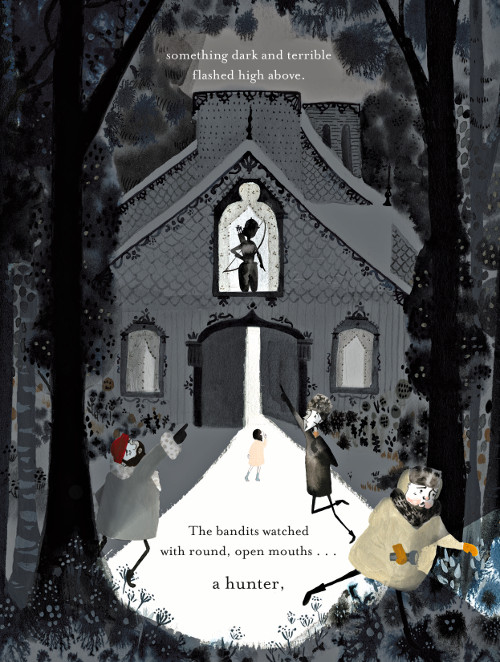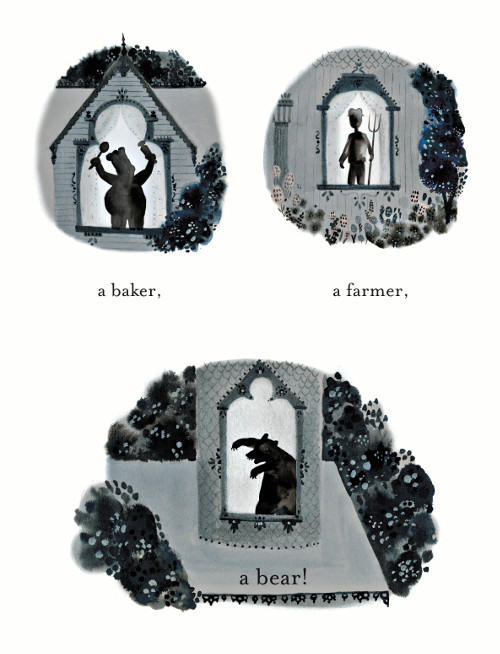 (Click either image to see spread in its entirety)
HORTENSE AND THE SHADOW. Copyright © 2017 Natalia O'Hara and Lauren O'Hara. Illustrations reproduced by permission of the publisher, Little, Brown and Company, New York.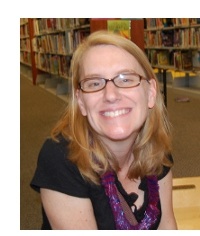 Julie Davidson (Jules) conducts interviews and features of authors and illustrators at her acclaimed blog, Seven Impossible Things Before Breakfast, a children's literature blog primarily focused on illustration and picture books. The above blog was posted at 7-Imp on October 22, 2017.