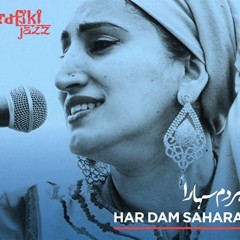 HAR DAM SAHARA
Rafiki Jazz
Riverboat
Rafiki Jazz, which began as a collaboration between local musicians and migrant and refugee artists, creates mesmeric music that resonates deep, bound through with the rich color tones of the ancient musical heritages they explore. United in their mission to create a sound that crosses cultural boundaries, the music melds traditional vernaculars anew and expresses the power and beauty of difference. With its members hailing from six countries on four different continents the octet seamlessly combines the sounds of some of the world's most distinctive folk instruments including the West African kora, Caribbean steelpan, Indian tabla, Brazilian berimbau and Arabic ney and oud along with inspirational vocals from the Sufi soul singer Sarah Yaseen and Hebrew and Hindi vocalist Avital Raz.
Formed in Sheffield, UK in 2006, Rafiki Jazz began as a meeting between regional roots and jazz musicians with migrant and refugee artists. Today founding member and bassist Tony "Tk" Koni remains at the helm steering the band's collective artistic direction and co-producing. The title of the group's third album, Har Dam Sahara, can be translated from Urdu as "In life's every moment, there is always support"—a sage yet hopeful incantation reflected in many of the morals and messages of the songs. Marking a decade of Rafiki Jazz's recording and touring adventures, this album delivers a powerful commentary on the issues of migration, refugees and human rights. The inventive program includes Coptic Christian praise songs given an Indian edge, Hebrew poetry,a stately, tuneful tribute to the founder of the Mouride brotherhood in Senegal, and "Jhooli Laal Qalandar," a powerful version of "Mustt Mustt," the Qawwaali song most associated with Nusrat Fateh Ali Khan, complete with a kora solo.
'Har Chand Sahara,' Rafiki Jazz, from Har Dam Sahara
The lion's share of Har Dam Sahara was recorded at Yellow Arch Studios, Sheffield and Phipps Concert Hall at the University of Huddersfield. Rafiki Jazz's approach in the studio was to capture a live sound with little room for overdubs or extensive post-production. The result is a tender and natural sounding work full of inflection and intensity that is best experience in live ensemble playing.
'Saya,' Rafiki Jazz, from Har Dam Sahara
Regular performers at some of the biggest festivals and venues in the UK including Womad and the Southbank Centre, Rafiki Jazz's creative process draws on the repertoire and technique of each band member alongside oral histories and folk songs from the archive. This unique cross-continental approach results in a compelling repertoire of devotional world music that draws on Pakistan and Senegal's mystic Sufi traditions and ancient Middle Eastern Coptic and Hebrew liturgy, driven by the pulse of the orishas of Brazil's Candomblé and the momentum of Indian sangeet.
'Jhooli Laal Qalandar,' Rafiki Jazz, from Har Dam Sahara
Essentially a folk group, Rafiki Jazz distill the meaning of their name in a two-part translation: Rafiki for "friends" and jazz for "freedom." Their indefinable, many-sided music is testament to their shared respect for those two key values. Har Dam Sahara is a love letter to complexity, an embracing of the intricate world we live in, and a beautiful one at that.
Courtesy World Music Network
***
Rafiki jazz In Its Own Words: 'We're Global Utopians!'
Rafiki Jazz owes its name and something of its style to those classic post-colonial African dance bands that mixed the roots with the latest from across the Atlantic.
Collectively and individually, our band values the oral tradition, musical heritage, innovation and improvisation, and is always exploring that musical territory where individual virtuosity meets big-band integrity.
Since the start back in 2006 in Sheffield, UK, Rafiki Jazz has always recorded its album tracks live, and songwriting and arrangement is a collective affair that produces original songs of protest, liberation and human rights touching on metaphorical folk tales and ecstatic spiritual chant, all with a very current Afrobeat
'Cheikh Ahmadou Bamba (Serigne Touba),' Rafiki Jazz, from Har Dam Sahara
Iconic folk instruments from across the world drive our sound, resonating deep cultural and social history and linking the past to the future..so West African kora, Caribbean steelpan, Indian tabla, Brazilian berimbau and Arabic ney and oud all have great significance.
Our Rafikian voices are women's and men's, mixing languages from urban streets that speak and sing of both universal rights and personal journeys, that call on ritual and devotion and make for trance and ecstasy. Our friend and big fan, Professor George McKay (AHRC Research Fellow), says Rafiki Jazz are global Utopians!
'You Are Light,' Rafiki Jazz, from Har Dam Sahara
Our unique Rafikian style of original contemporary global heritage music has travelled from the BBC Radio 3 stage at Womad Charlton Park, to sellout Southbank audiences at London African Music Festival and Refugee Week's Celebrating Sanctuary Festival, and on to amazed village audiences across the country and away at distant Tasmania's 10 Days on the Island Festival.
Source: www.rafikijazz.co.uk