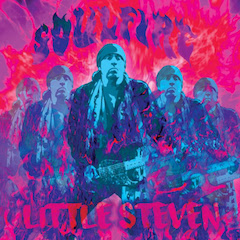 SOULFIRE
Little Steven
Wicked Cool/Big Machine/Ume
Back in 1976, when I was on staff at the lively music industry trade magazine Record World and less than a year into what would become a 25-year affiliation (as both a freelance writer and an on-staff editor) at Rolling Stone, Epic Records invited me to join a press junket from Manhattan to the Stone Pony club in Asbury Park, NJ, for a showcase event by the label's new signing, Southside Johnny and the Asbury Jukes, whose first album, I Don't Want To Go Home, produced by Jukes founder and E Street Band guitarist Miami Steve Van Zandt, was due for imminent release. It was my first of what would be many trips to Asbury Park over the next few years, the first of what would be many visits to the Stone Pony over the next few years, the first of what would be many experiences with Miami-cum-Little Steven, Southside and the Jukes over the ensuing decades. I won't say it was life altering, but it was an ecstatic experience, nigh on to religious, and most certainly spiritually elevating. The ferocious energy Southside and the band exuded was transportive and transformational, a totally positive and uplifting shot to the heart and the soul fueled by Johnny's electrifying stage presence and powerhouse vocals, the musicians' passion for their songs, a commitment to those songs' messages, and something heroic in the band's urgency to make every moment sound as if something vital was at stake. And this was all before Bruce Springsteen joined the proceedings and took us all a little higher.
The locus of radiating energy that night, though, was center stage, where Southside was often joined at the mic, if not at the hip, by Miami Steve, who had written many of the songs on the album and in the band's repertoire. His presence, and the powerful, simpatico dynamic and sheer love of music he and Johnny shared radiated from the stage throughout the Stone Pony, every nook and cranny of it and, I dare say, to and through the souls of every one of us crowded into the deliriously dank and sweaty room.
'I Don't Want To Go Home,' Southside Johnny and the Asbury Jukes, live at the Paramount Theatre, Asbury Park, NJ, July 30, 1977
'I Don't Want To Go Home,' Little Steven and the Disciples of Soul, live at the Paramount Theatre, Asbury Park, NJ, April 22, 2017
I am moved to recount this indelible moment by a complete immersion in Little Steven (Van Zandt)'s new solo album, his first in almost two decades, called, appropriately enough, Soulfire. This—the best rock 'n' soul album of 2017 by far (other rockers aren't even playing the same sport)—finds Steven reclaiming something essential about and for himself, a fact proven repeatedly by dint of the sheer intensity he brings to his music here; even the few quieter moments are fraught with tension born of a need for unequivocal self definition. In an April press release announcing the album, Van Zandt admits as much, saying he "felt a bit guilty about having walked away from Little Steven the artist. I left that part of myself behind and I shouldn't have done that. I let the material down by not continuing to perform it. I betrayed the work and I want to fix that. I didn't give up on the material–there were a lot of other factors–but I do have a sense of wanting some redemption for it."
"Other factors" might be, oh, having a starring role as Silvio Dante in The Sopranos, only one of the most important TV series in history; or having all-consuming responsibilities starring in his own Netflix series, Lilyhammer; hosting one of radio's finest, most scintillating and consistently pleasing shows, Little Steven's Underground Garage; touring with the E Street Band; starting his own Wicked Cool label; thrusting himself into the forefront of the successful anti-apartheid movement with his Sun City project (leaving the E Street Band at the very moment Bruce and the fellows were finally reaping the financial rewards following in the wake of Born in The U.S.A.'s multi-platinum success–as he told Rolling Stone recently, "All the guys were buying mansions and I was hiding under a blanket in Soweto"); launching the Rock and Roll Forever Foundation and its TeachRock project, a worthy initiative described on Wikipedia as bringing "rich educational materials to teachers and students everywhere, at no cost. The lesson plans and resources at TeachRock allow a one-of-a-kind, multimedia experience that helps young people connect the history of popular music to classroom work across the disciplines." I could go on, but you get the drift.
'Soulfire,' title track from Little Steven's new album
All of this falls away at the outset of "Soulfire," with the first soulful, sputtering guitar teases (anyone hear the opening guitar lick from the Jackson 5's "I Want You Back" in this?) and Andy Burton easing in with a steady B3 hum before Steve implores with gravelly authority: "Stop the world for a minute!" In this title track, co-written with The Breakers' Anders Bruus for an album Van Zandt produced for the band,  little time passes before certain lyrics jump out as being about more than a man asserting his commitment to a woman, such as: "This is your chance, your moment, baby/spread your wings and fly…" Or, "When there's no one else to depend on, I'll be right here…" Or, "Look out the world is changing/mean-spirited and insincere/the sky may tumble and the gods may stumble/but I'll still be standing right here…"
Second cut, stomping and horn driven, "I'm Coming Back" (the title alone is telling): "I'm coming back/back for what's mine/I ain't gonna let nobody stop me this time." Or, "I'm getting tired of living in a world with no soul." And a theme emerges, as he makes clear his preference for "things that can't be bought," asserted as the bevy of female background singers, in support, bridge the thin divide between gospel and soul.
'I'm Coming Back,' Little Steven, from Soulfire
Jump to the penultimate song: "I Don't Want to Go Home," the titular classic from Southside and the Jukes's debut album, here not drastically reimagined but presented in more measured fashion, with the horns sounding a solemn call of invitation before a robust acoustic guitar leads the way into a bustling arrangement embracing the rich B3 sound, the gospelly background singers, and then the horns, entering with a familiar, soaring, repeated riff ahead of the lead vocal. Back in '76, when, for Rolling Stone, I reviewed I Don't Want to Go Home, I misquoted a lyric, thinking I heard, "I know we have to try/to reach up and touch the sky…" when in fact Steven wrote, and Johnny sang, "I know we have the time…" I absorbed some good-natured ribbing from Johnny and Steven for that one, but on Soulfire no such mistake is possible: Little Steven articulates the lyrics clearly and with passion, and why not? In "I know we have the time/to reach up and touch the sky" he articulates an aspirational mandate one could argue defines his entire musical career and thus carries over into the persona realm as well. Remember the character Charlie Dalton aka Nwanda (played beautifully by Gale Hansen) in Dead Poets Society, blurting on his sax in between reciting couplets from a poem he titles "Poetrusics"? "Laughing, crying, tumbling, mumbling/gotta do more, gotta be more/chaos screaming, chaos dreaming/gotta do more, gotta BE MORE! Look at Steven Van Zandt's life and convince yourself he hasn't demonstrated a drive to BE MORE! in the Nwanda sense.
'Gotta do more, gotta BE MORE!': The 'Poetrusic' scene from Dead Poets Society, with Charlie Dalton played by Gale Hansen
'Some Things Just Don't Change,' another Little Steven-penned Jukes classic, featured on Soulfire. This live version features Steven and the Disciples of Soul at BluesFest London 2016.
So it is on Soulfire—so many songs saying, in effect, the singer wants to do more, be more. The foolish narrator of another Jukes classic, "Some Things Just Don't Change," who lives in deep regret for ditching a good woman; but in the midst of this soulful, sad soliloquy he not only asserts his abiding love but sees it as inextricably linked to undeniable forces of nature, to wit: "Just as long as the sun rises in the morning/long as the stars rise above/just as long as the river flowing/my love gonna keep on growing…some things just don't change." A goodbye letter tears him to pieces, and the music swirling around him—organ, horns, percussion, the gal singers "woo-hoo-hoo"s—suggest his inner turmoil; as the music rises to a crashing, horn-fueled crescendo, hope arises in his shouted, Otis Redding-esque cries of "I love you, baby! I love you, baby!" Love harder, love deeper, do more, be more.
'Standing In The Line of Fire,' Little Steven, from Soulfire
In the midst of the absolute ferocity of "Standing In The Line of Fire" (a Van Zandt-Gary U.S. Bonds original from the latter's like-titled 1984 Van Zandt-produced album), with its snarling guitar, military drums, ominous bells pealing in the distance and relentless attack, Van Zandt paints a portrait of a love affair gone horrifically awry, seemingly at the point of no return as it unfolds in one verse, another verse, and another verse, each one finding him more despairing; about halfway through the arrangement takes a startling turn into evocative, Ennio Morricone territory and quiet settles over the track as Little Steven returns, tenderly, with "hold me girl, a little bit tighter now/maybe if we try together, baby, we can get off this merry-go-round/I learned something, baby/what a lucky man I am/there'll be good times, there'll be bad times/you count your friends on one hand…" before the arrangement explodes at the end, with the singers and Little Steven in a triumphant call-and-response denouement and coda, repeating the key lyric: "Ain't nothin' gonna change my mind," in a hailstorm of unbound emotional fervor and fearsome, ceaseless determination. Love harder, love deeper, do more, be more.
'The City Weeps Tonight,' Little Steven channels The Harptones' Willie Winfield on a beautiful group harmony ballad from Soulfire, with The Persuasions singing background.
Now, this is not to say there are no alternate routes on this journey. The Byrds-cum-Wall of Sound retooling of another Van Zandt monument for the Jukes (co-written with Springsteen), "Love On The Wrong Side of Town," otherwise hews closely to the original arrangement, right down to the swirling strings, although Southside's umbrage at an affair's end gives way to Van Zandt sounding almost mortally wounded by its collapse. A powerful moment, this, followed by the album's most surprising, and most beautiful, moment: "The City Weeps Tonight." Originally intended for his first solo album, this one has remained in the vault until now, and it's destined to become a favorite off Soulfire. Anyone familiar with Van Zandt's influences knows of his love for doo-wop, and with this heartbreaking ballad he enters the group harmony hall of fame. Somewhere your faithful friend and narrator read a quote from Steven about him fashioning this tune in the style of the Students and the Jive Five, but his crooning voice is more in the smooth balladeering style of the Harptones' great Willie Winfield or the Orioles' legendary Sonny Til, to these ears at least. With the Persuasions backing him atmospherically (albeit minus their own legendary lead singer, Jerry Lawson, who left the group years ago), Steven delivers the ache of lost love with a master's sense of nuance and subtle devastation, never more so than in the chorus, when he sees his plight in the larger context of natural forces at work in the world: "Now I know why the sky has to cry/it's because of all the heartbreak in the world…" Beautiful.
Add in a cool, witty urban blues workout in the album's lone cover, "The Blues Is My Business" (via Etta James) and a blazing bit of Dylan-ish (or Petty-like) rock 'n' roll on "Saint Valentine's Day" (a Van Zandt song recorded in 2009 by the Cocktail Slippers for the band's Saint Valentine's Day Massacre album) and you have a positively intoxicating mix of rock 'n' soul that does nothing less than achieve Van Zandt's stated goal in his musical endeavors going forward. Let him have the last word.
"I have very little interest in the modern world and I'm not in any way conflicted about that. I grew up in a renaissance period, a very lucky time when the greatest music ever made was also the most commercial. We'll never see that again, so for me there's only one criteria, which is greatness. That's all I care about. Is what I'm doing reaching for greatness? Whether I achieve it or not, that is one hundred percent of my criteria."
Job done, my friend. Now… Do more. Be more. For all our sakes. –-By David McGee