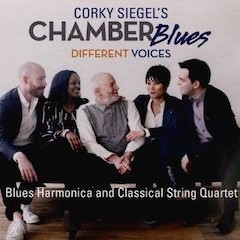 DIFFERENT VOICES
Corkey Siegel's Chamber Blues
Dawnserly Records
As if emphasizing that he isn't the first composer to advance a blues-classical fusion, Chicago blues harmonica master Corky Siegel begins "Missing Persons Blues, Op. 26," the first work on Different Voices, with an opening measure on harmonica echoing the iconic clarinet glissando heralding the start of George Gershwin's "Rhapsody in Blue." The tune doesn't unfold with the orchestral grandeur of Gershwin's masterpiece, but over the course of its four minutes-plus running time it does achieve a textbook meshing of blues and classical elements, from the languid, moaning, New Orleans-textures Siegel crafts on harmonica to the cool swagger Ernie Watts brings on sax, while the West End String Quartet, working here in its guise as Siegel's Chamber Blues String Quartet, injects rather Stravinsky-ish retorts in motivic development with a blues edge.
Rather than Stravinsky, though, the apt touchstone for Siegel's work is Antonin Dvorák, specifically his Symphony no. 9 ("From the New World"), of which Dvorák, newly infatuated with the roots of American music, said: "It is the spirit of the Negro…melodies which I have endeavored to reproduce in my new symphony." This leads us to the New World Symphony's Largo movement with its opening theme being derived from a song called "Goin' Home," with its twelve-measure opening theme of three four-bar phrases—what we might call a 12-bar blues form. As musicologist Brent Pimentel points out in his essay "Dvorák's 'New World' and jazz music: Heirs to a common heritage," "Dvorák's belief that American music would grow from the songs of slaves proved true."
Live snippets of tunes from Different Voices, the new album from Corky Siegel's Chamber Blues. Posted on YouTube by Michael Frank.
'Missing Persons Blues—Op. 26,' the opening track from Different Voices by Corkey Siegel's Chamber Blues. Written by Corky Siegel, with sax solo by Ernie Watts.
Taking his cue from Dvorák, the brilliant Mark O'Connor has for years been fashioning what he terms a "new American classical music" built on our indigenous folk, country, blues, jazz and classical heritages. He's still working on it, but has come far—all the way, in fact, to composing the Americana Symphony, released in March 2009 with O'Connor accompanied on disc by the Baltimore Symphony as conducted by Marin Alsop. (An in-depth interview with O'Connor is featured in the April 2009 issue of TheBluegrassSpecial.com, our original incarnation, in which he discussed the genesis and development of himself as a composer and of the Americana Symphony in particular.)
'Lay Down Sally,' from Different Voices, by Corky Siegel's Chamber Blues. Marcy Levy, who co-wrote the hit with Eric Clapton and George Terry, is on lead vocal
'Italian Shuffle' (written by Corky Siegel)/'Flip, Flop & Fly' (by Jesse Stone) from Different Voices, with vocal by Sam Lay. Corky Siegel's Chamber Blues.
But when it comes to a blues-classical fusion, our foremost practitioner is Corky Siegel, accompanied by his Chamber Blues String Quartet, on a journey that began four albums ago, on 1994's Corky Siegel's Chamber Blues (on Alligator). To be precise, however, Siegel himself set out on this rarely trod path even earlier. Listeners of a certain age may well remember, from the '60s, a celebrated Chicago blues outfit, the Siegel-Schwall Band, and perhaps remember as well its groundbreaking 1973 release on the prestigious Deutsche Grammaphon classical label titled Three Pieces for Blues Band and Symphony Orchestra, composed by jazz trombonist William Russo. This in turn found Siegel-Schwall performing with Arthur Fiedler and the Boston Pops on PBS, and Siegel appearing on harmonica and piano on another Russo composition released as an album in 1979, again on DG, titled Russo: Street Music—Op. 65—A Blues Concerto. Since introducing his Chamber Blues in '94, Siegel has employed it on Complementary Colors (1998) and on 2005's Corky Siegel's Traveling Chamber Blues Show—Live. So it's been a while since we've heard from him in this configuration, and let it be said he doesn't, and they don't, disappoint.
'Counter Intuitive—Op. 24 Part Two,' Corky Siegel's Chamber Blues, from Different Voices
It's important to note here the meaningfulness of the album title. Different voices indeed make this endeavor quite distinct from Siegel and company's efforts heretofore. The six-and-a-half-minute "Time Will Tell Overture—Op. 25" is highly impressionistic, a work on contrasting colors—Siegel's harmonica shimmering, moaning, sputtering and crying as the string quartet develops a singsong motif behind him,.,and Indian table master Sandeep Das adds a whole other layer of exotic atmospherics to the arrangement in response to the strings and harmonica. Later comes one of the album's most playful moments in the form of the two-part "Counter Intuitive—Op. 24," with the strings and Siegel's harmonica in a kind of sunny, instrumental pas de deux, advancing, retreating, teasing, before the flirtation takes on a more sensuous nature in Part Two with the sonorities added by Dave Moss's viola and the gathered tension the strings express near the end ahead of Siegel returning to calm the emotions down to a closing ensemble swoon.
'I'll Fly Away' (written by Albert E. Brumley Sr.), from Different Voices, featuring Chicago folk trio Sons of the Never Wrong (Bruce Roper, vocal; Deb Lader, vocal, mandolin; Sue Demel vocal, guitar) with Corky Siegel's Chamber Blues
But other voices—human voices—will linger long in memory for most listeners. Seigel's expansive vision finds him spotlighting one of Chicago's beloved folk trios, Sons of the Never Wrong, on an intriguing gospel round rendition of Alfred E. Brumley's gospel chestnut "I'll Fly Away" that's all jagged edges and ecstatic spirituality (plus a new, intense verse contributed by Sue Demel). Elsewhere he enlists earth vocalists such as Matthew Santos on "One," an aching appeal for unity and this album's most overt cry of conscience; and Marcy Levy, who hits a tape measure blast on her gospel-rooted, shimmying and shaking re-imagining of the hit song she co-wrote with Eric Clapton and George Terry, "Lay Down Sally," further enlivened by Siegel's soaring instrumental set-to with the frisky strings. In many respects the album's highlight is the delightful strut of "Italian Shuffle," fueled by the strings plucking and soaring as Siegel weaves bright strands of blues between them before, about halfway through, blues legend Sam Lay saunters into the fray with a wry, swinging reading of Big Joe Turner's 1955 jump-blues classic, "Flip, Flop and Fly." Seemingly enjoying himself to the hilt, Sam's delight is infectious. Different Voices is nothing if not different. Clearly, Corky Siegel is neck-and-neck with Mark O'Connor in fashioning a new American classical music.