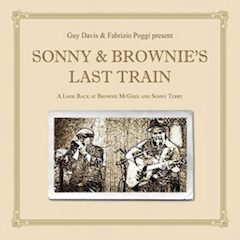 SONNY & BROWNIE'S LAST TRAIN: A LOOK BACK AT BROWNIE MCGHEE & SONNY TERRY
Guy Davis & Fabrizio Poggi
M.C, Records
Sonny Terry, born in 1911 and raised in the Raleigh-Durham area of North Carolina, met Knoxville, Tennessee, native Walter Brown "Brownie" McGhee (born 1915) in 1939—a year after harmonica virtuoso Terry had been presented at Carnegie Hall by John Hammond. Three years later, in 1942, after the passing of Terry's musical partner Blind Boy Fuller, Terry and McGhee formed their own duo and were inseparable from that moment until they ceased touring in 1980. It's fair to say no one came away from a Brownie and Sonny show feeling anything but uplifted, and honored to have been in the same room with two blues masters giving it their all in a program of songs and stories ranging across the entire 20th century history of American blues and roots music. That they made such a glorious indelible sound with only a guitar, a harmonica and their voices is remarkable indeed.
"Sonny and Brownie together sounded divine," writes Ambassador of the Blues Guy Davis in his liner notes to this fine tribute he's fashioned with the help of producer-harmonica master Fabrizio Poggi (who reunites here in the same role he served on Davis's acclaimed 2013 long player, Juba Dance). "They were often musical running buddies with Lead Belly, Woody Guthrie, Pete Seeger and many others associated with the old left-wing folk movement. Their talent and skill shined so brightly, including on Broadway, New York City, 1947, when Sonny was featured in the musical Finian's Rainbow as a character named 'Sunny.' Then Sonny and Brownie were both featured on Broadway in Cat on a Hot Tin Roof a few years later. The whole was greater than the sum of the parts. Sometimes, Brownie didn't get to shine in his own brilliant way, standing next to Sonny. I don't think anybody could have.
The Guy Davis-penned title track from Sonnie & Brownie's Last Train at the Turning Point Café, March 19, 2017
"Though Sonny could do amazing tricks with his harmonica, he needed the grounding of good, rich singing and great guitar playing to keep him from being perceived as just a one- or two-trick pony. This duo of geniuses was fated to stay together as a unit even through times when they didn't want to be. I think they grew to resent needing to be together."
So goes the yin and yang of Brownie and Sonny as per Guy Davis. It's not an uncommon show biz story—Sam and Dave and the Righteous Brothers are but two famous duos in which the members sustain their careers on a high level but rarely acknowledged each other offstage. What was amazing about Brownie and Sonny was the joy and passion they continued to radiate as musicians working together, even if they might have preferred to be working alone elsewhere. As a binding force the music obviated all other considerations of self.
What Davis and Poggi have done on this loving tribute is to capture the joy and passion coursing through Sonny and Brownie like life's blood. There will doubtless be records more heralded than this in 2017, but there will be few, if any, as electrifying as this all-acoustic romp through 11 trademark S&B numbers (a couple of S&B originals and others by Big Joe Williams, Elizabeth Cotten, Robert Pete Williams and Big Bill Broonzy along with traditional items such as "Midnight Special" and "Take This Hammer," a tune associated with Lead Belly). The lone new number is Davis's album opening remembrance, "Sonny & Brownie's Last Train," a choogling fusillade of whooping harmonica, sprightly guitar picking and slide work, and Davis's speaking-singing vocal recounting Sonny and Brownie's last ride into the sunset, you might say, on a locomotive the conductor says is "just for Sonny and just for Brownie/you can't get on board." Apparently, Davis was making up the lyrics on the spot, which maybe accounts for the powerful feeling in his voice at the end when he speaks into the mic, "Goodbye, Sonny, goodbye, Brownie. See you on the other side." He's in pretty deep already.
'Hooray Hooray, These Women Are Killing Me,' a Sonny Terry original performed by Guy Davis (guitar) and Fabrizio Poggi (harmonica) on Sonny & Brownie's Last Train
'Evil Hearted Me,' a Brownie McGhee original concerning a man in need of sensitivity training, as performed by Guy Davis (guitar) and Fabrizio Poggi (harmonica) on Sonny & Brownie's Last Train
Over Poggi's shimmering, howling harmonica, Davis then lights into a grinding rendition of Robert Pete Williams-Big Bill Broonzy's "Louise Louise," a man's woeful lament over his woman's flighty ways, with a rugged vocal by Davis sounding for all the world like Big Bill Broonzy reincarnated. From the ache of "Louise Louise" the duo struts into the sardonically joyful Sonny Terry tune "Hooray, Hooray, These Women Are Killing Me," a spirited account of an all-night bout of partying and lust with a willing consort, a song Davis suggests Sonny wrote to "celebrate that crazy energy that will forever exist between men and women." On the other hand "that crazy energy" manifests itself in a more disturbing way in the ominous stomp; dark, walking guitar lines; wailing harmonica and tremulous vocal of Brownie's "Evil Hearted Me," this being the dire warnings of a man on edge who's not only unsympathetic to his woman's ministrations but about to detonate over her very presence in his life, to wit: "My baby will fix me breakfast/bringin' right to my bed/I'll drink all of the coffee/and throw the cup right at her head." These thoughts eventually turn homicidal—well, this is the blues—but other verses tell us the problem isn't about the woman but the man's own self-hatred: "Well I'm so doggone evil/don't even love myself/I don't love the woman I've got/don't love nobody else…" As Davis opines in his note about the song: "Though the song seems to promote violence against women on its face, I prefer to think of it as a comical ditty recognizing the immature side of a man who needs sensitivity training."
The traditional 'Step It Up and Go,' Guy Davis and Fabrizio Poggi as recorded for Sonny & Brownie's Last Train
There's a beautiful cover of Elizabeth Cotton's "Freight Train"; an exuberant rendering of the traditional "Step It Up and Go," a series of amusing vignettes sung by a man with a bent for tall tales and a sense of the right moment to make himself scarce ("Mama cooked a chicken, thought it was a duck/brought it to the table with the legs stickin' up/gotta step it up and go…"); an album closing romp through "Midnight Special," in an arrangement closing following Lead Belly's take on this traditional chestnut first recorded in 1926 by Dave Cuttrell and McGinty's Oklahoma Cow Boy Band and issued on the Okeh label.
"Brownie McGhee and Sonny Terry were two musicians whose work will not be surpassed, let alone improved on," Davis writes in his liner notes. "This musical opus was produced by Fabrizio Poggi. It features our combined musical talents, and is not meant to complete with the originals. It's mean to be a love letter to Brownie and Sonny signed by both of us."
Sent by Special Delivery.