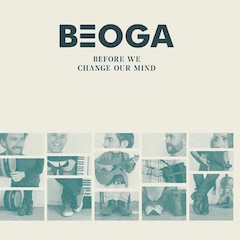 BEFORE WE CHANGE OUR MIND
Beoga
Beoga Music
Over the course of four albums the County Antrim-based Beoga has risen into the top rank of Ireland's new wave of tradition-oriented bands. The Pogues' late, much lamented Philip Chevron once described his band's music as "traditional Irish music with a punk rock kick in the arse." Beoga's music is not quite that, but here and there you will detect the spirit and energy of the Pogues and Stiff Little Fiingers within a framework redolent of the Chieftains and of the adventurous side of Michael McGoldrick. Following by five years Beoga's acclaimed live CD/DVD, Beoga Live at 10, Before We Change Our Mind moves away from the pastoral jazz-influenced sounds of 2007's Mischief and 2010's The Incident in favor of a strong Irish ensemble sound bursting with intensity and ideas, not entirely devoid of jazz flourishes, but the piano that brought an added soothing dimension to those earlier albums is in a more forceful role here. Expertly steering the live sessions from behind the board, and crafting a tight, rich soundscape, is producer Michael Keeney (whose credits include Ed Sheeran, Bonnie Raitt and Lisa Hannigan, among others), who understands these musicians and their aims and so does what good producers do and stays out of their way.
Here the band is intent on making you sit up and take notice, starting right out of the gate on "The Homestead Hero," with the twin button accordions of Damian McKee and Seán Óg Graham driving the jaunty tune before the pack quickens about three-quarters of the way through, when a reel bursts out, fueled by Eamon Murray's bodhrán with the lively Niahm Dunne injecting a lively fiddle punctuation near to bring the festivities to a rousing close. For those fans wondering if Beoga might be shelving its adventurous streak, an answer comes soon, on the second tune, Seán Óg Graham's haunting instrumental "Eochaid," which transforms from a straightforward, midtempo meditation with a seafaring mood about it and some nice theme-and-development passages featuring the button accordions, piano, bodhrán and fiddle (with a gentle wash of strings wafting into the ambience) into an impressionistic, Dvořák-like rallentando into which a reel suddenly but briefly materializes ahead of a final ritardando. Óg Graham also contributes another evocative instrumental, "Aurora," with strings subtly shadowing the lead accordion's militaristic march before a lighter touch is supplied by cascading piano flourishes, a sigh of strings, the return of the button accordion and bodhrán, and ultimately the piano, in what becomes an uplifting musical celebration. Towering over all the instrumental efforts, the title track is a virtuoso performance comprised of the polkas "Gone to Pot" by Damian McKee and "On the Fly" by Seán Óg Graham and the reel "Before We Change Our Mind," also by Damian McKee. The dynamics here are breathtaking as the piano, button accordions and bodhrán do indeed give these otherwise traditional-flavored Irish tunes a punk rock kick in the arse, gloriously so.
'Eochaid,' an instrumental by Seán Óg Graham, from Beoga's Before We Change Our Mind
Beoga, with a virtuoso live version of the title track from Before We Change Our Mind. This tune set is comprised of the polkas 'Gone to Pot' by Damian McKee and 'On the Fly' by Seán Óg Graham and the reel 'Before We Change Our Mind' also by Damian McKee
You could release an album of the seven instrumentals on this disc and watch the rave reviews roll in. But there's more, namely in the form of County Limerick vocalist/fiddler Niamh Dunne, who not only plays with soul and precision but gives Beoga a truly striking vocalist, as she demonstrates on four tracks drawn from honored traditional sources. In one of the album's most spirited and moving performances, on "The Bonny Ship, The Diamond," the old whaling ballad about the West Greenland right whale fishing in the 1820s, Ms. Dunne strikes a perfect balance between the bravado of the crew about to set off in hopes of a successful return with bounty enough to "make the cradles for to rock/and the blankets for to tear…" and the ever-present reality of tragedy ahead. Popularized by Ewan MacColl on Thar She Blows!, his 1957 Riverside album with A.L. Lloyd (who collected it in Liverpool in 1937), and since covered by the likes of the Clancy Brothers, John Roberts, Roger McGuinn and others, the song is rooted in a history both rich and tragic. As A.L. Lloyd write in the liner notes for his 1967 album Leviathan! Ballads and Songs of the Whaling Trade (which features "The Bonny Ship, The Diamond"):
Sad events lie behind this most spirited of whaling songs. By the 1820s the relativity milder northern waters were fished clean, and whalemen were having to search in more distant corners of the Arctic, notably round the mighty and bitter Melville Bay in Northwest Greenland. In 1830, a fleet of fifty British whaleships reached the grounds in early June, a month before they expected. But the same winds that had helped them also crowded the Bay with ice floes and locked most of the fleet in, including the Diamond, the Resolution, the Rattler (not Battler) of Leigh (not Montrose), and the Eliza Swan. Twenty fine ships were crushed to splinters and many bold whalermen froze or drowned. The Eliza Swan was among those that got free and brought the sad news home. Our song must have been made only a season or two before that tragedy for the Diamond's maiden voyage was only in 1825. One wonders if the man who made the song was up in Melville Bay, the year of the disaster, and whether he was lost with his ship.
'The Bonny Ship, The Diamond,' the old whaling ballad dating to 1937, featured on Beoga's Before We Change Our Mind. Niamh Dunne on lead vocal and fiddle.
'Farewell to Carlingord,' written by Tommy Makem, with Niamh Dunne on lead vocal. The studio version is included on Before We Change Our Mind.
Tommy Makem's beloved "Farewell to Carlingford," a Dubliners classic with Luke Kelly on lead vocal, rather explains the rationale for those whalermen who risked all on "The Bonny Ship, The Diamond," and other whaling vessels. In this telling, with Ms. Dunne backed sparingly by accordion, bodhrán, piano and her own fiddle, the sea is a drug every bit as addictive as opioids—"Now, the landsman's life is all his own/He can go or he can stay/But when the sea gets in your blood/When she calls, you must obey"—and every plaintive note from the singer underscores this fact, as the music rises dirge-like around her. A minimalist, understated approach beautifully serves Ms. Dunne on New York singer-songwriter Eamon O'Leary's "Like a Dime," with her tender vocal recounting the bittersweet emotions a landlubber feels for those drawn to the sea as she is empathetically supported by Óg Graham's softly fingerpicked guitar, a low moaning fiddle, brushed percussion and silky backing vocals by Stephen McCartney and Rachael Coulter. In what is arguably her most arresting interpretation, Ms. Dunne eschews all instrumental backing for an a cappella reading of "Wexford Town," a loving and sometimes harsh reminiscence of family life in County Wexford as chronicled in song by Patrick "Pecker" Dunne (who died in 2012 at age 79), in his time one of Ireland's foremost Traveller musicians, Traveller rights activists and seanchaí. Suffice it to say the words of one Dunne resonate in the voice and delivery of this younger Dunne (the two are apparently unrelated), who seems to have an innate understanding of the hardships visiting and raptures of the people she sings about.
Liahm Dunne's a cappella rendering of Patrick 'Pecker' Dunne's 'Wexford Town.' From Before We Change Our Mind.
Is the album title a hint at what lies ahead for Beoga? Some change of direction for a band that has made change, however slight, part of its modus operandi? The musicians don't seem to have addressed this question in public yet; for now, it's best we not fret over it either. Since forming in 2002 Beoga has made consistently scintillating music. Before We Change Our Mind is one more stop on a journey that promises to amaze for as long as it continues.