The plight of Syrian refugees was in the news well before we elected such a disastrous and hateful president, but due to his recent travel ban, it's all the more top of mind for folks all over the world. Having picture books on hand that can explain this to children is helpful, and I recently wrote here at Kirkus about picture books that capture the plight and flight of refugees.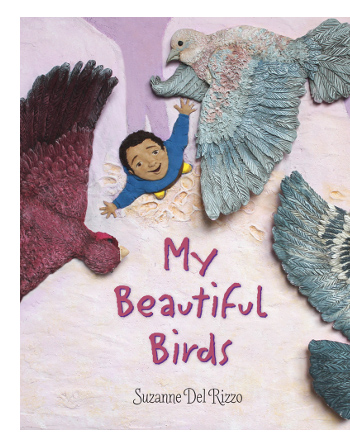 Coming to shelves this month is Suzanne Del Rizzo's My Beautiful Birds (Pajama Press), a new book specifically about Syrian refugees. Rendered in bright and textured polymer clay and acrylic, it's the story of a boy named Sami, leaving his Syrian home (with a sky full of smoke) to escape war. The boy is concerned about the pet pigeons he leaves behind. "It will be okay," his father tells him. "Your birds escaped too." When Sami and his family make it to a refugee camp, the boy tries to create art commemorating his birds, but his art only turns to black. Sami eventually comes to some peace when he a canary, a dove, and a rose finch fly into the camp.
Del Rizzo writes in an arresting first-person, present-tense voice, the story coming straight from the boy's point of view and giving us a glimpse into his inner turmoil. ("I count footsteps, never wanting to look up again.") The family may be momentarily safe in the refugee camp, but he can still hear "loud booming" and "days blur together in a gritty haze." Del Rizzo captures in this kind of descriptive language the experience — but closing on a note of hope when the boy makes a friend at the camp (and not just his feathered ones). In a closing author's note, she summarizes the plight of Syrian refugees, singling out the work of the United Nations Refugee Agency. In her bio, she notes what prompted this story — reading about a boy who "took solace in a connection with wild birds at the Za'atari refugee camp" in Jordan and being struck by "the universality of a child's relationship to animals."
Here are some spreads from the book.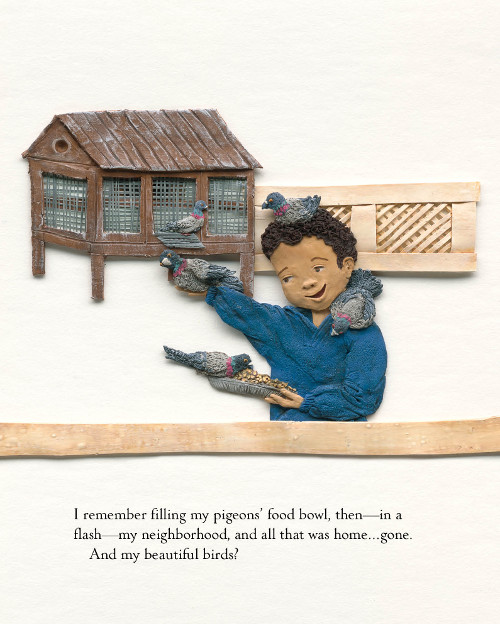 * * * * * * *
MY BEAUTIFUL BIRDS. Text and illustrations copyright © 2017 Suzanne Del Rizzo. Illustrations reproduced by permission of the publisher, Pajama Press, Inc., Ontario, Canada.
Julie Davidson (Jules) conducts interviews and features of authors and illustrators at her acclaimed blog, Seven Impossible Things Before Breakfast, a children's literature blog primarily focused on illustration and picture books. The above blog was posted at 7-Imp on February 7, 2017.