HENSELT: PIANO WORKS
Daniel Grimwood
Edition Peters
A showcase for the music of a forgotten talent, one of the great influences on the Russian piano school
I have to confess that until being sent this disc, I had never heard of Adolf von Henselt. But this disc on Edition Peters presents us with nearly 80 minutes of engaging piano music played by Daniel Grimwood, of a style and technical difficulty which puts the composer on a par with Chopin and Liszt.
So who was Adolf von Henselt? Born plain Adolf Henselt in a town in Bavaria, he studied with Hummel and settled in St Petersburg where he added the von to his name and became one of the founders of the Russian school of pianism. One of his pupils was Zverev, Rachmaninov's teacher, and Rachmaninov rated Henselt highly.
During his life Henselt was known and revered, spoken of in the same breath as Liszt and Chopin, his music played by such luminaries as Clara Schumann (who premiered his F minor Piano Concerto), Liszt, Rachmaninov and Chopin. Yet we have somehow lost touch with his music. It perhaps does not help that he retired from the concert platform before he was 40, suffering from profound stage fright, and that his duties as a revered teacher in Russia meant that his composing in later life rather tailed off in quantity (though not in quality).
Daniel Grimwood, a short course on Adolf von Henselt, his influence on Chopin, Liszt and Scriabin and other contemporaries. He performs Henselt's 'La Gondola.'
Adolf von Henselt was just four years younger than Chopin, and three years younger than Liszt and his piano music does indeed breath the same air as these composers. The opening 'Variations de concert sur le motif de l'opera 'L'elisir d'amore' is a substantial concert work in the manner of Liszt's early operatic transcriptions, but Grimwood follows this with a sequence of smaller works where Henselt combines elements of the salon with some remarkably inventive harmony, meaning that beneath the great charm there are elements that intrigue (In his booklet note Daniel Grimwood sees the Deux petite Valses as looking forward to Scriabin).
There are four large scale works on the disc, as well as the Donizetti variations; there is the Tableau muscal: Fantaisie dur un air bohemien-russe, another Lisztian piece where Henselt wanders freely and even evokes Rachmaninov in the bigger passages. The Ballade, Op 31 is perhaps where we can hear the mature Henselt, written in 1854 (when he was 40), moving away from the earlier Lisztian pieces. It is still technically complex, but the difficulties are not necessarily there for show. The music is still pleasing grateful and melodic, but with some terrific purple passages. The disc finishes with another big work, the Grande valse 'L'aurere boreale,' also dating from 1854. As Grimwood points out, the work sounds very Russian; as with much of Henselt's writing, he reaches climaxes by thickening textures to create a real richness of sonority.
Amongst the smaller works, the four impromptus form a notable group, though they were written over a considerable period of time rather than as a group.
Deux Nocturnes, Op. 6: No. 2, 'La Fontaine' in F Major, as performed by Daniel Grimwood on Henselt: Piano Works
Valse mélancolique, Op. 36 in D Minor, as performed by Daniel Grimwood on Henselt: Piano Works
With all of Adolf von Henselt's music on the disc you can play the reminiscence game, as some pieces evoke his famous contemporaries whilst others look forward to the Russian pianism of later generations (Balakirev was much influenced). Daniel Grimwood plays the music with great skill and clear affection, so that we can appreciate Adolf von Henselt's art for its own very real virtues.
Reprinted by permission of Robert Hugill, a contemporary classical composer based in London. Recent performances of his works have included sacred motets, orchestral music and a one-act opera. Click here for his full biography. For more of Mr. Hugill's classical reviews and interviews, visit Planet Hugill—A World of Classical Music.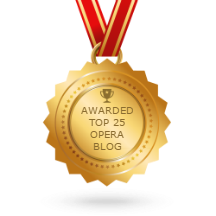 Congratulations to Robert Hugill for Planet Hugill being named as one of Feedspot Blog Readers' Top 25 Opera Blogs & Websites.