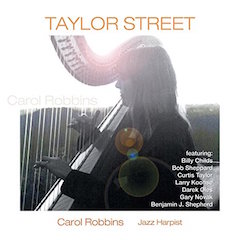 TAYLOR STREET
Carol Robbins
Jazzcats
With Taylor Street (the title refers to the street in Chicago's Little Italy neighborhood where her mother was born and raised), Carol Robbins asserts the jazz harp as a versatile ensemble instrument in the variety of styles her nine original compositions reflect. Now five albums into a lauded career (her previous long player was the acclaimed Moraga, released in 2012), Ms. Robbins has carried the jazz harp torch forward from her days as a student of the godmother of all jazz harpists, the late, great Dorothy Ashby. Just as Ms. Ashby in the 1950s, both established the jazz harp as a legitimate improvisational instrument, at a time when it was considered merely as a novelty backdrop, and featured it in varied contexts over the course of her 10 solo albums, so has Ms. Robbins taken Ms. Ashby's cue and emphasized the instrument's versatility and distinctive voices in fashioning a growing, and formidable, catalogue featuring jazz harp in both lead and supporting roles.
Taylor Street is a slight departure from Ms. Robbins's previous albums in focusing less on jazz harp solos and almost completely on her instrument in conversation with the Jazz Chamber Ensemble led by Billy Childs on piano and Fender Rhodes, and including Ms. Robbins, guitarist Larry Koonse, and sax/clarinetist Bob Sheppard. A solid rhythm section features drummer Gary Novak, acoustic bassist Darek Oles and electric bassist Ben Shepherd, Curtis Taylor rounds out the lineup on trumpet. The Robbins compositions give all the players ample room to shine in solo spotlights, and their collective effort reveals not only the Dorothy Ashby influence but also the groundbreaking jazz harp work of Alice Coltrane and the compositional daring of progressive British harpist David Snell, whose iconic tune "International Flight" seems to have made a big impression on Carol Robbins.
'Taylor Street,' title track from Carol Robbins's new album, with Billy Childs on Fender Rhodes, Curtis Taylor on trumpet, Larry Koonse on guitar, Ms. Robbins on harp.
'The Flight,' opening track from Taylor Street. Carol Robbins on harp; Bob Sheppard on clarinet; Curtis Taylor on trumpet; Billy Childs on piano.
(Note: Lest the reader be misled, Ms. Robbins, Dorothy Ashby, Alice Coltrane and David Snell may be the most prominent practitioners of jazz harp, but the jazz harpist roster is broad and deep. A visit to the Jazz Harp Foundation website is highly recommended both for its educational resources and musician overviews.)
Ms. Robbins does make her presence known and felt immediately here, with a tender, probing solo on "Flight," the opening track, which establishes the journey of discovery Taylor Street seems to be. A few bars in, as a swirl of arpeggios fades out, clarinetist Bob Sheppard picks up the pace in developing the theme Ms. Robbins states in her opening solo, and he is followed closely by Curtis Taylor shadowing him on trumpet. Close to the halfway mark, Billy Childs steps in and ups the energy ante further with a sparkling, lively piano solo, at which point the musicians do seem to be in flight as they sprint towards the song's finale on the strength of Taylor's skittering, muscular trumpet sorties before they touch down in a wild, free-for-all finish. A more sedate atmosphere, dreamy at times, defines "Deep Canyon," a tune apparently inspired by Los Angeles' Benedict Canyon area and featuring the soothing groove Taylor fashions on trumpet while making room for a tasty, fleet-fingered guitar solo courtesy Larry Koonse as Ms. Robbins subtly injects the harp into the arrangement with nuanced harmonic support. On the soothing "Taylor Street," possibly the most personal of Ms. Robbins's compositions here, given its direct connection to her mother, Emilia Costrini, the action keyed by muted trumpet and the Rhodes captures a languid pace of life on the street in question, a quality redolent in Koonse's thoughtful, fat-toned archtop soloing and in Childs's complementary Rhodes excursions following Koonse's moment. Following those footsteps, Ms. Robbins enters around 3:15 and adds an ethereal touch with a delicately plucked solo with a bluesy touch that sets up a similarly bluesy cry from trumpeter Curtis Taylor in response, and listen closely—underneath Taylor's solo Ms. Robbins adds a beautiful, understated arpeggio.
'Grey River,' from Taylor Street. Bob Sheppard on clarinet, Carol Robbins on harp.
'The Local,' from Taylor Street. Carol Robbins on harp, Gary Novak on drums, Bob Sheppard on tenor sax, Billy Childs on Fender Rhodes, Ben Shepherd on electric bass, Curtis Taylor on trumpet.
I especially like the rich ensemble work of tunes such as "Smooth Ride" and "Full Circle," where pop ideas meet jazz flourishes in an evocative way—these tunes have a cinematic quality that makes me think Ms. Robbins has absorbed some ideas from Henry Mancini, and in "Full Circle," trumpeter Taylor and pianist Childs engage in scintillating, improvised back-to-back solos that in terms of energy and execution are worth the price of admission alone. The album's final third includes a breezy jazz waltz, "The Chill" (a showcase for trumpet and guitar, primarily); a poignant meditation, "Grey River," an occasion for Ms. Robbins and Bob Sheppard to demonstrate how to suffuse solos with deep feeling and nuance alike. Finally, the closing number, "The Local," swings along on a gentle, funky groove, upbeat, cool and bluesy with nice drive supplied by drummer Novak as Ms. Robbins fashions a sparkling, blues-inflected solo before Bob Sheppard on tenor sax jumps in with angular runs on tenor sax punctuated by Novak's cymbal crashes, then gives way to Childs's delightful romp on the Rhodes, with Shepherd's electric bass burbling underneath. Around the 4:30 mark the heat rises precipitously when the ensemble goes to work as one, until, at 5:15, the heat then abates and the whole enterprise glides in for a smooth landing, leaving behind a satisfying sense of a most satisfying journey as heartfelt as it is musically challenging.