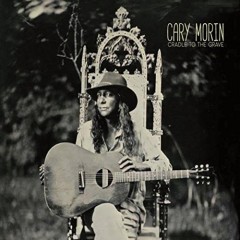 CRADLE TO THE GRAVE
Cary Morin
Maple Street Music
True to his Crow heritage, Cary Morin sounds like he's close to the source of all things sacred: air, sky, land and water. His acoustic fingerpicking, devoid of sonic embellishments or any accompaniment save his husky, lived-in voice resonating with earthy warmth, rises up from sources such as Robert Johnson, Big Bill Broonzy, John Fahey, Mississippi Fred McDowell…that is to say, it's deeply evocative of an historic sweep of American music.
He puts the voice and the guitar together powerfully here, close mic'd and immediate, on the third of an album series documenting his self-described "solo fingerstyle journey." Purposefully, steadily fingerpicking the album opening title track, he strikes a telling theme at the song's outset: Watch over me, I come down low/watch over me, for I'm only a child/never made my way in this world all alone/seek what I crave/yeah, life's a short walk from the cradle to the grave…" The final track, titled "Watch Over Me," is darker, more foreboding, and Morin's voice has a heaviness absent from the opening cut, as he opens with a variation on the verse quoted above, to wit: Watch over me, come down low/watch over me, watch over me for I'm only a child/I'll make my way in this world, plant a seed in the wild/watch over me, watch over me, for I'm only a child… Here his fingerpicking is more florid, more urgent, more telling of subtext than it was at the album's start. The key sentiment he repeats, and repeats again, is I'm only a child.
'Dawn's Early Light,' in support of the Standing Rock protest, by Cary Morin, from Cradle to the Grave
'Cradle to the Grave,' title track from Cary Morin's new album
As the album unfolds it's clear Morin's reference to himself being "only a child" refers to himself in a spiritual sense—that we never know as much as we think we know about the ways of the world and some divine guidance along the way is not too much to ask on the road to self-actualization or –realization. Or, indeed, on the road to sheer survival.
"The title track is a bit telling," Morin says in a press release accompanying the album. "The lyrics refer to the realization that, through all of my travels and experiences, I have come to understand that life is fleeting. … The last song, 'Watch Over Me,' is a different take on the title, as though both songs are bookends for the whole album. The theme of spirituality seems to weave its way into my work more often as the years pass. Perhaps its impending mortality! I hope we are put on this earth to help each other and should we find ourselves alone for some reason, there is still someone there with us, a higher power to help us complete our journey." This rather makes sense, considering how he reveals, in a breathy tone, in the rolling and tumbling pace of "Ghost Dog," I never set out to be anything/I never knew who I was gonna be. Put another way, he not busy being born is busy dying.
Morin expresses his various concerns in styles ranging from country blues, to Delta-influenced blues, to ragtime, to folk-country that does both Steve Goodman and early Jackson Browne proud (the insightful, empathetic slice of life portrait in the beautiful "Trust").
Cary Morin discusses the genesis and themes of Cradle to the Grave
On his 2013 Streamline album, he anticipated Trumpian turbulence—and links that album to this one, thematically–in the fiery "Here and Now," observing, "everything around me all in flames, burning down just like I knew it would/in the here and now/troubled times, holds me like a child, in the here and now/there are troubled times/and it won't let go…" In 2017, with Trumpian turbulence a daily, dispiriting and outrageous occurrence, he offers the spare, haunting "Dawn's Early Light," in support of the Standing Rock protest over the Dakota Access Pipeline, advising, "There should be no compromise/we'll all stand up and fight/in the dawn's early light." Implicit in this assertion is the danger of underestimating Native Americans' resolve in the face of the heartless, cruel—and treaty breaching (what's new?)—push to complete a pipeline regardless of its potential to pollute groundwater for generations to come. The ignorant Trump says he didn't think completing the DAPL was controversial. "I haven't had one call," he said.
"Then the White House wasn't taking calls," writes Mark Trahant at Indian Country Media Network. Nor was it hearing what artists such as Cary Morin are really saying.
'Nothing Compares 2 U,' the Prince song as covered by Cary Marin on Cradle to the Grave
'Mishawaka,' Cary Morin, from Cradle to the Grave
One of the Standing Rock protesters' rallying cries is "Water is Life." This fact too is emphasized in a most graceful way here. Over bright, skittering phrases in "Mishawaka," Morin's is a soothing voice from beyond the grave imagining his spirit floating downriver, borne by water to a higher spiritual plane.
On a lighter note, the bright, buoyant "Lay, Baby, Lay," an ode to a good-time gal, is Broonzy style at its most ebullient. Most surprising, perhaps, he recasts Prince's stab at reconciliation, "Nothing Compares 2 U," as a folk-flavored heart tugger. In the end, on Cradle to the Grave, Cary Morin reminds us, first, of how little we know no matter how long we've lived, and moreover, of how fulfilling the child within's journey to enlightenment can be, even in its rough patches. So join him.
Backward, turn backward, O Time, in your flight
Make me a child again just for tonight!
("Rock Me to Sleep," by Elizabeth Akers Allen)