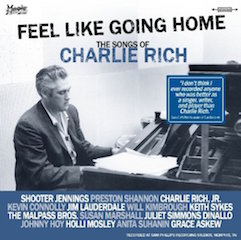 FEEL LIKE GOING HOME: THE SONGS OF CHARLIE RICH
Various Artists
Memphis International Records
Everything about this long overdue tribute to the great Charlie Rich is right. Start with the deep involvement of the Phillips family, from the hovering spirit of Sam, who placed Rich on a plateau with Howlin' Wolf as the most "profound," as he put it, artists he ever recorded; to executive producers Jeff and Johnny Phillips (with Jeff releasing this disc on his own label); to Sam's son Knox penning thoughtful liner notes. Sam's biographer, Peter Guralnick, is given a tip of the hat by producer Michael Dinallo for igniting the latter's interest in Rich via the emotional portraits Guralnick offered of the artist in his books Feel Like Going Home and Lost Highway (Guralnick also produced Rich's final album, 1982's Pictures and Paintings). Charlie Rich, Jr. completes the family circle twofold, first in his liner note hailing "a project featuring my father's songs alongside the next generation(s) of Phillips," and second by offering a blistering version of "Break Up" driven frantically by his rousing vocal and (forgive me, Killer) red-hot pumping piano (if you think the intro sounds like a version of Elvis's "Teddy Bear" is coming, well, you won't be alone), all of which makes one think the apple doesn't fall far from the tree. Rich, Jr. also makes a memorable keyboard contribution enhancing the heartache Holli Mosley lay on on the the lush, smoky blues of "Who Will The Next Fool Be."
'Caught in The Middle,' The Malpass Brothers, from Feel Like Going Home: The Songs of Charlie Rich
'Midnight Blues,' Anita Suhanin, from Feel Like Going Home: The Songs of Charlie Rich
Ms. Mosely is indicative of another right move made here, in the selection of artists with enough confidence in their own sound signatures to add distinctive touches to their tracks while also evoking the essence of Rich's singular approach in the original recordings. There's still a hint of the mountain influence in Jim Lauderdale's knowing vocal on "Lonely Weekends," an appropriately stomping album opener. The Malpass Brothers qualify as show stoppers with their twangy, heart tugging country weeper, "Caught In the Middle," which in and of itself evokes the honky-tonk influence young Charlie absorbed and hints at his future supremacy as a mainstream blues-influenced country balladeer, whereas Will Kimbrough's serio-comic "Sittin' and Thinkin,'" being the remorseful reflections of a penitent jailbird seeking reconciliation with his gal "when they let me out again," this being but one example of the dark humor Charlie wove into some of his later songs, even ones he didn't write (which might have been his way of editorializing while playing the game).
'Time and Again,' Susan Marshall, from Feel Like Going Home: The Songs of Charlie Rich
'Whirlwind,' Juliet Simmons Dinallo, from Feel Like Going Home: The Songs of Charlie Rich
So really, it's pick-em as far as what might be the album's high point. Listeners will likely agree with your faithful friend and narrator: each time you think a particular number can't be topped the next track has you thinking twice. Apart from the abovementioned performances, sizzling rockers by Juliet Simmons Dinallo, romping through "Whirlwind" with a lively, echoed vocal uncannily reminiscent of the young Rosanne Cash complemented by a wildly romping guitar; Shooter Jennings ("Rebound," with its energetic Farfisa organ, searing electric guitar and intense Shooter vocal) and a lowdown Keith Sykes (with Grace Askew joining in on bluesy harmony) on "Everything I Do Is Wrong" are perfectly sequenced for an energy burst between items such as Susan Marshall's sultry, downcast blues "Time and Again"; Anita Suhanin's smart reading of "Midnight Blues," an accusatory text with a sly O. Henry twist in the chorus, set to a dark, noir-ish atmosphere conjured by twangy guitar, thick Wurlitzer organ and foreboding percussion; Preston Shannon's southern gospel-influenced testimony concerning the root of all evil, "Easy Money," complete with his own stinging guitar embellishments; and Johnny Hoy's gritty, wrenching immersion in "Don't Put No Headstone on My Grave," with accompanying bluesy punctuations from his Bluefish compadre Jeremy Berlin on Fender Rhodes and B3 in addition to Hoy's own howling harmonica sorties.
Promo video for Feel Like Going Home: The Songs of Charlie Rich
'Feel Like Going Home,' Kevin Connolly, from Feel Like Going Home: The Songs of Charlie Rich
The basic band here is producer Michael Dinallo on electric and acoustic guitars; Tim Carroll on electric guitar; Preston Rumbaugh on bass; and the amazing and dauntingly versatile Tom Hambridge on drums—the right choices with the right stuff. After all the fireworks and nuance they and others bring to this affair, it somehow feels completely right that the album should end on the sparest of notes, and the most spiritual too: Kevin Connolly's "Feel Like Going Home," with Connolly's rich, deeply felt explication of the thoughts of a broken man seeking renewal and redemption, possibly in a physical place here on terra firma, or in Heaven, is framed only by his own Resonator guitar and a subtle electric guitar tastefully filling in the spaces before the instruments convene on a shimmering closing chord seemingly conceived to summon angels. At that moment the album titled Feel Like Going Home becomes greater than the sum of its parts and elevates the art of the artist it honors to the higher plane it deserves. Charlie Rich had an ambivalent relationship to his big country hits of the '70s, which he did not write, but in the songs here, all but two of which are Rich copyrights, you not only sense the man, you come to know him.
Charlie Rich's original demo of 'Feel Like Going Home'