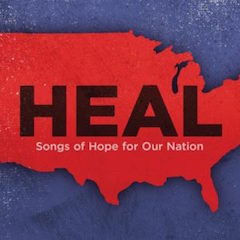 '…carrying on the fight…'
HEAL: SONGS OF HOPE FOR OUR NATION
Various Artists
Motown Gospel
Gospel music often functions as protest music.
Either explicitly, as during the Black Power Movement of the late 1960s, or implicitly, with semi-coded lyrics like the spirituals before them, gospel songs fight back against an oppressive world with messages of faith and encouragement that trouble won't last always.
Heal: Songs of Hope for our Nation from Motown Gospel offers ten examples of how contemporary gospel music is poised to carry on the fight against evil and oppression in today's uncertain political climate.
The album's new selection and its finest track, "Heal (Find a Way)," by Brian Courtney Wilson, is part contemplation and part prayer. One of the smoothest voices in gospel music today, Wilson croons that as "people are taking sides" and "tensions rise," prayers for peace and wisdom can "rip down walls." Other tracks cover similar ground. The bridge of Janice Gaines' "Make A Way" (from Greatest Life Ever) notes "My faith lets me know that it will be okay/May take a minute, but I believe it's on the way." Sheri Jones-Moffett sings about how a life-transforming idea can rise from the wreckage of lost jobs, foreclosed homes and incurable disease ("It's Not Too Late to Dream" from Renewed—possibly the first gospel song to include the word "entrepreneur" in its lyrics).
'Heal (Find a Way),' Brian Courtney Wilson, from Heal: Songs of Hope For Our Nation
'Don't Quit,' Smokie Norful, from Heal: Songs of Hope For Our Nation
Tasha Cobbs and VaShawn Mitchell individually pledge unfailing confidence in God because He's never wrong and He has our back ("Confidence" from Grace and "Watching" from Unstoppable, respectively). Reacting to the cacophony of modern society, the maestro of melisma Smokie Norful shouts on "Don't Quit" (from Smokie Norful Live): "I was looking at CNN but I can't let that bother me or hinder me."
Another interesting aspect of Heal: Songs of Hope for our Nation is how Motown Gospel is either consciously or unconsciously following the lead of major pop labels: assembling brand new digital albums out of catalog material. This way they can offer new music from popular artists and introduce a wider audience to others on its roster. In this case, someone who likes Brian Courtney Wilson will get a chance to sample the music of Royce Lovett, and vice versa. The industry used to call these kinds of compilations "loss leaders," but in the digital age, there's not much to lose.
Whether the nation will heal, only time will tell. Meanwhile, the elephant is still in the room. And despite the current commentary about the demise of gospel music, rest assured it will always be there to sound the trumpet of Jericho to knock down walls that try to stop or separate us.
Pick: "Heal (Find a Way)," Brian Courtney Wilson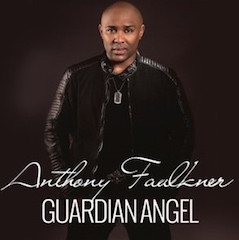 'You and I are not alone…'
GUARDIAN ANGEL
Anthony Faulkner
7TH Chapter Music (2016)
It's no surprise that Angela Winbush of 1980s R&B vocal duo Rene' and Angela makes a vocal appearance on "Closer," a song on Anthony Faulkner's new album, Guardian Angel.
Faulkner considers her his personal guardian angel.
He told the Journal of Gospel Music how he met the popular singer at his church or, rather, how she met him: "[Angela] didn't know me from any of the other kids, but she walked up to me at church one day and asked me, 'Do you like music?' She challenged me to go to school and play an instrument. She birthed something new into my life."
It was only later that Faulkner learned that the "Sister Angela" from church who encouraged his formal music education was an internationally known recording artist. Hence, the EDM-driven title track is as much a tribute to Winbush as it is a call for each of us to be blessings to others.
'Guardian Angel,' Anthony Faulkner, from Guardian Angel
'Jesus Will Fix It,' Anthony Faulkner, from Guardian Angel
Three of Guardian Angel's sweet spots lie just south of the album's middle, and two have already been released as singles. On "Let It All Go," Faulkner and Nikki Potts (Kurt Carr Singers, L.A. Mass Choir) weave complex vocal lines into a hypnotic tapestry of sound. "I Trust You" begins with delicacy and grows in musical strength. Not a single, or at least not yet, "Emmanuel" is gentle, compelling, and benefits from exquisite backing harmonies. Tying the three together thematically is the importance of maintaining faith that God, who provides everything, will not forsake us, especially in the midst of trials.
"We Need Change" reinforces this faith imperative, even when, as V3 raps, "the rich get more while others die and stay poor" (evocative of a Regina Spektor lyric!). The song is essentially a modern take on the "take your burdens to the Lord and leave them there" message.
"The Clouds Above" is intriguing, with its reggae beat and hook-laden verses. The album's closer, "Jesus Will Fix It," is the album's high point, an uptempo contemporary gospel choir performance, complete with cascading parts and full-throated harmonies.
Although Anthony Faulkner explores a wide variety of sounds on Guardian Angel—from EDM to island beats to reggae—the message remains the same: you and I are not alone.
Picks: "Jesus Will Fix It," "I Trust You."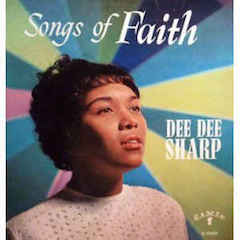 'Young Dee Dee Sharp singing praises…'
SONGS OF FAITH
Dee Dee Sharp
Cameo Records/ABKCO Music and Records
(originally released in 1962; reissued October 21, 2016)
www.abkco.com
Just before the Beatles all but changed the face of popular music, Cameo/Parkway Records was finding new ways to keep kids dancing.
From Chubby Checker's "The Twist" and the Orlons' "The Wah Watusi" to the Dovells "Bristol Stomp" and Dee Dee Sharp's "Mashed Potato Time," the Philadelphia label was doing what Motown was about to do: recalibrate R&B music by African American artists for a multicultural audience.
Cameo producers Kal Mann and Dave Appell knew that Dee Dee Sharp was a product of that finest of singing schools, the African American Church. As a child, Sharp attended her grandfather's Third Eternal Baptist Church (she's still a member) and was mentored by no less a leading light than Willa Ward of the Famous Ward Singers.
So it seemed natural to feature Sharp doing an album of inspirational songs. After all, other pop artists had done it—-from Roy Hamilton and Brook Benton to Nat Cole and even Johnny Mathis—-albeit with mixed results.
'He,' Dee Sharp, from Songs of Faith
'It Is No Secret (What God Can Do),' Dee Sharp, from Songs of Faith
In August 1962, Sharp recorded an inspirational album, titled Songs of Faith. Although she was backed by Philly gospel singers Willa Ward, Vivian Jackson, and Mary Wiley, she was also saddled with an orchestra, a studio choir and mostly pop inspirational songs that would not be found in the Third Eternal Baptist's hymnbook. Songs such as "He," "I Believe," "You'll Never Walk Alone" "Climb Every Mountain," and "He's Got the Whole World in His Hands" were selected for her to sing because they had been covered frequently by artists representing a wide variety of genres.
The album was not a commercial success when released, probably because it wasn't gospel enough for religious radio announcers to program it, Sharp fans couldn't dance to it, and the young singer wasn't an established enough presence to entice the adult mainstream to purchase it.
Despite the producers playing it safe by whitewashing the album's material, Sharp gives the dozen songs her all, especially Thomas A. Dorsey's "Peace in the Valley" and Edna McGriff's "Heavenly Father." Her version of "You'll Never Walk Alone" could have been a single. Nevertheless, one could only guess how Sharp might have sounded recording such Baptist stalwarts as "I Need Thee Every Hour," "Precious Lord," and "Never Grow Old." And to have recorded them in her grandfather's church…but that was 1962 and the pop world worked differently then.
'Vaya Con Dios,' Dee Dee Sharp, from Songs of Faith
This past October, ABKCO reissued Songs of Faith in sonically crystal clear CD and digital formats so today's listeners can hear young Dee Dee Sharp sing praises. For what it is, Songs of Faith is lush, moving at times, charmingly nostalgic, and showcases Sharp's more serious side. The listener can hear in her sometimes vulnerable and other times declarative voice as much church training as the producers would allow her to share with her audience.
Professor Gayle Wald, author of the Sister Rosetta Tharpe biography, Shout, Sister, Shout, provides fascinating album notes that place the album in its particular time in history. The album is worth hearing for Sharp's voice alone.
Picks: "Heavenly Father," "You'll Never Walk Alone"
'…evoking the breathy, relaxed tones of Alicia Keys and Indie.Arie'
#FOREVERALIVE (EP)
Monae Miller
Monae Miller Music
The writer Anton Chekhov admonished his fellow writers: "If you say in the first chapter that there is a rifle hanging on the wall, in the second or third chapter it absolutely must go off. If it's not going to be fired, it shouldn't be hanging there."
This quote hung in the air while I was reviewing Kansas-born and Texas-based singer-songwriter Monae Miller's #ForeverAlive EP. The photo on the front and back covers, as well as photos within the CD booklet, show her holding a guitar. So I anticipated that she would play that guitar at some point in the EP. But unless the album notes are inaccurate, the only instrument Monae plays is piano.
'Forever Alive,' Monae Miller, from #ForeverAlive
'I Need You,' Monae Miller, from #ForeverAlive
She does sing, however, and sings well. Monae's soprano evokes the breathy, relaxed tones of Alicia Keys and India.Arie, and her songs have a neo-soul strut. Monae co-wrote three of the EP's five cuts and arranged a fourth, though Dwayne Pugh's composition, "I Need You," with its snarling guitar work courtesy of AJ Arnyx and Taylor Rowland, is the project's finest cut. In this song, Monae reflects that she may "rise to the top" or "sink to the bottom," but no matter what happens, she has Jesus, and (to quote an old gospel song) that's good enough for her.
While I would have loved to have heard Monae Miller show us her guitar skills, #ForeverAlive contains the same bouncy, buoyant fare as her I'm On My Way EP. She jazzed "Blessed Assurance" on that project, and here she gives us a similarly finger-popping version of "Oh, How I Love Jesus" (titled "How I Love Jesus").
Pick: "I Need You."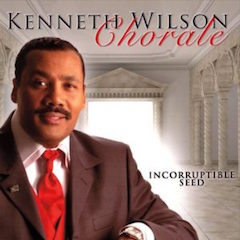 '…extending the ministry of contemporary gospel music in the classic choral style'
INCORRUPTIBLE SEED
Kenneth Wilson Chorale
Love Records
Drawing from 1 Peter 1:23 for its title, Incorruptible Seed is the latest album from Detroit's Kenneth Wilson Chorale, a group that demonstrates high-level vocal training in its easy, controlled delivery. Wilson's songs—he wrote all the selections—append messages of hope and encouragement to mid-tempo contemporary gospel choir music.
The album's thematic premise of God's constancy for His people is condensed in the opening track, "I've Got Jesus." This rhythmic, mid-tempo cut points to the primacy of Jesus as all anyone needs to weather a storm. The album single, "It's Just Not Over," reinforces this message by suggesting that, in times of doubt, praise the Most High.
"Medley" is actually an extended worship moment but it contains two of the finest songs on the album. The majestic ballads, "It's All in Me, I Am the Lord" and "God Has Already Provided," evoke the 1980s glory days of gospel choir singing. Given that Wilson, as a songwriter, provided the Reverend James Cleveland and the Southern California Community Choir with its 1979 "Prepare to Meet Him," the linkage between the Chorale and that heady era is not arbitrary.
'I Believe & I Receiver,' Kenneth Wilson Chorale, from Incorruptible Seed
Seed Medley: 'It's All In Me, I Am the Lord/Only Trust Me/God Has Already Provided,' Kenneth Wilson Chorale, from Incorruptible Seed
The strongest singing and most dramatic harmonies on the album can be found on "Glory to Our God." It's a song that cries out to have some bars sung a cappella. In fact, I half expected to hear an a cappella moment somewhere in the arrangement.
A radio host, author, entrepreneur and newspaper publisher in addition to his music duties, Dr. Wilson is an alumnus of Detroit's Mumford High School, which has produced a legion of gospel artists, including some Winanses and Clarks as well as Fred Hammond and Deitrick Haddon. He organized the Kenneth Wilson Chorale in 1986.
Recorded live and with an altar call at the end, Incorruptible Seed extends the Kenneth Wilson Chorale's ministry of contemporary gospel music in the classic choral style.
Pick: "Medley"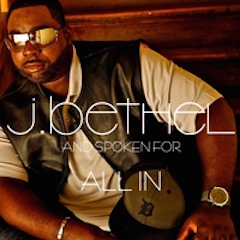 '…praise is the answer, especially during personal trials'
ALL IN
J. Bethel & Spoken For
(independent release)
All in, indeed.
Frenetically rolling drums at the outset signify that the debut full-length release by Detroit gospel group J. Bethel & Spoken For is about to dazzle the listener with a proverbial kitchen sink's worth of instrumentation and a high-energy range of musical influences, from jazz to rock to contemporary gospel and even some funk (after all, Jason "J" Bethel Sr.'s uncle worked with Parliament Funkadelic).
The album leans heavy on the church truism that praise is the answer, especially during personal trials, as articulated on "I Gotta Praise in Me." It also underscores hope and encouragement, notably on the title track and "We Walk By Faith," as well as "Who Told You," which cautions against taking heed of naysayers.
Only churches, gospel singers, and Russian novelists recognize the redemptive power of suffering, and with its reference to the Garden of Gethsemane, "Cup of Suffering" does just that.
The album is most notable, however, for introducing a wider audience to Nikki Stephens, a Spoken For member (and Jason's sister-in-law) who squalls her praise over the din on "Just Another Day." She even out-sings Sunday Best winner Tasha Page-Lockhart on "I Gotta Praise In Me." Not to take away from the other fine leads, but Stephens could have jumped in on every track and that would have been all right.
'We Sing Hallelujah,' J. Bethel and Spoken For, from All In
'All In,' J. Bethel and Spoken For, from All In
All In's writing is a family affair, with Jason Bethel writing alone or in collaboration with Gregory Bethel and Sabrina Bethel. A Jason and Gregory partnership provides one of the album's top selections: "Everything You Are," an enthralling duet between Stephens and Aubrey E. Swann Jr. that concludes in lovely two-part harmony.
Notwithstanding the gumbo of sound, the musical consistency of All In is in its complex arrangements and long riffs on short melody lines. "Praise on High" and "We Walk By Faith" possess the most urban grooves, while the mid-tempo title track employs insistent electronica to remind the listener, once more before closing, that trusting in God can "turn sorrows to success." Ah, there's the healing power of suffering again. Dostoevsky and Tolstoy, take note.
Picks: "Everything You Are," "All In."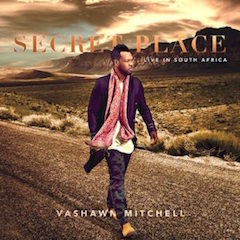 '…casting a spell on the Joburg audience…'
SECRET PLACE—LIVE IN SOUTH AFRICA
VaShawn Mitchell
V Man Entertainment/Motown Gospel
Release date: November 4, 2016
While European and Scandinavian countries prefer American gospel artists to sing traditional fare when touring, South Africa appears to have wholly embraced the P&W offerings of artists such as Israel Houghton and also VaShawn Mitchell, whose February 2016 appearance in Johannesburg was released last month by Motown Gospel as Secret Place—Live in South Africa.
From the sound of the applause, Mitchell's praise team-ready songs, with their billowy arrangements, lilting melodies and hypnotic rhythms, cast a spell on the Joburg audience. Not surprising. South African gospel has much in common with P&W. Both styles are known for easy to learn melodies and lyrics, steady rhythms, and melodic and lyric repetition. The strident sanctified sound is nowhere near as popular in South Africa as it is in the U.S. Not to say that South African gospel isn't passionate—-it is—-but in a controlled sort of way.
An album highlight is that several of Mitchell's backing vocalists take turns sharing the spotlight. Leah Leach and Taelia Robinson deliver especially passionate leads on the title track and "Son of God," respectively. Labelmate Tasha Cobbs guests on the dramatic and bold "Jesus Reigns," and then she and BeBe Winans join Mitchell on the latter's big hit, "Nobody Greater." Mitchell, Winans, and Cobbs work together so well on "Nobody Greater" that this performance could easily have been the final track on the album.
'Give All I Have,' VaShawn Mitchell, from Secret Place
'Jesus Reigns,' VaShawn Mitchell, from Secret Place
Mitchell's own compositions don't appear until the final third of the CD. One, "Good God," is the most South African sounding, with its jaunty beat, percussive harmony, and repetitive motif. "God Will Take Care of Me" is an especially engaging selection that borrows a line from "I Don't Feel Noways Tired:" "He didn't bring me this far to leave me."
I'm still hoping an American gospel artist will team up on record with an authentic South African choir or a solo star such as Rebecca Malope. Nevertheless, Secret Place—Live in South Africa will provide praise teams with some new songs to learn.
Picks: "Jesus Reigns," "Secret Place."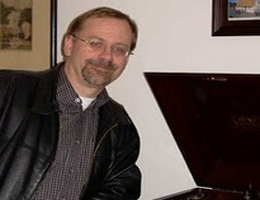 Bob Marovich is a gospel music historian, radio announcer and author. His "Gospel Memories" radio program of vintage black gospel music and artist interviews airs live first Sundays from 3 a.m. to 7:30 a.m. on Chicago's WLUW 88.7 FM, and streams live at the station's website. Snippets of recent broadcasts can be heard online at the Gospel Memories Radio Show. Bob is also the founder and editor of The Black Gospel Blog, now the Journal of Gospel Music, the source for the reviews published here. Bob launched JGM on the tenth anniversary of The Black Gospel Blog, which he founded July 28, 2004, as the first blog to cover African American gospel music. His first book, Shout Troubles Over: The Birth of Gospel Music in Chicago, is scheduled for publication in March 2015 by the University of Illinois Press as part of its Music in American Life Series. Bob lives in Chicago with his wife, author Laurel Delaney, and their two cats.