Hailing from Manchester, The Breath is the new band from guitarist Stuart McCallum and singer Ríoghnach (pron. REE uh nah) Connolly. Such opposites in character and background it's a miracle of integration; he is an urban musician from Manchester and the guitarist for Cinematic Orchestra, valued for his mastery of loops and effects. She is a singer and flautist from Armagh, Ireland and the voice of skewed barrelhouse, folk-hop band, HoneyFeet. He trades in groove-based music that marries funk, rock and rave in a post-modern style. She is rooted in rural community and prone to ancestor worship. McCallum anticipates a blissed future. Connolly just wants to survive.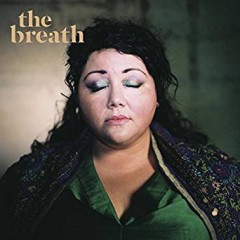 McCallum came across Connolly on MySpace in 2010 while looking for a singer. Discovering she too lived in Manchester, he contacted her, and took a raft of original songs from a previous collaborator to her where they would rehearse in her kitchen. Eventually her politeness about the songs broke down, the old material was jettisoned, and the pair began to write together.
'Antwerp,' The Breath, from Carry Your Kin
The result is Carry Your Kin, the group's debut album for Peter Gabriel's Real World Records. Recorded in Manchester and at Real World Studios and mixed by sound guru Tchad Blake, the album was released in July 2016.
Delving deeply into the spaces between rock, ambient and Irish folk, it's a powerfully hypnotic collection of mesmerizing guitar riffs, and rocking anthems with Connolly's soulful vocals interwoven into the electronic fabric of McCallum's distinctive soundworld. He has built the music layer by layer, overlaying embedded chords to create a big, big sound to frame Connolly's singing. Her songs pour forth from her own life in a torrent of meaning–the way she writes is so emotionally reckless–excavating raw feeling with little in the way of defense. She sings songs of birth and death, women's rights, first love, the call of motherhood, the death of men at sea, and post-colonial wrongs.
'This Dance is Over,' The Breath, from Carry Your Kin
'Boat Song,' The Breath, from Carry Your Kin
Two other players are integral to The Breath, both also born out of Manchester's fertile music scene and both fellow Cinematic Orchestra alumni–drummer Luke Flowers and pianist John Ellis. Hypnotic, lush, powerfully raw and raucously punchy, the Breath have delivered a debut album of songs with soul cleansing vocals to entrance, uplift and break your heart.
(Courtesy World Music News Wire)