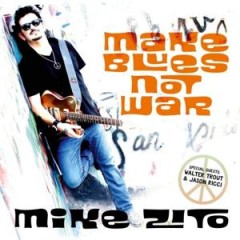 MAKE BLUES NOT WAR
Mike Zito
Ruf Records
(Released November 2016)
When last we hear from Mike Zito, it was 2013 and he delivered a Deep Roots Album of the Year in the form of Gone to Texas. Here's a snippet of our review of that long player:
Few artists have battled demons as savage as Mike Zito's once were and lived to tell the tale. He's never tried to hide what we went through–which was not so long ago, mind you–and how he crept to the edge of the abyss before the abyss looked back and jolted him into sobriety. On his intense new solo album, Gone to Texas, his first for Ruf Records (heretofore, for Ruf, he had produced the Girls with Guitars project (see the June 2011 issue of TheBluegrassSpecial.com) and Samantha Fish's impressive debut (see the September 2011 issue of TheBluegrassSpecial.com), and according to his own liner notes had long been itching to be on the label as an artist himself. It's hard to imagine him delivering anything stronger or more bluntly confessional than the galvanizing performances here. With this, Zito hits the trifecta:  in 2011 he emerged triumphant on his third solo album, Greyhound (see the October 2011 issue of TheBluegrassSpecial.com), and a year later he, Devon Allman, Cyril Neville, Yonrico Scott and Charlie Woote, banded together as the Royal Southern Brotherhood, introduced themselves with one of the best albums of 2012 (see Deep Roots, September 7, 2012). Good as those were, Gone to Texas's manifold strengths elevate it to a higher plane of spiritual quest. Its close-to-the-bone feel; his band The Wheel's empathetic support; Zito's effortless command of the blues and blues-rock idioms he employs; the conviction in his rough-hewn vocals; the frank, unvarnished portrait he paints of himself in his weakest hours–when paranoia creeps in, death wishes abound and a general feeling of inertia if not outright uselessness takes hold of him are the components of a masterwork.
A live version of 'Make Blues Not War,' the title track from Mike Zito's new album. Live at the Funky Biscuit in Boca Raton, September 3, 2016.
Having unburdened himself so bluntly, and doubtless not without some pain, Zito enlisted producer Tom Hambridge (whose credits include Buddy Guy and Zito's Royal Southern Brotherhood mate Devon Allman's Ragged and Dirty) and kicked out the jams on Make Blues Not War. Given its release in November, after one of the most bitter and rancorous political campaigns in recent memory, you might think Zito was using the album format to advance his thoughts on the issues of the day. Yet, his pronouncement in that realm are few and quite oblique—in the Muddy-style stomp of the title track, he alludes to the turmoil in the street but the message he delivers in his urgent growl is, "when times get tough and you've had enough/turn on some music, that's what your soul is cryin' for/turn it up loud and wake the neighbors/let's make blues, not war…"
Well, the neighbors may not be happy, but on his new album he's turned it up load and let the shredding loose on the land. It's a project with a long gestation period, but Hambridge, an expert at making these powerhouse showcases with gifted musicians, was always in the picture. "Tom and I had spoken about making a kick-ass blues-rock album for years," Zito has said. "I like having fun and cutting loose—that's what this album is all about." One of the secrets to the sizzling sound and go-for-broke feel is the sessions being live in the studio—"the musicians set up and we just hit record and went for it," Zito says.
'Bad News is Coming,' Mike Zito, from Make Blues Not War
Go for it they did. And they found it. From the twin fury of opening track "Highway Mama," with guest guitarist Walter Trout sparring mercilessly with Zito while the rhythm section has its hands full withstanding the assault to red-hot rock 'n' roll of closing tune "Route 90," with its triumphant Zito vocal cataloguing the twists and turns of a southern road trip and a rollicking boogie-woogie piano backing that would make Jerry Lee proud, Zito sounds like a man both possessed and free.
There are a couple of songs that dip into personal history, though. "Wasted Time," though its grind and stomp frame mean woman blues lyrics, it's hard not to think Zito might well be singing to the demons that by his own confession found him wasting years of his early career. Maybe it is nothing more than a mean woman blues of the harshest sort but then maybe not. There's no doubting the subject of the roaring "Chip Off the Block"—it's about his son Zach Zito, who is both a soon-to-be University of Missouri graduate and a solid guitarist who's told he wants to go on the road with The Wheel. Zach is playing proud and loud on the track, and Zito is playing the supportive father: "He got blisters on his fingers from playing my guitar/grew up on Johnny Winter and Stevie Ray Vaughan/he's a chip off the block/buzz from the bee/the apple don't fall far from the tree" and "playing music for a livin' is all I ever did/he's been riding shotgun ever since he was a kid/he's a chip off the block…" As an introduction, it's quite impressive.
'Girl Back Home,' Mike Zito, Make Blues Not War
On the slower side, the slow, crunching blues of "Bad News is Coming" finds Zito howling plaintively about dealing with his lover's infidelity, when he knows he has to bail but can't fathom losing his gal either. The wounded sound of his deliberate guitar solo and the depth of ache in his vocal work together to magnify the sorrow he's revealing with every note. In an interesting change of pace, the slow grinding "Girl Back Home" takes Zito into country blues territory with a drawling vocal that's as much spoken as sung and is buttressed by a tasty, stinging slide solo, all in service to a love letter to the girl who done him right. A real beauty, "Road Dog" is a slow jam augmented by organ centered lyrically on the life of the wandering troubadour, something Zito knows well.
For those in search of the knockout groove, Zito cuts loose on items such as "Redbird," a seven-minute excursion into white-hot tone and texture, and the furious, driving "Crazy Legs," which owes something to Ten Years After's "I'm Going Home" with the addition of some saucy, suggestive lyrics about gorgeous gams.
In short, as a statement, Make Blues Not War is an album Zito needed to make in the wake of Greyhound and Gone to Texas. If ever any artist sounded like he's come all the way back from whatever he needed to come back from, it's Mike Zito right here, right now. The next chapter should be interesting indeed.