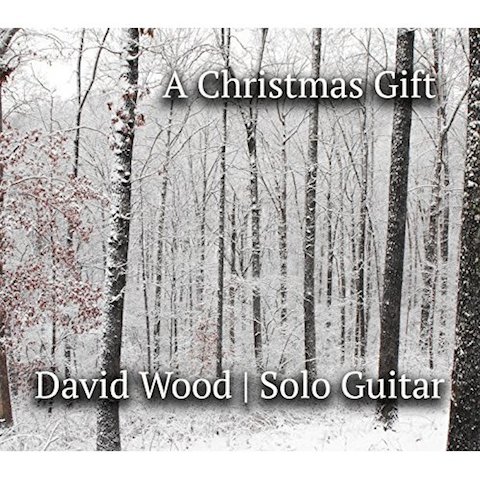 A CHRISTMAS GIFT
David Wood
Broken Hip Records
A week or so ago I awoke early one Sunday morning to the show "Performance Today" on New York City's classical radio station, WQXR (www.wqxr.org). As I lay there listening and gathering energy for the day, the show wound down with a Christmas selection on acoustic guitar, a beautiful rendering of a traditional carol—I believe it was "It Came Upon a Midnight Clear," if memory serves—and when it was over the host, Fred Child, identified the tune as being by David Wood from his album titled A Christmas Gift. It really was a captivating performance on a show dedicated to memorable performances.
David Wood. David Wood. The name rang a bell. Formerly a Nashville session player who retired a few years ago and opened a guitar repair shop in Franklin, TN, relocated to Fairview, TN, this past November. Quickly I found the album on Spotify, then bought an mp3 copy on Amazon (because physical CDs were sold out), and listened to from first to last cut, becoming more enraptured with each passing minute.
'Christmas Angels,' a David Wood original featured on A Christmas Gift
'O Holy Night,' David Wood, from A Christmas Gift
It's a spare, haunting, reverent but spiritually enriching, often joyous album, featuring only Mr. Wood and his rich acoustic guitar on 22 songs (you don't get cheated here), three of which are the artist's own originals (plus a 32-second prelude and 31-second postlude referencing the sacred carol "O Come, O Come, Emmanuel." Note the postlude and prelude, though: former establishes the theme for what's to come, the other brings the journey full circle. The journey is into the heart of the Christmas experience, not the commercial one (which makes the inclusion of Vince Guaraldi's delightful "Christmas Time is Here" amusing indeed, as a tuneful, gentle reminder of what Christmas is all about, Charlie Brown). That is to say, the tunestack is absent such secular seasonal standards as "Jingle Bells" and "Deck the Hall" but rather focuses on the spiritual emotions stirred by the night of Christ's birth. It begins with a sprightly take on "Angels We Have Heard on High," moves to a stately "O Come, All Ye Faithful," establishes the mise-en-scene with "O Little Town of Bethlehem," "It Came Upon a Midnight Clear," "The First Noel," Mr. Wood's own reflective "Bright Star on a Cold Snowy Night" and "Away in a Manger"; introduces the dramatis personae in "We Three Kings" and a mesmerizing "Coventry Carol"; and reflects on the magnitude of the holy birth in "What Child Is This?" (which begins with an interpolation of "Mary Did You Know"), "Silent Night" and "O Come, O Come Emmanuel." The aforementioned "Christmas Time is Here" and "Silver Bells" bring the concept back to the present day briefly, much as a beautiful rendering of "I'll Be Home for Christmas" does later, although all three of these Yule tunes do say something about family that isn't exactly contrary to the themes Mr. Wood has offered in his selection of sacred carols.
'Christmas Time is Here,' by Vince Guaraldi, in a solo acoustic guitar version by David Wood, from A Christmas Gift
Throughout this performance, Mr. Wood, who studied classical guitar at the North Carolina School of the Arts (1973-1977) and then spent 20 years on the road playing pedal steel with major country artists (including Joe Diffie, Lorrie Morgan and Doug Stone, until opening his retail guitar repair shop in 2006, adds only the subtlest embellishments to his arrangements—a glissando here, a trilling effect there—preferring instead to focus on the unalloyed beauty of the melodies. Playing a rare Gibson 1964 flamenco model guitar throughout, he elicits a rich, full tone, close miked for an intimate feel, as if he's right there in the room with you. His intensity, passion and respect for the season and its sacred songs suffuses every note he picks. As raw as it is, A Christmas Gift captures the true meaning of the Yuletide season as few albums have done in recent years.
David Wood's 'What Child is This?' opens with a snippet of 'Mary Did You Know.' From A Christmas Gift
'O Come, O Come, Emmanuel,' from David Wood's A Christmas Gift
A Christmas Gift is Mr. Wood's second solo CD; his first, released 13 years ago, is titled Dreaming and came in the wake of the death of his older brother, who had encouraged David to study classical guitar in the first place. (A note of thanks here to the good folks at Naxos. Mr. Wood recorded this album intending it solely for family and friends. Someone at Naxos heard it and convinced Mr. Wood that the album could reach a larger audience, and the two parties struck a deal. Thank you, Naxos.) The closing cut is a touching "Auld Lang Syne," an entirely appropriate place to depart these festivities, and if you sense something deep at work in this iteration of a well-worn number, then consider that Mr. Wood recorded it using his late brother's guitar, a 1964 flamenco negra (with rosewood back and sides) custom made by the late, fabled San Francisco luthier Warren White. Not only is there a feeling of renewal in the atmosphere but of connection as well, as we look forward to a fresh start and Mr. Wood reunites with something essential as his fingers work the neck of his beloved sibling's own instrument. And as his soul pours forth through his fingers, David Wood's humanity summons something ineffable in our own identities.
Much like John Fahey's more metaphysical The New Possibility, A Christmas Gift is, without qualification, a work of art, a great album for any season and for anyone willing to open his or her heart to that which makes us whole. As you embark on the journey this album offers, keep the words Dickens wrote in 1843 in mind. It seems as if David Wood certainly did:
"There are many things from which I might have derived good, by which I have not profited, I dare say," returned the nephew. "Christmas among the rest. But I am sure I have always thought of Christmas time, when it has come round — apart from the veneration due to its sacred name and origin, if anything belonging to it can be apart from that — as a good time: a kind, forgiving, charitable, pleasant time: the only time I know of, in the long calendar of the year, when men and women seem by one consent to open their shut-up hearts freely, and to think of people below them as if they really were fellow-passengers to the grave, and not another race of creatures bound on other journeys. And therefore, uncle, though it has never put a scrap of gold or silver in my pocket, I believe that it has done me good, and will do me good; and I say, God bless it!"
And as Tiny Tim observed, "God bless us all, every one!"
Note: A Christmas Gift by David Wood is currently unavailable as a CD, but Amazon is offering it in mp3 form. It is also on Spotify.