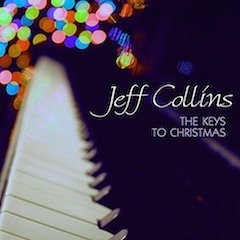 THE KEYS TO CHRISTMAS
Jeff Collins
Crossroads Records
As the co-owner of Crossroads Marketing and Entertainment, Jeff Collins surely has his hands full. But he's also a pianist and producer, in which capacity he has crafted a most pleasing, solidly traditional instrumental album of Yuletide favorites both merry and sacred. On many of these his piano voicings, revealing, to these ears, an affection for the melodicism and melodic inventiveness alike of Guaraldi, Evans and Brubeck, he's backed by a basic band (electric and acoustic guitars, bass, B3, drums and percussion) and horns; but he also deploys a full orchestra for more triumphant efforts as heard on the soaring opening track, a cinematic-like overture comprised of "Hark! The Herald Angels Sing," "O Come, All Ye Faithful" and "Joy to the World," with his stately piano framed by dramatic washes of strings, blasts of heroic horns and, in the back of the mix, pounding drums in an arrangement punctuated by heraldic crescendos. It's very Manheim Steamrollerish but more the exception than the rule. Witness the very next track, a ruminative "Baby It's Cold Outside," with its nuanced undercurrent of soothing strings, Collins's minimalist piano and a silky, sensuous sax solo courtesy Sam Levine, whose contributions are one of the album's highlights. The skittering strings fueling "God Rest Ye Merry Gentlemen" announce this as a carol of a different color as does Collins's variations on the melody line before a tempo change midway through gives the exercise a dash of urgency leading to an interesting, darker finale than we're accustomed to hearing in this seasonal chestnut.
'Mary Did You Know,' Jeff Collins, from Keys to Christmas
Vince Guaraldi's 'Linus and Lucy,' by Jeff Collins, from Keys to Christmas
At 4:40 Collins's version of Guaraldi's "Linus and Lucy" undergoes some clever transitions including tasty guitar solos deploying octave chords and some out-there variations on the melody as the song winds down. A Latin-ized taken on "Let It Snow, Let It Snow, Let It Snow" adds an interesting wrinkle to another standard, thanks to a cool, clever horn arrangement and Collins's scintillating rhythmic attack, just as the funky gospel maneuvers on "Go Tell It On the Mountain" put some glide in the stride of a song most often presented in purely gospel raveup terms. A straightforward reading of the haunting "Mary Did You Know?" is appropriately thoughtful and moving in its deliberate way. Collins pulls all the album's strengths together on the closing number, "O Come, O Come Emmanuel," emphasizing the song's spiritual nature in its reverence to the sanctity of the melody, the tenderness emanating from the string arrangement and, most affecting, the violin solo surfacing "Scheherazade"-like, a plaintive cry for Israel's redemption by the Son of God. There's much fun to be had on Keys to Christmas but the periodic introspective textures give the project admirable emotional depth.