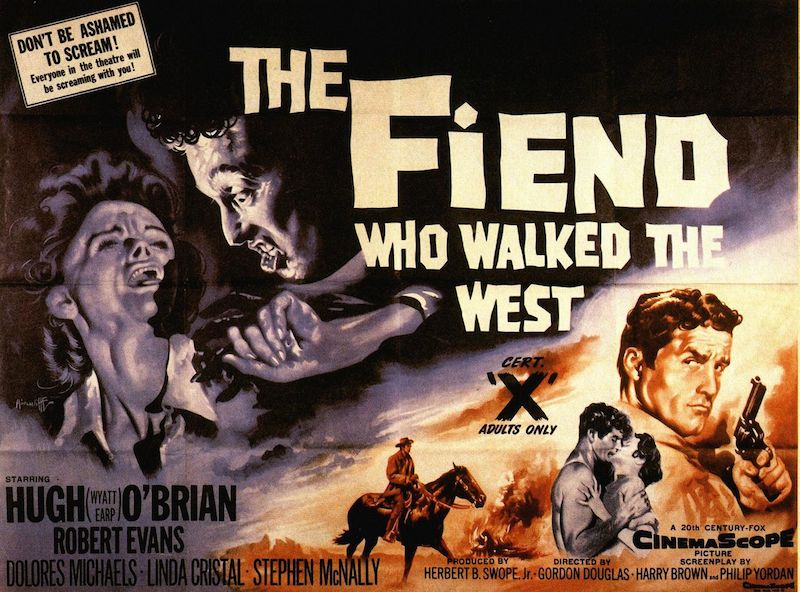 Director: Gordon Douglas
Producer: Herbert B. Swope Jr.
Writers: Harry Brown, Philip Jordan based on the 1947 script for Kiss of Death by Ben Hecht and Charles Lederer, from a story by Eleazar Lipsky
Cinematography: Joseph MacDonald
Music Supervisor: Leon Klatzkin with stock music by several uncredited composers, including Bernard Herrmann; some of the theme music over the opening credits is borrowed from the 1951 sci-fi classic The Day the Earth Stood Still.
CAST
June Blair as the Saloon Girl
Linda Cristal as Ellen Hardy
Ron Ely as Dyer
Robert Evans as Felix Griffin
Hugh O'Brian as Daniel Slade Hardy
Edward Andrews as Judge Parker
Stephen McNally as Marshall Frank Emmett
Dolores Michaels as May Mathewson
Amazingly, The Fiend Who Walked the West does have its defenders, but by a wide margin its critical assessment boils down to unqualified disaster. This, despite some good performances, especially by Hugh O'Brian, who was then starring in one of the best TV westerns of the era, The Life and Legend of Wyatt Earp. Here he seems to play against type but in fact his character turns out to be an honorable man. Almost forgotten today, the movie—which is a reimagined Western version of a harrowing 1947 film noir classic, Kiss of Death (directed by Henry Hathaway; written by Ben Hecht and Charles Lederer; and starring Victor Mature and, in an Oscar-nominated role, Richard Widmark)–is now notable primarily for the wildly over-the-top performance of Robert Evans, then a struggling actor—and a bad one, by his own admission—in what was his last screen role before transforming himself into a legendary, self-possessed movie producer whose credits include Love Story, The Godfather I and II, Chinatown, Paper Moon, et al. Despite these towering entries in American film history, his greatest achievement has been in creating Robert Evans, proof of which abounds in his autobiography, The Kid Stays In the Picture, and the accompanying like-titled documentary, both of which are a howl. Our favorite Robert Evans moment came in the late '90s when he appeared on The Geraldo Rivera Show and through the entire interview remained seated in profile. Evans is the gift that keeps on giving. As for his irresistible performance in The Fiend Who Walked the West, we have determined that we cannot top a review written by Nathan Rabin and posted on the website The Dissolve. The review is undated but coincides with the DVD release of the movie.
Below are some excerpts from Mr. Rabin's insightful and often hilarious review.
The 1958 Western The Fiend Who Walked The West plays a central role in the mythology of actor-turned-producer-turned-author-turned-national treasure Robert Evans: It's the movie that killed his once-promising acting career. In Evans' recounting, the film undid the work he put into becoming a proper movie star in the tonier likes of the star-studded Hemingway adaptation The Sun Also Rises and The Man Of A Thousand Faces, the Lon Chaney Sr. biopic in which he portrayed famed studio head Irving Thalberg (at the personal behest of Thalberg's widow, Norma Shearer, he will have you know). Evans was on a rocket ride straight to the top before The Fiend Who Walked The West sent him spiraling toward producing films and running his own studio.
Evans has never claimed he's a great actor, a rare bit of humility in a lifetime fueled by hubris and delusional self-aggrandizement. But he also attributes the film's failure to the way it was packaged, beginning with a title more befitting a lurid paperback novel or a Z-grade, zero-budget independent cheapie than a studio-produced remake of the classic noir Kiss Of Death. Fox's manufacture-on-demand service, Cinema Archives, faithfully re-creates the film's grotesquely misguided publicity campaign, with a DVD box of the movie poster showing an inexplicably green-skinned, unrecognizable Evans leering obscenely down at the film's other actors—all of whom are a fraction the size of his head—with a look of crazed malice on his face. …
Evans inclines toward embellishing the truth for the sake of a better, more dramatic story, but in this case, reality needs no embellishment. 20th Century Fox really did take a film that, in vastly different circumstances, could have been Evans' big dramatic breakthrough, and package it as the kind of lurid garbage no one in their right mind would want to see. Sure enough, the film has been largely ignored through the ages, and is now of interest primarily to rubberneckers morbidly fascinated by Evans.
Evans isn't blameless, though. In a star-destroying performance, he plays Felix Griffin, a crazy-eyed Wild West lunatic fortuitous enough to meet Daniel Hardy (Hugh O'Brian) in prison and learn all about the bank robbery that landed Hardy there. Out of jail, Griffin sets about terrorizing his ex-cellmate's loved ones in a bid to uncover the location of the money stolen in the robbery. There's a reason Evans' performance is the film's sole claim to fame: His scenery-devouring turn sucks in everything else onscreen. He's so fascinatingly, preposterously over-the-top in his villainy that the whole cast has no choice but to react to him. Evans plays Griffin as a proto Charles Manson, a babbling, oppressive lunatic who calls Hardy "sad man" and is seemingly more concerned with freaking out squares than discerning the location of the lost money. He's more beatnik than Western outlaw, a wannabe James Dean in a jarringly inappropriate context.
Three memorable scenes from The Fiend Who Walked the West
His luxurious locks pulled back into a greasy pompadour, his sonorous voice pushed into a nasal whine, the spastic, childlike Griffin sometimes suggests Jerry Lewis re-imagined as a deranged psychopath. The Fiend Who Walked The West let Evans escape the handcuffs of pretty-boy roles and remake himself as an intense character actor, an Actors Studio, Method type. He didn't rise to the challenge, and the film craters under the weight of his astonishingly misguided work. Evans stops just short of frothing at the mouth and shrieking to convey his character's insanity. Perhaps he understood that he couldn't beat Richard Widmark (whose version of the character in Kiss Of Death was a career-defining, Oscar-nominated performance) on the basis of quality, so he set out to outdo him with quantity. Evans does a lot of acting here, all of it bad.
To be fair to Fox, the studio treated The Fiend Who Walked The West like lurid garbage in part because it didn't know how to market a tricky, difficult-to-categorize Western remake of a classic noir, starring a relative unknown. And also because it is lurid garbage. Fiend is as bad as its title, advertising and reputation, and that's setting the bar awfully low. The film answers the question, "Was Evans really that bad an actor?" affirmatively, though sometimes entertainingly. He eventually found the role of a lifetime in playing himself, or at least a larger-than-life variation of himself, in his wonderful autobiography The Kid Stays In The Picture and its audiobook and documentary adaptation. In raconteur-memoirist mode, Evans is still ridiculously over-the-top and ensconced in self-parody (a ham actor through and through), but now the role fits him more snugly.
 ***
Selected Short Subject: Gold Diggers of Broadway (1929)
All that remains of this spirited musical, shot in an early Technicolor process and superbly directed by Roy del Ruth, are the final two reels, both incomplete, and the Vitaphone soundtrack. Turner Classic Movies will periodically program the remaining tantalizing footage but Deep Roots could no longer resist featuring it in the Theater. The big production scene offers a glimpse of the incredible sets—a design amalgam of Art Deco and German Expressionism—and even more impressively, some astonishing dancers; actually, "acrobats" would be the more precise term to describe their breathtaking maneuvers, especially those of the two young men in military-style uniforms who lock arms and turn cartwheels over each other. It must be seen to be believed.
Another surviving remnant of Gold Diggers of Broadway's 1929 iteration is a delightful segment featuring "Crooning Troubadour" Nick Lucas with his original version of "Tiptoe Through the Tulips," written by Al Dubin (lyrics) and Joe Burke (music). Lucas was a gifted artist and expressive crooner, and here his performance is the most sedate part of a wild production number featuring exuberant dancers tapping to beat the band as human tulips bloom behind them (it's very Busby Berkeley, all this, but Berkeley was not part of the production team).
Nick Lucas (August 22, 1897, Newark, New Jersey-July 28, 1982, Colorado Springs, Colorado) has receded into history today, but he enjoyed a long run of mainstream popularity from the mid-'20s to the early '30s, and  continued performing until a year prior to his death in 1982. In 1929's Gold Diggers of Broadway he introduced his charming rendition of "Tiptoe Through the Tulips" as wall as "Painting the Clouds with Sunshine" (the melody of which is heard during the dance sequence in "Tiptoe Through the Tulips"). Lucas turned down Warner Bros.' seven-year contract offer, which went instead to fellow crooner Dick Powell, who became a staple, along with Ruby Keeler, of 1930s backstage musicals (especially those directed by Busby Berkeley) before segueing into more sinister roles in the '40s. Lucas was an inspiration to Tiny Tim, who made "Tip-Toe Through the Tulips" his own theme song, and indeed developed a strong friendship with Tim.  On December 17, 1969, when Tiny Tim married Miss Vicki on The Tonight Show Starring Johnny Carson, Lucas was there to sing their trademark song.
Lucas's original recording of "Tiptoe Through the Tulips" hit the top of the charts in May 1929 and held the #1 position for 10 weeks. Other artists charted the song in 1929, including Jean Goldkette (#5), Johnny Marvin (#11) and Roy Fox (#18).