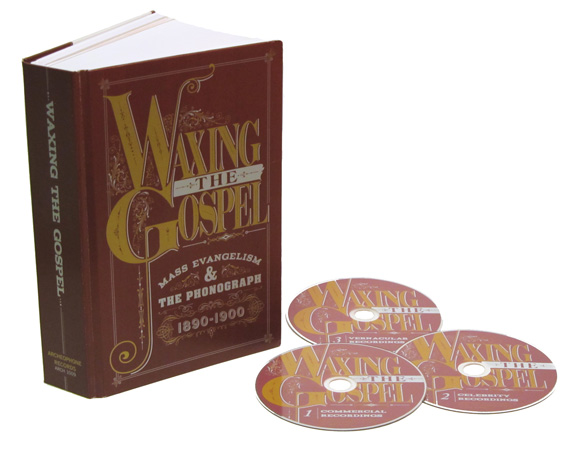 Archeophone Records (www.archeophone.com) is releasing its highly anticipated book and CD compilation, Waxing the Gospel: Mass Evangelism and the Phonograph, 1890-1900, on September 30. The collection will be available via all major brick and mortar and online retailers.
With 102 tracks—nearly four hours of audio—on three CDs housed in a beautifully illustrated 408-page hardback book—Waxing the Gospel is an unprecedented exploration of the earliest days of recording. It chronicles in words, images and ancient sounds how tradition and technology merged in three distinct areas of recording on each compact disc: commercial, celebrity, and vernacular. The comprehensive set is co-produced, mastered, written and designed by Grammy winners Richard Martin and Meagan Hennessey, owners of Archeophone Records, whom Slate.com said in 2011 were "singlehandedly rescuing the music of America's earliest recording era from the brink of extinction." The producers regard the set as a landmark reissue.
Trailer 1 for Waxing the Gospel: Mass Evangelism and the Phonograph, 1890-1900, coming from Archeophone Records on September 30
"No other album, to our knowledge, has ever presented as much material from the 1890s as Waxing the Gospel," said Martin. "This collection has 90 cuts sourced from the highly desirable brown-wax type of cylinders and a dozen of the earliest discs, including two from 1890. Many of these are one-of-a-kind artifacts, and listeners will be amazed at how good they sound."
Moreover, no other album has ever before given such a thorough and fascinating look at the infant industry. Included with the extensive essay are track notes, full transcriptions of the lyrics, artist biographies, appendices that reprint primary documents, a glossary of historical names featured on the set, extensive endnotes, and nearly 200 photos and illustrations. Furthermore, Waxing the Gospel introduces some of the earliest versions of the so-called Gospel Hymns on record, the selections popularized by musicians Moody and Sankey during their immensely popular revivals. Indeed, Waxing presents all extant recordings by Moody and Sankey themselves, as well as interpretations of these songs by popular artists of the day.
Trailer 2 for Waxing the Gospel: Mass Evangelism and the Phonograph, 1890-1900. This trailer focuses on CD 3, Harry Heath's 1897 Field Recordings
"One of the biggest surprises on Waxing the Gospel is how simple and direct the earliest gospel hymns on record are," said Hennessey. "The songs are short, catchy, with lyrics based on personal experience—exactly what modern listeners expect from a pop song, not a sacred hymn. These compositions were democratic: they were meant to be sung by and understood by everyone, regardless of language and education—and it shows on these old wax records."
Folklorists and lovers of field recordings, take note: Waxing the Gospel debuts more than a dozen sacred treasures made in the parlors of ordinary people experimenting with their own phonographs. Furthermore, it recounts the producers' incredible detective hunt that identified a cache of mystery "homemade" cylinders as actually being field recordings from 1897, taken at the annual Methodist camp meeting at Ocean Grove, New Jersey. Incredibly, the collection uncovered the first and only recording made by blind hymn-writer Fanny Crosby, the woman responsible for approximately one-fifth of all American hymn texts of the 19th century. Noted folklorist Joseph Hickerson, who penned the prologue to the set, says, "The task of researching and establishing the provenance of these recordings is on a par with any ethnographic field project that I have encountered."
There's at least one other groundbreaking discovery on Waxing the Gospel. Production team member David Giovannoni, who shared the Grammy with Martin and Hennessey for 2005's Lost Sounds, recently found an early cylinder in a box of discarded and broken records that captured his fancy. One of the sole survivors of a cache that another collector had consigned to the dump, it was in very poor condition but still had some sound on it. Lo and behold, it was an 1894 recording of "Swing Low, Sweet Chariot," by African-American singing group the Standard Quartette—a veritable holy grail of early recording. It is now the earliest known recording of the spiritual, fifteen years earlier than the Fisk Quartet's version from 1909. Patient listening through the noise and ravages of time will reveal some startling discoveries about this old standard. —Posted by Bob Marovich, Journal of Gospel Music