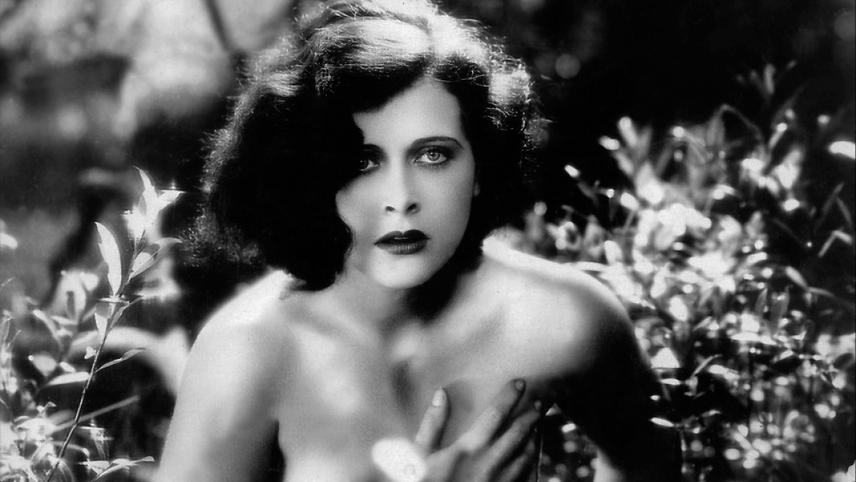 Director: Gustav Machaty
Producer: Frantisek Horky, Moriz Grunhut
Screenplay: Gustav Machaty, Frantisek Horky, Vitezslav Nezval, Jacques A. Koerpel
Cinematography: Jan Stallich, Hans Androschin
Production Design: Bohumil Hes
Music: Giuseppe Becce
CAST
Eva: Hedy Kiesler/Lamarr
Emile: Zvonimir Rogoz
Adam: Aribert Mog
Eva's Father: Leopold Kramer
Black & White, running time 87 minutes
Well she was just 17 (or 16, or 18, depending on the source)…when she starred in what become, at the time and for the immediate future, the most notorious film in history, the 1932 German production, directed by Czech native Gustav Machete, of Exstase, or Ecstasy. Young Hedwig Eva Maria Kiesler (or Hedy Kiesler, as she was credited) of Vienna, Austria, would soon vault to stardom after emigrating to the United States and accepting Louis B. Mayer's offer of a contract with MGM. Mayer would rename Hedy Kiesler as Hedy Lamarr and assure her she would do more racy scenes of the type he saw in Ecstasy because his studio was home to "clean pictures." Ecstasy was not the first film to feature a nude scene but it does have the distinction of being the first to depict, in a non-pornographic way, the female orgasm, in a series of tight closeups of Hedy's face in the throes of passion with her lover (Aribert Mog).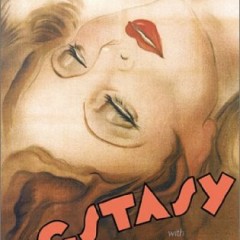 Ecstasy begins on a joyful note as the beautiful, young newlywed Eva (Hedy) is carried over the marital threshold by her far older husband Emile (Zvonimir Rogoz). But Eva's nervous anticipation is immediately dashed by her husband's prim, unromantic manner. Pulling a frumpy sleeping cap on to protect his hair, Emile fails to respond to Eva's seductive overtures. Emile's sexual neglect of his young bride eventually drives her back to her father.
But Eva's romantic dreams are reawakened when she meets a handsome young engineer Adam (Aribert Mog) while skinny-dipping. He helps her recover the horse that has trotted off with her clothes and subsequently helps Eva achieve sexual fulfillment. Disaster ensues when Emile discovers the couple's affair.
A beautifully photographed and, for 1933, unabashedly erotic drama, Ecstasy, also known as Symphony of Love, is just that—a dreamy, nearly wordless sexual reverie. Even today, Ecstasy is most notorious for 17-year-old Lamarr's nude swimming scenes and her sensual interlude with Mog. HEdy claimed these scenes were not in the original script, but that director Gustav Machaty sprung them on her during shooting outside Prague. After much cajoling and tears, Lamarr finally agreed to do the nude scene if a camera was placed at some distance on a hilltop; to this Machaty agreed, without telling his star of the telephoto lens affixed to the camera. For the indoor lovemaking scenes, Lamarr's desired ecstasy was achieved via Machaty's pricking of the actresses buttocks with a safety pin and the enthusiastic ministrations ("his vibrations of actual sex," as Lamarr characterized them) from co-star Mog. In her putative autobiography, Ecstasy and Me, Lamarr wrote, "If you have ever seen Ecstasy, I can only say that in the close-up section, you may have seen me agonizing over pinpricks! And I have seen that section once myself in which the emotion on my face was pure exhaustion. Because there were takes when I just had nothing left, and could hardly focus my eyes."
Expected problems with censors led to more conservative regional authorities, like the Germans, demanding an alternative version in which Lamarr's nude form was hidden behind bushes.
The scandalous orgasm scene in Ecstasy, with Hedy Lammar and Aribert Mog, complete with the symbolism of the discarded pearl necklace and post-coital smoke
Ecstasy had even more trouble from American censors. When the film was first imported to America in 1935 a federal marshal burned it in what was the first time customs laws had been invoked to keep a film out of America. Only after significant alterations were made did customs allow Ecstasy into the country. The film's initial eyeful of Lamarr's naked body was replaced with the German version featuring Lamarr's hidden nudity. Scenes of copulating horses were removed. Any implication of an adulterous affair between Adam and Eva was removed by tacking on a "happy" conclusion in which a baby made Eva and Adam's married union clear.
However, though the film now passed customs, the Production Code Office was less forgiving and refused to grant Ecstasy its Seal of Approval. Production Code head Joseph Breen reported the film "highly–even outrageously-indecent." And many states refused to show the film. The New York State Board of Regents rejected Ecstasy calling it "indecent, immoral and tends to corrupt youth." The censors were not so much disturbed by the nude bathing, Lamarr stated in her autobiography, but by a close-up of the "love-starved bride in the act of sexual intercourse." Distributors booked the film in Washington, Newark, Los Angeles and Boston in art theaters to get around Code disapproval.
Ecstasy caused almost as much turmoil in Lamarr's private life. The film so infuriated her new husband, German business tycoon and munitions manufacturer Fritz Mandl (a major cog in Nazi militarization under Hitler), that he ordered his staff to buy up every print of the film in existence, spending some $280,000 (more than $5 million in 2016 dollars) in the process.
So essential did Ecstasy become in Lamarr's professional ilife that she titled her autobiography Ecstasy and Me, as if one didn't exist without the other. This supposed autobiography was disavowed by Hedy entirely during a 1969 appearance on The Merv Griffin Show (with Woody Allen co-hosting) when she claimed it had been written by someone else (Leo Gould was finally identified as her ghostwriter) and said she was busy writing her own story titled simply Hedy. Her manuscript, if it exists, has never been published. In Ecstasy and Me, though, she said of the notorious film "I had no idea of the humiliation it would cause me…or that it would catapult me out of my Middle-European circle into a world fame."
Hedy Lamarr on The Merv Griffin Show in 1969, with Woody Allen co-hosting, and guests Leslie Uggams and Moms Mabley
After fleeing her hometown of Vienna and her controlling husband Mandl—who Lamarr said kept her under lock and key—the actress had a fateful meeting in London with MGM mogul Louis B. Mayer. Though captivated by her beauty, he was equally disturbed by her nudity in Ecstasy, warning "no more dirty movies. We make clean pictures at MGM."
Lamarr was eventually signed to MGM after shrewdly negotiating a contract that upped Mayer's initial offer of $125 a week to $500 (she would prove to be a savvy businesswoman throughout her career and always gave as good as she got in her contretemps with Mayer), though Mayer did add a "morality" clause in her contract designed to keep the European sophisticate in her place. Lamarr waited anxiously to be cast in a film at MGM, but eventually got her lucky break outside of MGM when she met actor Charles Boyer at a party. Boyer thought she would make a perfect co-star in producer Walter Wanger's American adaptation of Pepe Le Moko (1937), to be titled Algiers (1938). Lamarr's first Hollywood film proved to be a smash hit and confirmed the superstar potential Mayer first saw in her.
As World War II loomed, and an ocean liner carrying refugee British children was torpedoed by a German U-Boat, Hedy was motivated to contribute to the Allied effort. A hobbyist inventor who had learned much about torpedoes (including, critically, that the weapons could be detected, jammed and thrown off course by broadcasting interference at the frequency of the control signal) from listening to her first husband's conversations with notables such as Mussolini, she kept a part of her drawing room furnished with drafting table and tools. There, she devised a means to steer torpedoes by remote control using changing radio frequencies (what she dubbed "frequency hopping") so that the transmissions could not be jammed by the enemy.
She collaborated with avant-garde composer George Antheil, who had synchronized player pianos for his Ballet Mécanique and in the process, as his Wikipedia entry notes, "developed the idea of using frequency hopping: in this case using a piano roll to randomly change the signal sent between the control-center and torpedo at short bursts within a range of 88 frequencies on the spectrum (there are 88 black and white keys on a piano keyboard). The specific code for the sequence of frequencies would be held identically by the controlling ship and in the torpedo. This basically encrypted the signal, as it was impossible for the enemy to scan and jam all 88 frequencies because this would have required too much power." In an article published in the Western European edition of The Stars & Stripes on November 19,1945, headlined "Hedy Adds New Twist to War," Hedy told a reporter her contribution was in doing the "creative work on the invention" while Anthiel "did the really important chemical part."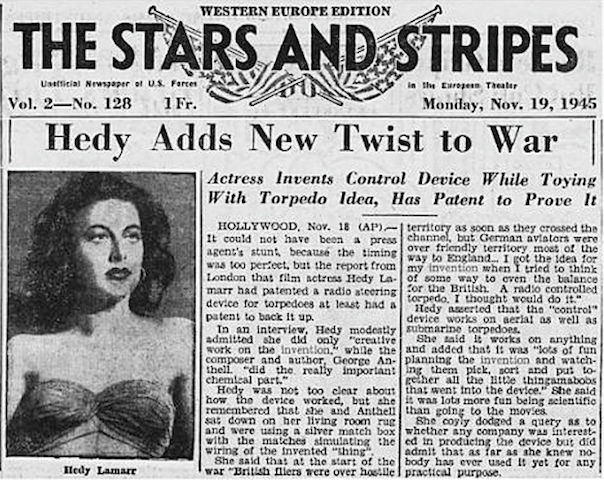 She donated her patent, issued in 1942, to the U.S. government, but the Navy, convinced the mechanisms would be too large to fit into a torpedo, rejected her designs as unworkable. Instead, they suggested she contribute to the war effort as other movie stars did, by helping to sell war bonds—so she did, to the tune of millions. In time scientists took a closer look at the Lamarr-Anthiel technology and found other uses for it, so much so that she is now credited with developing the foundation for cell phones, GPS, Wi-Fi networks and Bluetooth technology. Next time you're online or find some important use for your cell phone, say thanks to Hedy Lamar and George Antheil.
In 1997 Lamarr and Antheil were honored with the Electronic Frontier Foundation (EFF) Pioneer Award, and that same year Lamarr became the first female to receive the BULBIE Gnass Spirit of Achievement Award, considered "The Oscars" of inventing.
–by Felicia Feaster posted at TCM.com, with additional reporting by David McGee
***
SELECTED SHORT SUBJECT; 'MICKEY'S GALA PREMIER' (1933)
MICKEY'S GALA PREMIER
Directed by Burt Gillett for Walt Disney Productions
Music: Frank Churchill'
Running time: 7:21
By Stefan Blitz
Cartoons featuring celebrity caricatures were all the rage in the early '30s, and films like Walter Lantz's Merry Old Soul (1933), Warner Bros.'s I've Got to Sing a Torch Song (1933) and MGM's Toyland Premiere (1934) are a who's who of classic Hollywood stars. However, this delightful Mickey Mouse short (the first where he interacts with humans rather than animals) manages to cram in as many cameos as possible, and has an extra layer of fun in portraying all of the stars going gaga over Mickey Mouse (and given Mickey's popularity in this era, portraying him as the king of Hollywood was probably not too far from the truth).
Among the stars seen here are Wallace Beery and Marie Dressler (hot off of hits like Min and Bill and Tugboat Annie), John, Lionel and Ethel Barrymore (all in their costumes from 1932's Rasputin and the Empress), Eddie Cantor (in his The Kid From Spain getup), Joan Crawford (in her costume from Rain) and Greta Garbo (who recently starred in 1932's Oscar winner Grand Hotel). Despite the fact that silent films were considered old hat in the early talkie era, animators caricatured silent stars quite liberally, and this short features appearances by The Keystone Kops, Charlie Chaplin (who had released City Lights two years earlier), Buster Keaton (who was currently starring in comedies alongside Jimmy Durante like Speak Easily and What! No Beer?), Harold Lloyd (who had ventured into talkies with Feet First in 1930 and Movie Crazy in 1932) and Douglas Fairbanks (who was a year away from retirement after the poorly received The Private Life of Don Juan in 1934).
The animators make great use of comedians like the Marx Brothers (who were four months away from releasing their masterpiece Duck Soup), Laurel & Hardy (who were five months away from releasing their masterpiece Sons of the Desert), Wheeler & Woolsey (a forgotten comedy team who were appearing in films like So This is Africa and Diplomaniacs), Jimmy Durante (who had a hit song the following year with his signature tune "Inka Dinka Doo"), Joe E. Brown (who was appearing in comedies like The Tenderfoot and Son of a Sailor) and Ed Wynn (who was known for his Fire Chief character on radio and film, and would later voice the Mad Hatter in the Disney feature Alice in Wonderland, along with various other Disney projects). One amusing gag features Bela Lugosi (from 1931's Dracula), Fredric March (from 1931's Dr. Jekyll and Mr. Hyde) and Boris Karloff (from 1931's Frankenstein) emitting an evil laugh at Mickey's antics onscreen. Mae West shows up here, right at the height of her popularity before the Hays Code forced her to tone down her schtick in 1934. And speaking of the Hays Code, a particularly vicious caricature of Will H. Hays appears here in a king's outfit, mocking his "rule" over Hollywood.
Other stars to look out for include Jean Harlow, Maurice Chevalier, Janet Gaynor, Clark Gable, Edward G. Robinson, Adolphe Menjou, Sid Grauman, George Arliss, Helen Hayes, William Powell, Chester Morris, Gloria Swanson, Rudy Vallee, Constance Bennett, Warren Baxter, Will Rogers… and even Walt Disney and animator Fred Moore.
Still, even beyond all of the stargazing, perhaps the funniest aspect of the cartoon is the film-within-a-film, Galloping Romance, which is a Mickey cartoon stripped of any subtlety, and perhaps the earliest example of self-satire from the Disney studio (the short begins with Mickey and Minnie playing music with no context given, and the tone abruptly changes when Peg-Leg Pete pops out of the piano and kidnaps Minnie). Beyond the setup, Galloping Romance has no plot, and instead the chase just keeps getting more and more ridiculous, with Mickey riding on octopuses and kangaroos while firing pistols and then machine-guns and then cannons at Pete. It makes a great background to shots of actors falling off of their chairs from laughter.
And if you aren't already overloaded with trivia, here's a bit more: this cartoon was the last thing shown on the BBC Television Service (on September 1st, 1939) before the station shut down during World War II. When the war ended, and they resumed broadcast in 1946, they started right back up and showed this cartoon again.
Additional errata:
*The cartoon Gallopin' Romance was made exclusively for Mickey's Gala Premiere. There is no separate Mickey Mouse cartoon with that title.
*At this point in time, the Mickey shorts were released through United Artists, but the only currently existing prints of this short are reissue prints that omit any mention of UA. However, the "titles" for the short-within-a-short Gallopin' Romance still exist in their original form with the UA credits. This gives today's viewer an idea on what an opening of a Mickey Mouse cartoon might have looked like in the UA era.
***
Originally posted at Forces of Geek, October 10, 2014 as part of an essential retrospective of "The Top Ten Cartoons of 1933." Do yourself a favor and read the entire article and see the selected cartoons in a whole new light. An authoritative, informed and passionate appraisal along with vital cultural/historical background here by a writer who knows his stuff.