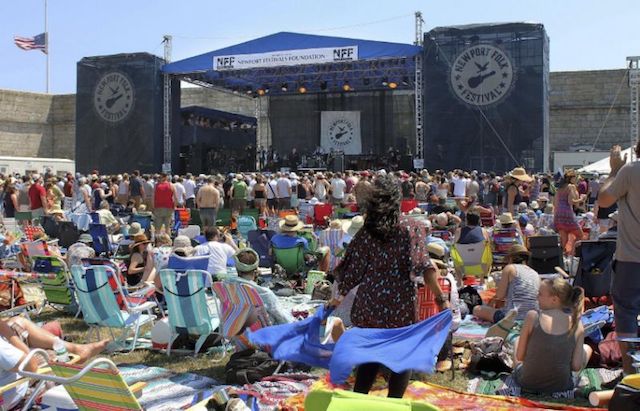 If anyone wondered just how Patti Smith would close the Saturday concert at the Newport Folk Festival, where the guiding principle is "speaking truth to power," it was with one lightning jolt after another. And I don't mean the kind that lit the sky shortly after her sun-drenched set ended.
Who else would even dream to open with Dylan ("Boots of Spanish Leather"), recite an Allen Ginsburg poem ("Footnote to Howl") and then sing her own "Dancing Barefoot" — for starters? There was Seeger's "If I Had A Hammer" (which she said she learned at 14 in bible camp and had never sung publicly before) followed by the Stones' "This Could Be the Last Time." There were Prince's "When Doves Cry" and John Lennon's "Power to the People."
Patti Smith at Newport 2016: 'Boots of Spanish Leather' (Dylan), with Lenny Kaye, acoustic guitar
If each of those covers was absolutely true to the spirit of the original, each was also completely redefined by Smith and her band. By then you could only wonder if she was going to smash her guitar at the end of the closing "My Generation," which sequed into a (literally) slashing "Rock and Roll Nigger."
You could see the strings hanging off the tuning pegs when Smith was done. Instead of smashing the instrument, though, she brought this Newport Folk Festival set full circle: In the tradition of Woody Guthrie, whose guitar was inscribed, "This machine kills fascists," and Pete Seeger, whose banjo bore the words, "This machine surrounds hate and forces it to surrender," Smith hoisted her electric guitar in the air shouting, "This is OUR weapon. The greatest fucking weapon of my generation!"
The Stones, The Who, Prince, John Lennon — those are the artists whose songs Newport performers would have sung at the after parties in hotel rooms a generation ago. Smith, Lenny Kaye, (seems to me he had a hand in that song selection), Jay Dee Daugherty, and the rest of Smith's band made them a perfect fit on that Newport stage. But that was only the end of the day, the second of three.
That Saturday, though, was especially filled with revelations:
Ruby Amanfu, who has plenty of other credits as a songwriter and backup voice on Beyonce's latest album, and as half of the duo Sam & Ruby, won two mid-set ovations early in the day.The first was for a cover of Dylan's "Not Dark Yet," the second for Irma Thomas's "Anyone Who Knows What Love Is." Talk about lightening–the charge that electrified the Harbor Stage crowd was palpable, as were Amanfu's tears in response to this spontaneous combustion.
Margo Price at Newport with Berklee Instant Strings, performing 'How the Mighty Have Fallen'
Country rocker (emphasis on the rocker) Margo Price was spitfire pure and simple. Sirrius (and former WFUV) DJ/host Meg Griffin termed Price a mix of Brenda Lee in voice with the outlaw spirit of Waylon Jennings and Willie Nelson. Spot on. Price looked to be having so much fun on that stage it was hard to imagine the classic grande dames of country such as Loretta Lynn or Tammy Wynette having ever been that charged up. Different eras, different performance styles, but this was thrilling. And that was a set that followed by minutes her guest appearance with the unadvertised Kris Kristofferson during the Texas Gentlemen's set.
An unadvertised Kris Kristofferson showed up at Newport to perform 'Me and Bobby McGee' with the Texas Gentlemen, and guest Margo Price
There she cut loose on Kristofferson's "Me and Bobby McGee" with a performance that was a clear nod to the classic Janis Joplin version. (I missed the Texas Gentlemen set, but "Me and Bobby McGee" is on Youtube.)
I only heard a few songs each of Nathaniel Rateliff, Lady Lamb, John Moreland, Graham Nash, Del McCoury and David Grisman (touring as Del & Dawg) The Banditos, and Rayland Baxter, but I'm cuing each up on Spotify and trolling the Youtube video clips from Newport. Walking into the festival Saturday morning, with rockabilly and electric country catching you from three stages simultaneously (The Banditos, Rayland Baxter and the Cactus Blossoms were on the three main stages) just put you in the right mood from the get-go.
Friday had its share of musical highlights, but perhaps the most gratifying was arriving at this magical setting on a postcard-perfect day and seeing festival founder George Wein, now in his 90s, touring the grounds on a golf cart-like utility truck and being greeted with rolling rounds of applause from the crowd. I've been to the festival regularly in recent years (the first time in 1969, though it was on another site then), but the setting stuns you each time. One of the members of The Staves even commented from the main Fort Stage, from which the artists face the Newport Bridge and harbor, that it was difficult to concentrate on the music with that view.
Musically, [Neko] Case/[k.d.] lang/[laura] veirs have strong individual voices that blend in different combinations, and strong individual songwriting skills. Still, it was lang's cover of Neil Young's "Helpless" that threw the crowd into a tizzie.
I'd seen Aiofe O'Donovan when she's performed impromptu with Sara Watkins and Sarah Jarosz (they're known as I'm With Her, a name that preceded the Hillary Clinton slogan). But her solo set was a beautiful amalgam of Joni Mitchell if she'd had Irish roots and were given to thinking in harmony.
St. Paul & The Broken Bones are more high energy indie rock with a core of soul; lots of crossover in their fans and those of Nathaniel Rateliff.
Middle Brother (Dawes's Taylor Goldsmith, Delta Spirit's Matt Vazquez and Deer Ticks John J. McCauley III) perform 'Daydreaming' at Newport 2016. Matt on lead vocal, Taylor on lead guitar.
Speaking of soul, the relatively little-known 20-year-old Atlanta rapper and soul singer Raury came out to an audience primed to love him. Part of that is probably attributable to the All Songs Considered interview with festival director Jay Sweet that aired on NPR (and was released as a podcast) a few days before the festival.
Asked by host Bob Boilen why Raury was on the bill, Sweet recounted the last conversation he'd had with Pete Seeger, one of the founders of the festival: Newport was built on artists who, as noted above, "speak truth to power," and Raury, said Sweet, while not what Seeger (or most of us) would term a "folk artist," fits that mold.
The set was high on energy and equally high in positivity and community building. The audience greeted him with a huge ovation that clearly wasn't expected or he wouldn't have opened with a relatively gentle song at which point everyone sat back down. They were on their feet again soon enough. He needs time to develop that performing persona, but this was a breakout occasion for an audience willing to fit him into a different context.
I didn't hear it, but Kristofferson did a surprise hour-long set at the tiny (and only indoor) Museum Stage Friday, as did Joe Ely and Terry Allen, who I did see and who were lots of fun. Hadn't seen Ely in years–still a great songwriter, strong voice and presence.
Also enjoyed the few songs I heard from Canadian Basia Bulat. Look forward to listening more.
Sunday was less intense for me. The challenge of the Newport festivals (the jazz fest was the following weekend) is in curating. You can't hear everyone, even if you're willing to just hear 2-3 songs by each artist.
Joe Ely with the Texas Gentlemen performs 'Dallas' at Newport 2016
This was one of those days I probably should have stuck with anything I liked and not wandered as much. (Of course if you do that you suffer FOMO repeatedly.) And so I will follow up with the following, none of whom I knew before the festival beyond some of them having been on the Newport 2016 Spotify playlist:
*The Strumbellas, who play alt-country with a little bluegrass.
*Hayes Carll—a songwriter; I probably heard more people anticipating his set than anyone else at Newport.
*Glenn Hansard, an Irish songwriter who was previously with The Frames and The Swell Season, who updated Woody Guthrie's "Vigilante Man" with a few barbed swipes at Donald Trump.
*Middle Brother, featuring John J. McCauley III of Deer Tick, Taylor Goldsmith of Dawes, and Matt Vasquez of Delta Spirit, and reunited for this festival for the first time in about five years.
Phil Cook Presents the Southland Revue was really a vehicle for the Blind Boys of Alabama, a gospel outfit that has been playing the festival for decades. No matter the time of day or much of anything else, they whip a crowd into a frenzy, and did so here.
The Preservation Hall Jazz Band plays both festivals (as did Norah Jones this year, and Mavis Staples and before she was a solo act the Staples Family in the past). Their set at the Folk Festival was driving and celebratory, and as with the Blind Boys, their consistency is quite amazing even as the lineups morph over time.
I caught a few minutes of Elvis Costello, who was solo but with various guests; a fan of his albums and the diverse styles he's embraced over the years, I've been indifferent about Elvis at Newport in the past (as in 2005 when he did a country set), and so it was again.
Similarly, I understand why the Alabama Shakes are so popular, but there's something in their recorded as well as live sound — a feedback-y distortion — that I find really irritating and that's definitely part of their identity. Brittany Howard is an incredible singer, but by the end of the day the irritation factor sent me packing.
Sorry I missed: I'm not a big Ryan Adams fan, so I skipped his set, which wasn't standard issue–he performed with the Infamous Stringdusters, a latter-day bluegrass band. The full set is online and great fun. Also, Edward Sharpe and the Magnetic Zeros, and probably many of the people on the Museum Stage who I didn't or couldn't get in to hear (it was often full with lines waiting to get in when there was more music to be sampled elsewhere).
I drove up to and back from the festival listening to Phil Ochs. Yes, I listened to others, too, in the car, but given what's going on in the world, the political conventions, the lineup at the festival (which is increasingly indie rock—not a negative, just pointing out), and my '60s roots, I wanted some advance guarantee that my worries would be addressed.
Listen to Ochs sing "Too Many Martyrs" or "Welcome to California," to pick just two, and tell me they aren't as relevant to Black Lives Matter and migrant workers, respectively, today as they were 50 years ago. And "The Power and the Glory" is still anthemic in the "This Land Is Your Land" mold.
Father John Misty, 'Bored in the USA,' at Newport 2016
If anyone would have been likely to channel Ochs's spirit, it would have been Father John Misty—who'd been booed in Philadelphia a night or two before his performance at Newport for offering an angry diatribe and little music. At Newport he tempered the diatribe with a full, albeit dispirited but intense acoustic set.
He bemoaned the conflict between commenting on politics and entertaining as a performer. "I'm not overtly political," he said as he began his set. "But I'm starting to feel guilty about that. There's something to be said that engaging in the system [entertaining] is tacit acceptance of a system that perpetuates the underclass.…" And then his first song began, "How much oil does it take to make a record?" I only heard a few songs before moving to the next stage; I'd expected him with a band, as on his recordings (which I like), but found the solo versions too dirge-like even if he was doing the Phil Ochs of "Here's To The State of Mississippi" proud.
Reprinted by permission of the author, who first posted his Newport report on his blog, nightmayer (jottings from a pop culture junkie).