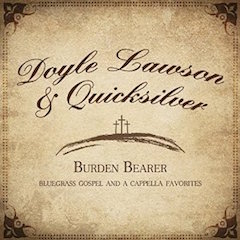 BURDEN BEARER: BLUEGRASS GOSPEL AND A CAPPELLA FAVORITES
Doyle Lawson & Quicksilver
Mountain Home Music Company
Back in 2013 Doyle Lawson & Quicksilver took home Bluegrass Gospel Artist of the Year honors at the 22nd Annual Diamond Awards. Doyle and band then came on and brought the house down with a rousing a cappella performance of "John the Revelator." So emotional was the crowd's reception to the performance that show host Tim Lovelace asked the group to break the Awards show tradition and do a second number. To which request Doyle responded with a powerhouse rendition of the gospel standard "Jesus Gave Me Water."
Much of that night's spirit infuses a 20-song album of, as its subtitle notes, "Bluegrass Gospel and A Cappella Favorites." If anything reveals Doyle Lawson in full it's bluegrass gospel music. It reflects, first and foremost, his faith, but it also connects him in this world to his late father, who sang in an a cappella quartet when Doyle was but a lad and passed on his love for the truth of this music. "They weren't a professional touring group," Doyle writes in his heartfelt liner notes. "They just loved to sing and believed in what they sang about." That last sentiment might well describe what Doyle Lawson and his various configurations of Quicksilver have been doing lo these many years. The other benefit of his father's extracurricular passion: "The good thing for me was that by listening and watching them when the practiced, I learned to sing all of the harmony parts."
'Burden Bearer,' title track of the new album by Doyle Lawson & Quicksilver
'Another Day,' Doyle Lawson & Quicksilver, from Burden Bearer
If you wonder what that night was like at the Diamond Awards, then give a listen to Burden Bearer, which starts off at a brisk pace with the title track and exudes the faith of true believers in the worth of their endeavor. The songs largely celebrate the prevenient grace Jesus offers his followers, a concept Doyle explains in notes, to wit: "I chose 'Burden Bearer' as the title song because it's my belief that Jesus bore the burden of our sins while on the cross and stands ever ready to lift from us any burden of life that may come our way." Taken as a whole, the selections here emphasize a certain feeling among the faithful gathered here, as expressed in the chorus of the stirring "By The Marks In His Hands," that is, "I'm traveling upward/to that glorious place…"
'Passed All Sorrow,' Doyle Lawson & Quicksilver, from Burden Bearer
'Get Right With God,' Doyle Lawson & Quicksilver, from Burden Bearer
Stephen Burwell's hot fiddling kicks off the album opening title track before banjo master Joe Dean cuts out on flurry of rolling phrases and Josh Swift adds a swooping resophonic guitar to support an urgent lead vocal and soaring multi-part harmonizing urging "Take you burden to the Lord and leave it there…the burden bearer will help your troubled soul." The a cappella and band selections are integrated in the sequence, making for an interesting, shifting texture as the album progresses. There's something arresting about the unaccompanied voices blending in tight harmony, with a tenor rising up out of the group to carry the message to a higher plane—the conviction the singers bring to O.A. Hunt's "He'll Care for You" is as bracing as the rich bluegrass arrangement of Arthur Smith's "He's Everywhere"—some sweet fiddling here by Burwell—is soothing. The arrangement of the delightful "Get Right With God" blends a cappella quartet style with '50s R&B-based group harmony. "Get Right with God" is one of several songs here counseling the wisdom of finding the straight and narrow and hewing to it—the sturdy bluegrass strut of "Another Day" drives the Steve Watts song centered on not only giving thanks but always being mindful of from whence the gift of life originates much as the abovementioned "He'll Care for You" celebrates the Lord's ever-vigilant watch over our affairs whereas Randy Swift's "You Were Right" illustrates how some people have to hit rock bottom and reject faith and family before they can get right with God—"some have to walk through darkness to find the light," the fellows sing plaintively over a wash of banjo, resophonic guitar, mandolin and fiddle.
'You Were Right,' Doyle Lawson & Quicksilver, from Burden Bearer
'How Great Thou Art,' the concluding song on Burden Bearer, Doyle Lawson & Quicksilver
In the end the message Doyle and the fellows advance on Burden Bearer is expressed in the joyous a cappella workout of "Rejoicing All the Way" when they join voices to announce "Marching with Jesus we are happy and free/knowing that yonder we forever shall be (rejoicing)/from his light of goodness not shall cause us to roam (rejoicing)/happy in Jesus we are marching home." This is mountain gospel at its finest. Much like the Diamond Awards audience in 2013, when Burden Bearer winds down with a spare, thoughtful rendition of "How Great Thou Art"—mostly vocal and piano, with a brief fiddle flourish here and there—that disdains fireworks for a more prayerful perspective, you'll be calling Doyle Lawson & Quicksilver back for more.