In the spirit of C.S. Lewis's A Grief Observed and Calvin Trillin's Alice—with an evident grace note of Joan Didion's The Year of Magical Thinking–author-theologian Victor Lee Austin's Losing Susan: Brain Disease, The Priest's Wife and the God Who Gives and Takes Away guides the reader on an incredible journey filled with humor, warmth, sensitivity and no small measure of soul searing pain, through the entirety of his relationship with his beloved wife Susan, from the first blush of love to her too-soon death. This "most unusual woman," he writes in his Preface, "was a wife, a mother, a Christian believer, a lover of children, a writer of stories, a foster mother to babies. She was nineteen years old when I first met her, thirty-eight years old when her brain tumor was diagnosed, fifty-seven-years old when she died."
A native of Woodward, Oklahoma (population 12,051 as of the 2010 census), Father Victor graduated as the valedictorian of his high school (which, he reveals, "actually doesn't mean a lot—as exemplified by the fact that there was no tradition in my hometown of the valedictorian, notwithstanding the word, doing any speechifying at all, vale or otherwise.") and matriculated to St. John's College in Santa Fe, New Mexico. There, this self-described "awkward boy" fell in love with the first girl he met. He got to know her on their long walks to church ("Dear reader," he counsels, "if you want to get to know someone well, try walking to church with her week in and week out."). He learned she had taught herself to read and had mastered multiplication before she started school. So gifted was Susan that she skipped first grade and was barely 17 when she joined the freshman class at St. John's. He also found out she had a boyfriend, and the boyfriend had moved into her room on campus, although their co-habitation remained unconsummated. The boyfriend asked for her hand in marriage; she declined. Victor was back in the picture, discovering, for the first time, a connection to another human being that was both physical and spiritual: "…in being drawn to Susan I was discovering the unified physical and spiritual goodness of a person who was herself most drawn to God." Victor and Susan were married on September 29, 1978 and would become parents to a son, Michael Lee, and a daughter, Emily Parker, respectively born in 1980 and 1984, and foster parents to nine other children.
Victor's path eventually brought him, Susan and their children to New York City to attend General Theological Seminary. He became assistant professor of religious studies at Mount Aloysius College in Cresson, Pennsylvania; and taught on the adjunct faculty of Marist College in Poughkeepsie, NY; at Mount St. Mary College in Newburgh, NY; and at Fordham University. In 2005 he received a fateful call from Andrew Mead, Rector of Saint Thomas Episcopal Church on Manhattan's Fifth Avenue, with an offer Victor couldn't refuse: to come to Saint Thomas as its first theologian-in-residence. But the die had already been cast with regard to Susan's fate: in the late spring of 1993, after she had suffered disorienting episodes while driving and while sleeping (forced breathing and biting her tongue so hard it was bloody when she awoke), an MRI revealed a brain tumor. Life would never be the same.
Chemo and radiation treatments destroyed Susan's brain tumor, but also damaged the brain's neurons, resulting in "white matter disease," or in effect, degenerative brain disease. On July 7, 2011, Susan experienced the first seizure she had suffered since 1993, before her brain tumor was diagnosed. It proved to be a harbinger of worse things to come, as she gradually fell victim to all the ravages of her illness, eventually losing the ability to walk and talk. She died on December 17, 2012.
In three sections titled "The Beginning," "The Middle" and "The End," Susan's story is told, by her husband, in a style that is warm, informed, humorous and anguished but also reasoned and rational, never maudlin. He seems to spare no details in describing her physical deterioration, what was required of him in order that her daily needs be attended to or his occasional anger at being thrust into the role of caregiver. He doesn't paint himself as a saint as he struggles to understand what his happening to the woman he loves. A very human tale, this.
Rev. Victor Lee Austin speaks of end times, December 3, 2014, at Wycliffe College at the University of Toronto.
The battle is joined on another front as well. Throughout the story Victor diverges from Susan's biography into reflections/meditations on pressing theological questions arising from his experience with an evil presence in the form of his wife's illness. The most vivid of these is a three-part exegesis on Evil in the Middle section that reads like the author's effort to understand why, in essence, bad things happen to good people. A man of the cloth he may be, but his direct line to God is not as clear a connection as lay people assume. For example, in an interlude following a section about the aftermath of Susan's surgery, Victor asks what many of us would have asked at such a moment: "Where were you, Lord, while this was happening? The Susan you had given me was slipping away and you didn't tell me. If I had known, I would have done different things. I would have cherished these days just as they were, rather than striving for better days."
Susan's end days were not pretty, and Victor does not shrink from chronicling the excruciating details of her final decline and death. In the end his faith carries him through his darkest hour, providing comfort even as the mystery of her passing absorbed him. "When I stood beside her still warm body in the hospital room with my friends gathered around, I knew at once that she was now in Jesus' hands and—it has become a mantra for me—he was, and still is, doing better things for her than I could ask or imagine. What are those things? By definition, as it were, they are things that I cannot imagine."
At the end Victor admits to being uncertain of his direction but "God vouchsafed me two unmistakable messages," namely that he would no longer be taking care the woman he had spent most of his life loving and to whom, for some twenty years, he provided comfort and care, and "she no longer needed me."
Since he wrote those words, some clarity has arrived in Victor's life. This past spring he announced he had signed a letter of agreement to become theologian-in-residence at the Episcopal Diocese of Dallas and the Church of the Incarnation in Dallas and will assume the title of Canon Theologian of that diocese. In late June, shortly before he left the apartment he had shared with Susan at the Saint Thomas Choir School building, Father Victor discussed some of the issues raised in Losing Susan and the process of mustering the strength to write the book at all, as well as some theological matters he contemplated in his digressions from the central narrative.
***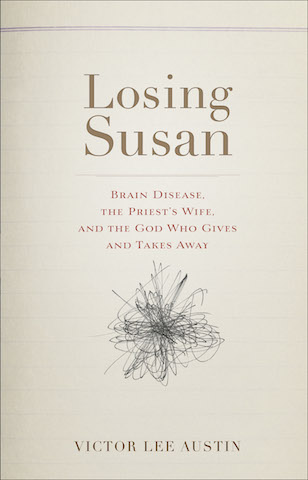 'There can be times when we just don't know where God is or what's going on..'
An Interview with Victor Lee Austin
As I read Losing Susan I felt it was straddling the line between C.S. Lewis's erudition and insight in A Grief Observed and Calvin Trillin's warmth and tenderness in Alice, and you do mention Lewis's book in your introductory note. When you were contemplating moving forward with the idea of Losing Susan, did either of these texts influence the way you approached such a tender and painful subject?
Not directly. Here's how it started. It took me a while after Susan died to figure out where to inter her ashes. Finally decided that Santa Fe [New Mexico] was the place; that's where we got married. It was just a bit over a year after she died that the ashes were finally put in place. On the flight back home from there it came to me how to do the book. I'd had an idea to do something that would be telling the story and have theological reflection intertwined—and intertwined all the way through. There's another book from my publisher, called Darkness Is My Only Companion, by a priest named Katherine Greene-McCreight. It's about her mental illness, then there's theological reflection. It's a fine book, and Katherine's a good Biblical scholar. But her book is one half personal story and then one-half theological reflection. I wanted to jump in and out.
The decision to tell this story: when did you decide you needed to do it, and was it an anguished process getting to the point where you knew you had to do it?
Well, my Rector, Father Andrew Mead, told me a few months after Susan died that I should write it. He said it would be my version of Lewis's A Grief Observed.
Had you even thought about it before Father Mead brought it up?
No, I hadn't. I owe the idea to him. I thought it was a crazy idea when he first said it. C.S. Lewis is this great guy, right? (laughs) But there is something of an analogy there, though, in that, as a priest I'm a sort of public figure, so people will ask, "How does a priest, a professional religious guy, deal with this kind of situation?" It wasn't really written so I could process this myself, but more so that I could hold it up there to others.
You describe Susan as "a woman whose promise was never fulfilled." Yet she was a loving wife and friend to you; a mother of two; a foster mother of nine; she created unique family rituals that you and your children continue to observe, and indeed your grandchildren may carry those forward beyond our time; she was clearly a gifted writer, enough to have caught the attention of William F. Buckley with a humanistic anti-abortion treatise. Was her promise unfulfilled because her life was cut so short, despite how full it was?
That's actually what I mean by that. Once the consequences of the treatment of the brain tumor set in she wasn't able to focus well enough to produce stories. There was a lot more, I think, that she could have done in writing children's stories and the like.
But you are very right to point out that in fact she did a whole lot. I think that all of us have a lot of unfulfilled potential and that there are things we could have done and we haven't done them. That's because life has an end for all of us; it just came earlier than average for Susan.
At what point did you recognize her story as having a universal aspect, as you note? Did this occur to you while she was alive and going through this journey? Were you seeing the universality of her experience even at that time, or was it on reflection after her passing?
I suppose it was when I was thinking about writing it. The question was, Why would anyone be interested? Then I thought, This is a story that is universal in that we all live with finitude in one way or another. Whether it's actually universal or just relatable…those reflections came afterwards.
How long did you spend writing the book?
About a year. And the year was the second year after she had died.
There's something else that is conspicuous by its absence from the book. There are no pictures—no pictures of Susan, no pictures of you and Susan, no pictures of the family. Why is that?
The publisher decided those things. It's not a large press.
It is odd to encounter such a thing.
I can see why you say that. We live in such a visual world, and it is a wordy book. Well, Susan was a wordy person; she loved the word. I guess, just making up an answer now, one might think that it's kind of fitting for her. I do mention in the book her Advent calendar, which to me is so precious and striking; but for technical reasons the publisher decided it wouldn't work for illustrations.
For readers coming to this interview without having read the book yet, what was the Advent calendar and what was special about her version of it?
In the normal advent calendar you would get at, say, the Metropolitan Museum, each day you open a window and there's something to hang on your tree, or a piece of chocolate, something like that. Susan made an Advent calendar that told the story of the Old Testament, and the telling of the story as it leads to Jesus. So Day 1 was Adam, and we'd hang on a piece of cloth the Adam picture that she made. She made 18 of these, deciding which ones to put on each day. In a certain sense they're obvious decisions but there could have been a lot more. Her illustrations were unique. Adam, for instance, has a little dog under his arm. They're flat, cut out from different colors of origami paper. The simple style of them combined with her understanding of the scriptures. These 18 end with Mary and then, for the last six days, there are larger pictures for the middle scene, a tableaux of Christmas.
One of the touching things about the Advent calendar story is that you have continued that tradition.
Yes, and anybody that comes over to visit me for dinner or something during December, I'll say, "Look at this Advent calendar!"
I know you've been asked this before, but wasn't it hard to write this story? You reveal your own feelings, not just about her but about what you were feeling as this disease progressed. You admit to being angry with her at times, and then feeling remorse about that. How did you approach it when you came to a moment when you had to decide how deep you would go into the relationship?
I didn't want to be unreal, I didn't want to be artificially pious. I certainly didn't want to cover over any shortcomings of mine, because I don't think that will help a caregiver. Falsehood is not going to help anybody in the long run. Of course I don't tell everything; that would make the book infinitely long! One has to be selective. I didn't want hurt others, so there might be things I first wrote that I then thought, "This might hurt somebody else," and I'd take it out. I decided through the rewriting of it not to mention the medical institutions I was still unhappy with. If you're in New York you might be able to figure out some of them. But the doctors and the like that were good to her I didn't mind naming.
But yes, the process was hard. On some days I would be in tears as I was writing it. Maybe just set it down for a while and then come back.
To be clear, it wasn't the brain tumor that took her life. It was the white matter disease. Is that the residue of the brain tumor?
No, the layman's version that I understand is that the white matter of the brain is the central highway. That's where the main neural pathways are: the white matter, something like that. And the radiation damages those neurons. Her radiation was done in 1993—hard to believe it's almost 24 years ago. At the time everything that was done was cutting edge; today the treatments would doubtless be more focused and less damaging. Anyway, I didn't even hear the phrase for a few years. Then one neurologist looked at the MRIs—Susan kept having MRIs periodically—and he said, "I think this is white matter disease." I've since heard other people say that someone they loved had white matter disease, and I'm afraid that sometimes they die more quickly than Susan did, depending on the extent of it and how it goes.
In the midst of explaining her surgery, the radiation and chemo treatments and the effect those had on her, you give us a short—four sentences—paragraph, which begins: "Where were you, Lord, while this was happening?" But then you immediately proceed to explain the human relationship to God as "a dynamic of giving and receiving, bestowal and counter-bestowal," and then explore the nature of God, love and how death is part of that love—"to give yourself is to die." Is this exegesis, concluding with a section titled "God Intends to Kill Us"–which will no doubt raise some eyebrows—your way of explaining to the reader where the Lord was while this was happening. Or did you have to explain it to yourself, and thus to the reader, at that point in the writing, in order to give the journey through Susan's illness a context, a rationale, if you will?
These are conclusions I've come to, at least tentative conclusions, that any act of love is a risking of death. Because in love we're giving ourselves away. Within the Trinity the Father gives himself to the Son, the Son gives himself to the Father, so there's bestowal and counter-bestowal. But played out in time and space in this messed-up world bestowal and counter-bestowal means death on the cross. So his act of love is death, or involves death.
But I ask, "Where were you, Lord, while this was happening?" It's not that I've come to an answer. There can be times when we just don't know where God is or what's going on. And we can ask him. There may not be an answer given.
You are such a human figure in this book, I'm aware that a lot of lay people out there who think all priests have some direct connection to God and don't have to ask these kind of questions and would never say something like "sometimes we don't know where God is." At your Saint Thomas reading, before I had seen the book, was the first time I heard you say "I've always thought God is strange." What do you mean by that? And is that a conclusion that you've always held or is it a feeling that arose during the course of Susan's illness?
It arose through the study of theology: to realize that God is not another thing in the layout of things. You'll never have an elephant, a giraffe, a human being and God sort of lined up, right? He doesn't fit. He's the reason you have a giraffe, an elephant and a human being. He's the reason we exist. So all the stuff that piety says–like "God is with me," "God is my companion," and things people say like, "Is God angry with me?"–all these things that involve some kind of relationship with God, I think they're true; I wouldn't want to deny that we have a relationship with our Creator, but it's different than having a relationship with someone else. I mean, there you are on the sofa, I'm here in the chair, we're in the same room, we can talk. It's never like that with God. Could be like that with Jesus, because there we have a human being. But apart from the specifics of the incarnation, in ordinary life when we're talking about God being with us, what do we mean? One of the really neat analogies is of an author and a character. That is, God is the author and we are characters. So when you're reading The Lord of the Rings, Frodo has a lot of relationships with other characters but never in the book does he have a relationship with J.R.R. Tolkien. And if he suddenly started talking to Tolkien in the book you'd say, "Well, this is weird. This can't be happening." So that's what I mean when I say "strange." It's weird when Christians say "I've got a relationship with God." But unlike, say, Frodo with Tolkien, it's real. So "Where were you, God, when this was happening" is that kind of question.
That same section of the book has three sections on evil, and why it not only exists but must exist if God is God. Is this your answer to the question of why bad things happen to good people?
Yes, I think we need to work through those. I call them Take 1, Take 2, Take 3 because they're different views. The first one is the one I held for a long time, before I started really studying theology. Then I realized it had some problems. The second one is one that I think works but it deals only with evil things like earthquakes and tumors, and not with moral evil. The third one is trying to get back to what's wrong with number one. There's a sense in which in a strange and understandable way that God is responsible because—at least if we follow Aquinas—He could have made a universe where we were all free, where we would never have chosen bad. Because, again, he's strange. His causality is not like someone else causing us to do something.
I don't think I say it exactly like this, but John Polkinghorne, a scientist-theologian, said that for the universe to be what it is, we need the interplay of chance and necessity; and in particular we need random mutations to occur, so that evolution can come about. Evolution plays on the existence of random mutations. So we wouldn't have an Earth at all if we didn't have that kind of world. Those random mutations are precisely what happens in a cancer. That's not why Susan had it instead of someone else, but why there's the possibility, the chance of cancer in the world, is in some way connected with the way the world is.
Within those random mutations there's a chance that some are more benign than others. People do recover—
Yes. But if there had never been any mutations at all, there wouldn't be human beings at all.
You expanded my vocabulary in this book with the phrase "prevenient grace."
isn't that great?
I love the phrase.
It runs in front of us!
Could explain the concept and how it has worked in your life with and without Susan?
Well, prevenient grace is the grace that comes in front. The point is that God is always there in front of us preparing things for us. There's never the case that I've done something that's totally on my own and then God came along afterwards. The grace was there preparing me to do it on my own. Because God is strange, it doesn't take away my free will for this to be the case. So people see God sort of ahead of us in many things. Now sometimes people can see this after the fact—"Ah, you were preparing me for this."
In the final section, The End, are many touching moments but the one that really caused me to tear up is your account of finding joy in attending to Susan's most personal and intimate needs as described in a section titled "Why I Witness to These Details." It's as startling a digression as you make in the "Where Was God" section earlier.
It's sort of the complement to it, isn't it?
Yes. When did that moment occur, when did you realize, really feel, the joy suffusing your spirit? Had it always been there but unacknowledged?
Yes. This is a general observation on a lot of these moments as I look back on them. Even when they were at the worst, there was something around me, something joyful around me, upholding me. And I could say that I'm just saying this as a matter of testimony, as it were; like someone who's been to a certain place, has come back and is giving a report. I've been to that place and that's what I found. It doesn't mean I felt tingly or superficially happy or was whistling a tune or something. It didn't take away the crap of the situation, but nonetheless I found that it's impossible to go down to a place that's beneath joy. About a year and a half after Susan died, Father Mead asked me to preach on that line Jesus says from the cross, "My God, my God, why hast thou forsaken me?" It's my reading of that that Jesus has gone down further than any of us go; and even in the bottom of everything, he's still able to ask God a question. Now the question says God has abandoned him but it's paradoxical because the question is addressed to God. It can't be addressed to God if God's not there. So he has the experience of abandonment but part of that experience—the surrounds of that experience—are that he's not abandoned. I didn't go that deep, by any means. What I want to say to anybody who goes down deep, who goes into these things, is that there is still joy that can surround us, that does surround us. Sometimes one can be aware of it.
Early on you cite The Song of Songs as being the second best book in the Bible, with the Book of Job being the best, in your estimation, and you devote five pages to explaining why. What's the short answer to the lay reader as to why Job's story is the best book in the Bible?
What I think is the key to the Book of Job is something I think is often overlooked. And that is at the very end of the book he's having a meal, where people are happy and enjoying each other's company. They're in communion; they're sharing together. These are his friends, and the text says that they are able to comfort him. So there's real human community and comfort is really given. At the beginning of the book that was impossible. When the afflictions came upon Job his friends came; they're called, often, his "comforters," but they weren't able to comfort him. They weren't able to say anything; they just sat with him. And then they start speaking but it's not really comfort. But in the end comfort is possible. That's what I think makes it the best book, because without explaining what cannot be explained, it's a sort of testimony that it's possible.
in The End section, details you share are so vivid and precise—and many times so painful—that I found myself wondering how you reconstructed the year-plus from July 7, 2011, when her downward spiral accelerated, to December 17, 2012, when she died. Did you keep a diary during that time, or make some notes, consult with others who had been around and in essence had taken the journey with you?
Well, both. I've had an electronic calendar for a long time and for Susan's own medical stuff I was always taking notes. For years I had had to be myself the memory of what she had had. So when something would happen I'd take notes, thinking I might be telling the neurologist this. What's going to be significant? What's not significant? How long it might have happened, things like that. So I could go back to my electronic calendars and find notes I had kept. In addition, on a number of incidents in the book, my daughter was able to supplement my memory and remind me of other things. I mention that in a place or two, but she was actually very helpful through the whole thing. Our son is married and is older, so since she was unmarried and younger she often came and stayed with Susan when I would go off for a conference or something, just be make sure she had someone with her and made sure she took the right pills. For the most part Susan didn't really need someone with her, except maybe for the medicine, but she loved it. Emily was good.
You mentioned omitting any mention of the medical institutions that had angered you. But the fact is you were in the health care system for a long time, well ahead of the Affordable Care Act and overlapping it. Looking back on that long journey, do you think the health care system failed Susan in any way?
It didn't fail her in any way that I would say was systemic. The things that failed her were things that would have failed her if we'd been in some other country with some other system. There were hospital doctors not paying attention; a complex system in which it's hard to get attention for somebody. Medicine is complex, and Susan had a very complex case, so she had a lot of people taking care of her. It was hard many times to have one person who would carry it through.
In the aftermath of Susan's passing and memorial service, you write, "It is still not clear to me what my direction is to be." But now you are leaving Saint Thomas, leaving New York City in fact and taking a position with a church in Dallas. Is this the direction? Are you still searching for an answer to your question?
Well, I don't know what God is going to do with me. My life is now going to a new place. I'm going to live in an apartment that Susan never lived in and will work with congregations that will never have known her, except possibly through reading this book. So it's going to be new in that way. I know that there are new possibilities there that were not there when I had to take care of Susan. So without that necessity, which was important for its time, I'm in a certain sense more open to going to new places. Right after she died I thought God might send me to India or something. I had a good friend in seminary that had grown up in India and here I'm at Saint Thomas and Saint Thomas himself was supposed to have gone to India…but that was probably a fanciful imagination on my part. Instead of India God has said "Dallas."
When you look back on the Saint Thomas years, what do you feel you gained from the experience of being, shall we say, a priest in New York?
It's a place where I was profoundly shaped. Saint Thomas changed me as a preacher; it brought me to love the King James Bible, which I never really understood—in fact, I never really read it. But here at Saint Thomas it's the Bible we read all the time. So I got used to reading it and came to love it and to understand it. So many opportunities to teach here. I taught more at Saint Thomas than ever before in my life. Saint Thomas has shaped me intellectually and spiritually, and emotionally it has encouraged me. This whole process with Susan is a kind of gift that Saint Thomas gave me. The parish "allowed" me to go through this with them and, in a sense, for them.
Victor Lee Austin's other books include: Priest in New York; A Priest's Journal; Christian Ethics: A Guide for the Perplexed; and Up with Authority: Why We Need Authority to Flourish ("…explores the higher and nobler functions of authority, and in doing so reveals its human importance as more than simply a provision for human inadequacies"), shortlisted in 2013 for the Michael Ramsey Prize for Theological Writing.