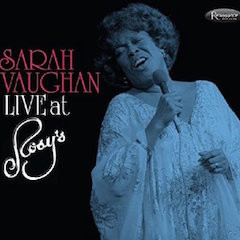 LIVE AT ROSY'S
Sarah Vaughan
Resonance Records
Who would guess that one of 2016's best new CDs is a previously unreleased live recording from May 31, 1978 featuring one of the 20th Century's greatest vocalists, who passed away in 1990? was recorded live in a legendary New Orleans night spot on May 31, 1978 and is only now seeing the light of day? Live at Rosy's, featuring Sarah Vaughan, is that recording, and it's a superb addition to this towering artist's daunting catalogue. To be completely accurate, a smattering of these performances have aired on NPR's Jazz Alive but the night's complete show, on two discs, is presented in its entirety here for the first time.
Rosy's itself was an amazing place. It took its name from its founder, Rosy Wilson, an heiress in love with jazz who spent big bucks in renovating a 19th Century brick warehouse in uptown New Orleans, close to the Mississippi River. Although jazz was indeed her passion, Rosy had the budget to book not only the likes of Ella Fitzgerald and Count Basie, but also Bob Dylan, The Who, Ray Charles, even the Eagles. Suffice it to say there were many memorable nights at Rosy's, and one of those came when Sarah Vaughan took the stage with a stellar combo comprised of Carl Schroeder on piano, Walter Booker on bass and a legend in his own right, Jimmy Cobb, on drums. A more savvy and empathetic trio The Divine One could hardly have found.
A mini-documentary about the making of Live at Rosy's with commentary by Zev Feldman, Carl Schroeder and Sarah Vaughan, among others.
You can tell something is up from the start. The excitement in the announcer's voice is mirrored by the crowd's (Rosy's had a capacity of 200) enthusiastic response to Sarah's appearance as Schroeder cuts loose with an ostinato riff with Cobb heightening the impact of the star's entrance with a series of military-style rolls. The musicians then up the energy quotient substantially with a sprint through "I'll Remember April" that removes any hint of melancholy, Sarah swings the lyric gloriously, her voice warm and husky as she leads the frantic rush forward and renders the song not a muted reflection on lost love but rather a triumphant flowering, like a butterfly emerging from a cocoon, with strength gathered from a broken heart now healed. Interestingly, she backtracks on the second tune, "I Fall In Love Too Easily," taking the Sammy Cahn-Jule Style pop classic not only at a reflective pace but also stretching out the lyric lines, swooping in and out of phrases, or rummaging around a sentiment, finding hidden wells of emotion and sounding for all the world like someone coming to grips with the truth of "I fall in love too terribly hard/for love to ever last."
East Of The Sun (And West Of The Moon)
'East of the Sun (And West of the Moon),' Sarah Vaughan, from Live at Rosy's. Walter Booker on bass.
'Time After Time,' Sarah Vaughan, from Live at Rosy's. Carl Schroeder on piano.
Those two songs serve as a template for what's to come, as Sarah delves into the yin and the yang of classic American jazz-pop, now celebrating the glory of love, now lamenting the heartache that comes with it. After a band into in which she illustrates why she was also nicknamed Sassy—when Schroeder suggests she introduce herself, she says in her soft speaking voice, "Oh, Carl, every night you do this, it's so corny. They know who I am. They do, they do. They're here. They didn't come to see you. That's why I told them who you are!" After a bit more banter she adds: "Just in case you don't know who I am, my name is Carmen McRae."—Booker eases in with a walking bass line, and Sarah deliberately offers "East of the Sun (And West of the Moon)," with only Booker backing her as she gently swings through the tune with woozy authority, scatting her way through the midsection as Booker shadows her as she makes of it a delightful evocation of love intrinsically tied to the natural world ("near to the sun in the day/near to the moon at night"). The song dates back to 1934 when it was written by a Princeton undergraduate, Brooks Bowman, for a production by the Princeton Triangle Club. It has a more telling history for Sarah, in that she first recorded it in a 1949 session for Columbia Records that was released on her 1955 album Sarah Vaughan in Hi-Fi but had already been revisited by the artist on her 1953 EP, Hot Jazz, with backing by Charlie Parker, Dizzy Gillespie and Max Roach, among others.
There's a sweet and lovely interpretation of another Styne-Cahn classic, "Time After Time," with the elegant backing of Schroeder's Bill Evans-like piano accompaniment and some virtuoso long, sustained vocal lines in the last third of the song; a joyous romp through DeSylva and Gershwin's "Somebody Loves Me," with Sarah sounding positively giddy at the prospect of new love; a rousing, scatting sprint through George and Ira Gershwin's "The Man I Love" energized by Cobb's drumming and Schroeder's exuberant piano (listen for what sounds like some clever interpolations of a familiar "Route 66" riff); a cool, gently swinging take on Michel Legrand's love song "Watch What Happens," from his score for The Umbrellas of Cherbourg and another revisitation by Sarah, Schroeder and Cobb, who recorded the tune with John Giannelli on bass in 1973; and a soaring, joyous take on "Like Someone In Love," from the pens of Johnny Burke and Jimmy Van Heusen.
'A-Tisket A-Tasket,' Sarah Vaughan, responding to an audience request, on Live at Rosy's
'The Man I Love,' Sarah Vaughan, from Live at Rosy's
Early on in the set, a patron requests "A-Ticket A-Tasket," a signature song but not for Sarah Vaughan. That was Ella Fitzgerald's all the way. In fact, when Sarah hears the request, her immediate reaction is "'A Tisket A Tasket.' Well I'll be damned." Pause. "Thinks I'm Lena Horne, huh?" She then directs the band to do the song, and in a girlish voice stumbles through it, mangling some lyrics here and there in playing it for laughs. Which turns out to be a perfect setup for the album's piece de resistance, "Send In the Clowns." Her first recorded version of the Stephen Sondheim masterpiece was the title track of her 1974 Mainstream album and immediately became, yes, a signature song; she would revisit it, far less successfully, in 1980 as the title track of an album recorded with the Count Basie Orchestra and released on the Pablo label. This night, with her small combo playing with bracing nuance, she rivals her 1973 reading. Starting off deliberately, she makes you feel the hollow interior of the song's protagonist as she muses about the life she has let pass her by; in the tricky middle section, she seems to gather strength in reflecting on a happier time when she was "sure of my lines," before reality intrudes again, and as the song heads for its denouement, she jumps up an octave and like that emits a chilling howl of spiritual dislocation. Wikipedia says "Send in the Clowns" has appeared on more than 900 records. I've heard very few of those, but of the major artists that have recorded it, none, not Sinatra, not Streisand (Sondheim even wrote an new verse for her version on The Broadway Album), does as much with the lyrics' subtext as Sarah Vaughan did in '73 and repeats here. Even Rosy herself asserts, in the liner booklet, that "her rendition of Stephen Sondheim's classic, 'Send in the Clowns,' is the greatest I've ever heard." It is a moment to savor, and not far behind it is her take on Rodgers and Hart's "My Funny Valentine," in which she sounds oddly detached at times and tortured at other moments when she deploys the heavy lower end of her voice to invest the narrative with a curious foreboding element.
'Send In the Clowns,' SarahVaughan, from Live at Rosy's
To sweeten the deal the package includes a fine liner booklet containing insightful critical essays by author James Gavin and author-music writer Will Friedwald; interviews with the band members; a warm reminiscence of Sarah and the night captured on the two discs by Rosy herself, as noted above; a Q&A with another celebrated jazz vocalist and Sarah contemporary, Helen Merrill; and an introductory project overview by producer Zev Feldman. The care taken to provide listeners with a sense of Sarah the person as well as Sarah the artist speaks is indicative of the recognition by Feldman and others involved in the project of how special this night turned out.
'My Funny Valentine,' Sarah Vaughan, from Live at Rosy's
Rosy's is long gone, although a club still occupies its site, named in honor of its previous owner as Rosy's Jazz Hall and Events Catering. Rosalie Wilson is completely out of the business. Sarah Vaughan left us way too early, dead at age 66 on April 3, 1990, a victim of lung cancer. Members of her Rosy's combo, one of the finest she ever fronted, which is saying something, remember her fondly and with insight in the liner booklet. In the end the music carries the day, as it should, and it abounds with life, glorious life. If Sarah sounds at ease, comfortable, lighthearted, maybe she was. Maybe she felt right at home. It's a winning argument.