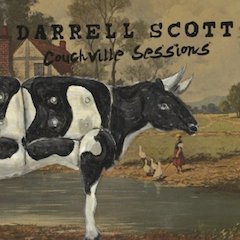 COUCHVILLE SESSIONS
Darrell Scott
Full Light Records/Thirty Tigers.
If there's such a thing as casual urgency, you can hear it in Darrell Scott's singing on Couchville Sessions, the new, time-traveling addition to the Kentucky-born, Nashville-based songwriter's catalog of superb recordings. It's also a quality you'll find in the playing of his "core–silver back–lost tribe band"—upright bassist Danny Thompson, guitarist Dan Dugmore, drummer/percussionist Kenny Malone and keyboardist Bill Payne.
What makes this unifying characteristic even more remarkable is that the initial recordings took place, without Payne, in Scott's living room in 2001 and 2002, and were revisited more than a decade later, in 2015, when Payne, best known as a longtime anchor of the beloved Little Feat, joined Scott in Couchville and helped construct this generously and meticulously overdubbed final product. In the 13 to 14 years from the earliest session to the last, the cast expanded to include Richard Bennett on guitar, Dirk Powell on accordion, banjo, and fiddle, Shad Cobb on fiddle, Mike McGooldrick on Uillean pipes and whistles, Peter Rowan and John Cowan on vocals, and several others.
From Couchville Sessions, Darrell Scott covers Johnny Cash's 'Big River'
The guest appearance that will resonate the longest for many listeners is a spoken-word cameo by Guy Clark. At the end of the opening track, "Down to the River," he hoarsely chuckles his way through an anecdote that he'd long intended to turn into a song about crows, a barbed-wire nest and baby rattlesnakes. Clark died on May 17, four days after the album's release.
An indefatigable collaborator—with Clark, Thompson, Malone, Tim O'Brien, and Robert Plant, among others—Scott has released a remarkable series of albums over the past two decades, beginning with Aloha from Nashville and including such milestones as A Crooked Ride, The Long Ride Home and Modern Hymns. The last is a compelling collection of cover versions that make explicit Scott's debt to and admiration for Clark, Paul Simon, Joni Mitchell, Kris Kristofferson, Gordon Lightfoot, Mickey Newbury, Leonard Cohen, Bob Dylan and others. On Couchville Sessions, Scott, who plays guitar, mandolin, bouzouki, vibes, and Weisenborn guitar, again turns in definitive versions of other people's songs: Johnny Cash's "Big River," an especially brooding rendition of Hank Williams's "Ramblin' Man," an amped-up, electric guitar-drenched romp through Peter Rowan's "Midnight Moonlight," and sensitive readings of Townes Van Zandt's "Loretta" and James Taylor's "Another Grey Morning."
From Couchville Sessions, a Darrell Scott original, 'Waiting For the Clothes to Get Clean'
But it's the eight originals, one co-written with O'Brien, that confirm Scott as perhaps the heir apparent to Guy Clark, as well as Van Zandt and Newbury. Such songs as "Love Is the Reason," "It's Time to Go Away," "Come Into this Room," and "Free (This Is the Love Song)" evidence the kind of craftsmanship—the seemingly effortless choices of exactly the right words and the pairing of them with emotionally appropriate melodies—that distinguishes the Texas-Nashville axis of outlaw country genius. Some songs touch on philosophical questions about love, life and death. Others exalt the magic power of music itself. And several involve characters you won't soon forget, like the cryptic couple in a laundromat at night "Waiting for the Clothes to Get Clean," or the cynical radio deejay of "Morning Man."
Woody Guthrie, Ramblin' Jack Elliott, Bob Dylan, Guy Clark and Townes Van Zandt get name-checked in "Down to the River," as Scott declares, "We won't give a damn if it's rock, folk, country, or blues." Couchville Sessions makes good on the promise with its unpredictable instrumental blends that range from light and airy to dense and dreamy, and might include some combination of fingerpicked or strummed acoustic instruments, rhapsodic piano, waltzing fiddles, weeping pedal steel, swirling organ, chiming vibraphone, or roaring psychedelic electric guitars over bass and drums. That this should all have been assembled from separate parts—and sound unified and especially good at high volume—is not surprising given Scott's predilections and personality.
From Couchville Sessions, Darrell Scott's 'Down to the River,' with a cameo by the late, great Guy Clark
"When I was 16, the family got a four-track reel-to-reel tape machine, and I would spend hours and hours and nights and nights out in the shed with that thing till the sun came up, overdubbing and singing harmony," he told me in an interview several years ago. For 2010's A Crooked Road, Scott played all the instruments, a la Paul McCartney or Stevie Wonder, and took two years to complete the double-CD album. The Couchville sessions span 14 years. "I'm patient with music," he told me. "I'm impatient with traffic and my weight or my kids sometimes when they're being aggravating. But I'm patient with music to a ridiculous degree."
Scott's patience, perfectionism, and passion come together in these oceanic swells of feeling and musicality, 14 performances that hold their own against the best that "rock, folk, country, or blues" have offered up this year.