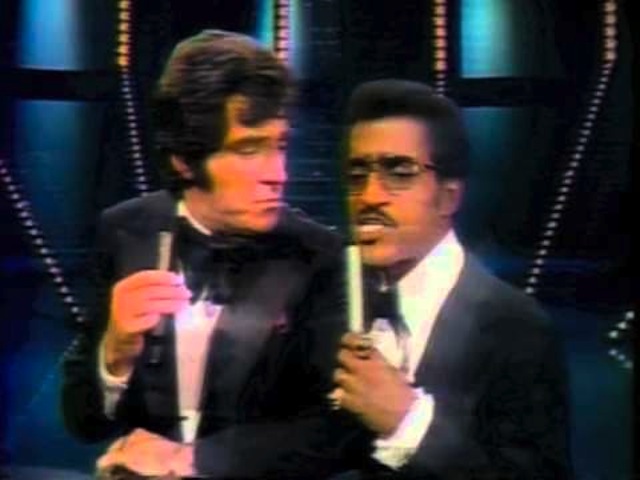 The ham was piled higher than the Empire State Building on November 15, 1972, when Chevrolet presented the ABC-TV special Burt Bacharach! And it was never more delicious. Joining host Bacharach and fellow guest Vikki Carr in the lineup were Anthony Newley and Sammy Davis Jr., both of whom did solo segments. But the highlight of the hour came when Newley and Sammy teamed up for a near-15-minute medley comprised entirely of songs written by Newley and his prolific partner Leslie Bricusse. The guys look great, sound even better and are like no one else (especially Newley, whose phrasing had evolved from mannered to singular and who never lost the theatrical grace of his bearing). This is a moment it is impossible to imagine any contemporary performers duplicating.
And those Newley-Bricusse songs! They enter singing "Once In a Lifetime" (from the Newley-Bricusse Broadway hit of 1961, Stop the World—I Want to Get Off, in which Newley created his legendary character Littlechap). Sammy eats up his turn–when he belts "This is my moment!" he's not kidding. The arc rises from there: "Look At That Face," "Where Would You Be Without Me," "On a Wonderful Day Like Today" and "The Joker" (all from the Absurdist Newley-Bricusse Broadway hit of 1965 centered on hope, oppression and class struggle, The Roar of the Greasepaint—The Smell of the Crowd); also from Stop the World—I Want to Get Off"–"Meilinki, Meilchick," "Typically English," "Gonna Build a Mountain" "Beautiful Land" (also recorded by Nina Simone on her 1965 album I Put a Spell On You); a delightful bit of show biz shtick on "The Candy Man" (from the 1971 film Willy Wonka & The Chocolate Factory, with Newley & Bricusse being honored with an Academy Award nomination for Best Original Score [Fiddler On the Roof took the honors]) when Newley ad libs a lyric change—"you can even eat the knishes"—to which Sammy responds, "Knishes?" Newley: "It's a Jewish dish—like your dear self!" In case anyone needs reminding, Sammy's 1972 cover version of the song, from his Sammy Davis Jr. Now album, topped the Billboard singles chart for three weeks in the summer of '72 (two weeks atop the Easy Listening chart as well) and was his only #1 hit. (Sammy also had a hit–#17—in 1961 with "What Kind of Fool Am I?")
The big finish begins with a beautiful, emotionally resonant reading of "What Kind of Fool Am I" (Stop the World—I Want to Get Off) that neatly segues into "Who Can I Turn To?" (The Roar of the Greasepaint—The Smell of the Crowd). Over a marching tempo, their voices rise on the final verse—For this is my moment/My destiny calls me/And tho' it may be just once in my lifetime/I'm gonna do great…."—then they stop, omitting "things" from the end of the verse. The two friends clasp hands, embrace and exit to well-deserved raucous applause. What a moment. Watch it, absorb it and try not to get chills. This is a lost world.
Here's Newley in character as Littlechap performing "Who Can I Turn To" on The Ed Sullivan Show in 1965.
And here's Sammy on The Andy Williams Show in 1962, performing "What Kind of Fool Am I?"