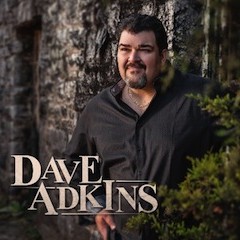 DAVE ADKINS
Dave Adkins
Mountain Heart Records
Three years ago, fronting Republik Steel, Dave Adkins made one of the most impressive debuts in recent bluegrass history with That's Just the Way I Roll, a hard-edged collection of working man's (as in coal miners) bluegrass made doubly potent by the grit and resolve in Adkins's muscular tenor voice and the original material's craftsmanship and soul (some of the songs were Adkins originals).
A year later Adkins was back as a solo artist with Nothing to Lose, which picked up where the previous album left off and again took the bluegrass world by storm. In 2015 his next public communiqué was as part of a duo with Edgar Loudermilk, and their self-titled album earned across-the-board raves.
That Dave Adkins can do no wrong is an impression cemented by his second solo album, a self-titled effort featuring backing by a quintet of bluegrass stalwarts (including fiddler Tim Crouch, whose long, mournful lines in "Russell Fork River" add chilling ambience to Adkins's harrowing tale of a young man wrongly convicted and executed—a song that seems a sequel to the remorseful story of the young bootlegger in "Pike County Jail," the big single off Nothing to Lose, now with a tragic denouement). As the harrowing "Russell Fork River" indicates, Adkins hasn't lost his social conscience but the whole of Dave Adkins is more centered on matters of the heart.
'Change Her Mind,' Dave Adkins, from Dave Adkins
Live at Station Inn, Dave Adkins and band tell of the trucker's daily grind in 'Turn and Burn.' The studio version of the song is on Dave Adkins.
These musings range from the strutting opener, "Change Her Mind," in which Adkins wistfully speculates on a slim hope of reconciliation as mandolinist Aaron Ramsey and banjo man Troy Way inject spiffy solos, to a tough, fiddle-fired toe-tapper, "You Don't Have to Go To Be Gone," frankly chronicling a relationship's gradual disintegration. Despite its brisk pace, "Emmaline"'s dark undercurrent, manifested in Curtis Bumgarner's foreboding banjo lines, is the backdrop for a tragic tale of a trucker consumed with guilt over his philandering ways to the point where he airmails his truck and himself into the blue while rounding a narrow mountain curve. "Wasting Away" is a barnburner in affect only (quite an affect, it is, thanks to Bumgarner's red-hot banjo sprinting through the entire song); in the narrative Adkins likens his lonesome state of being to that of the natural world dying out as winter comes on, leaving him to dream of the good old days with his significant other. You can hear a little Webb Pierce flare in the honky-tonk styled heartbreaker, "It's Not Over ('Til I Get Over You)," written in part by Tom T. Hall but given monumental ache by the despair and grit in Adkins's abject delivery augmented by Tim Crouch's crying fiddle shadowing the powerful vocal.
'Angel Song,' Dave Adkins from Dave Adkins
On a tender, reflective note, Adkins delivers an affecting tribute to a deceased paramour in the spare, philosophical ballad "Angel Song" in which the singer's understated delivery is gently supported by acoustic guitar and mandolin and affecting harmonies on the title sentiment. The trucker's daily grind has rarely been articulated as perceptively as Adkins does in the hard charging "Turn and Burn," a gritty treatise that incorporates into its 2:47 running time fiery solos courtesy banjo, mandolin and guitar. Witty and wise, the midtempo bluegrass gospel of "A Whole Lot More to Tell" finds Adkins recounting a chance meeting in the grocery line with a fellow who proceeds to enlighten him as to the Bible's deeper mysteries and meanings. Perhaps not everyone's cup of tea, this sort of witnessing, but Adkins's open attitude makes it clear he means to focus on the message, not the moment. That's true to the Adkins Doctrine as we've learned it from his other albums: the larger truth will out. All else is marginalia.