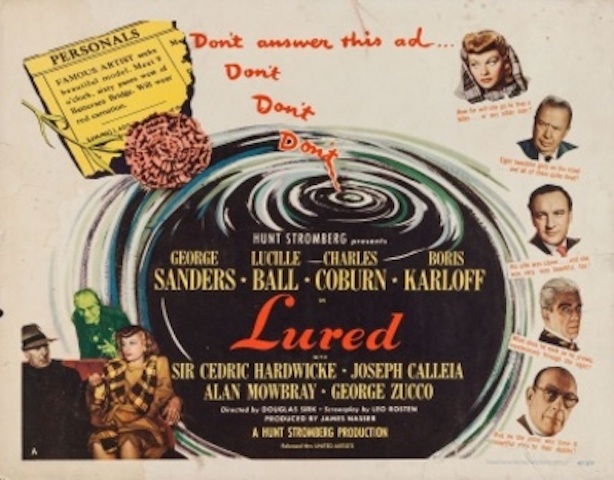 Director: Douglas Sirk
Producers: Henry S. Kesler, James Nasser, Hunt Stromberg
Writers:
Leo Rosten (screenplay)
Jacques Companéez (from a story by) (as Jacques Companeez) & Ernst Neubach (from a story by) (as Ernest Neuville) & Simon Gantillon (from a story by)
Music: Michel Michelet
Cinematography: William H. Daniels
Cast (Actor, Role)
George Sanders (as Robert Fleming)
Lucille Ball (as Sandra Carpenter)
Charles Coburn (as Inspector Harley Temple)
Boris Karloff (as Charles van Druten)
Cedric Hardwicke (as Julian Wilde)
Joseph Calleia (as Dr. Nicholas Moryani)
Alan Mowbray (as Lyle Maxwell)
George Zucco (as Officer H.R. Barrett)
Alan Napier (as Detective Gordon)
Tanis Chandler (as Lucy Barnard)
Annette Warren (as the singing voice of the blonde nightclub singer played by Ethelreda Leopold)
Cyril Delevanti (as the Medical Examiner)
Herbert Evans (as Fleming's butler)
Alex Frazer (as Prof. Harkness)
The title was changed to Personal Column midway through the original U.S. theatrical release because staff at the Production Code Administration thought the word "lured" sounded too much like "lurid." Director Douglas Sirk felt the title change confused potential audiences and led to the film's box-office failure.
Douglas Sirk, Lucille Ball & A Serial Killer Concoct an 'Eccentric Original'
By Jeff Stafford for Movie Morlocks (powered by TCM), posted on January 24, 2009
That unlikely combination is just part of the quirky appeal of Lured, a 1947 mystery released by United Artists that is also equal parts comedy and romance (It was a remake of the French film Pieges [1939] by Robert Siodmak and starred Erich von Stroheim, Marie Déa and Maurice Chevalier). Most biographers of Lucille Ball and director Douglas Sirk have routinely dismissed it as an insignificant film in their careers but I think part of the problem was that critics and audiences expected a genuine thriller and got something else entirely. It is an eccentric original and highly recommended for anyone who wants to see Lucille Ball in one of her most underrated and accomplished performances as a dance hall hostess hired by the police as an undercover female detective and "bait" for a London serial killer. For Sirk, Lured is a success d'estime but a box office flop (he attributes its poor showing to the studio changing the name from Lured to Personal Column in order to avoid any salacious association with the word 'lurid.' In the'50s Sisk would make the most effective use of bold,primary colors of any director this side of Vincent Minnelli in delivering over-the-top melodramas such as Written On the Wind and Imitation of Life. It took learned, insightful, passionate essays by critic Andrew Sarris and director Jean-Luc Godard praising Sirk's auteur brilliance to inspire a well-deserved critical re-evaluation of the director's oeuvre. In Lured, he shot in atmospheric black-and-white (on a back lot meant to depict London) and got wonderful performances from a stellar cast, one of the finest of any '40s movie.
Boris Karloff provides the comic relief in a send-up of his own horror film persona; he plays a mad-as-a-hatter dress designer who stages fashion shows for an imaginary Royal audience and his dog. In addition, George Sanders is a hobnobbing playboy entrepreneur with a reputation as a ladykiller, Sir Cedric Hardwicke is his anal-retentive business partner, Charles Coburn plays a Scotland Yard inspector with a mind like a steel trap, George Zucco (usually cast as a psychotic killer) plays against type as an intrepid, crossword puzzle-loving detective in disguise (he has a delightful scene with Lucy in trying to come up with a particular word for one puzzle), Alan Mowbray is a suspicious high society butler with a side business in the white slave trade and scarY Joseph Calleia is the malevolent brains behind the latter operation. For those into telling coincidences, Alan Napier plays Detective Gordon–an unremarkable fact on the surface, but pause for a moment to consider this: in Tim Burton's first Batman movie, Jack Napier becomes The Joker, and any Batman aficionado well knows the Caped Crusader's sometime foe-sometime ally Detective Gordon. Moreover, Alan Napier's most extensive acting credit is as Alfred the butler in the iconic 1960s Batman TV series, a role he reprised in the movie spinoff of that pop culture phenomenon.
What is most interesting about Sirk's direction of Lured is his decision to play up the red herrings in the script to such an absurd degree that they overshadow the initial premise, but it's actually part of the film's odd appeal. After an opening set-up of the anonymous murderer who preys on young, single women he contacts through personal columns and then sends poems by Baudelaire to Scotland Yard to announce his latest victim, the film shifts the focus to Lucille Ball as Sandra Carpenter, a working class showgirl stranded in London after her show from the states went bust. Sirk parades Ball through a series of misadventures before finally circling back to the serial killer in the final third of the film. But we don't care because we become more interested in the eccentric personalities on display and the mystery becomes secondary which was probably Sirk's intention. In fact, you'll probably be able to guess who the murderer is after his first introduction as a suspect.
Ball's performance here is somewhat reminiscent of her brassy, aspiring actress in Stage Door but displays a wider range of emotions, shifting easily from witty repartee with George Sanders to a worried but game acceptance of her undercover activities to panic when she is finally cornered, all of which is accomplished without the broad comic theatrics of the character she would play on I Love Lucy. Her scenes with George Sanders in particular have a spark to them and their chemistry together is so potent that it's a shame they weren't paired together as a team for other movies. Offscreen Ball and Sanders got along famously too, leading to rumors that they had an affair during Lured. "Although Lucille would deny it over the years," according to Kathleen Brady's biography, Lucille: The Life of Lucille Ball, "Zsa Zsa Gabor, who married Sanders a few years after her divorce from Conrad Hilton, was certain they had an affair. Zsa Zsa became suspicious when she picked up an extension phone at his home to hear Lucille demanding, "What are you doing with that Hilton woman? You know I know you. She's too young for you!"
Ball has rarely looked more glamorous than in Lured, due in large part to William Daniel's lighting and camerawork; this was the famous MGM cinematographer who lensed most of Greta Garbo's features (Anna Christie, Camille, Ninotchka, Anna Karenina, etc.) and many with Norma Shearer (A Free Soul, Marie Antoinette, Romeo and Juliet), Jean Harlow (Dinner at Eight, Personal Property), and Margaret Sullavan (The Shopworn Angel, The Shop Around the Corner, The Mortal Storm). The other major MGM connection behind the camera on Lured was producer Hunt Stromberg who began working at Metro-Goldwyn-Mayer in the silent era and helped shape the first four installments of The Thin Man series whose mixture of crime, comedy, romance and witty dialogue is duplicated in this 1947 effort. Stromberg left MGM in the early forties to pursue a career as an independent producer and some of these later efforts included such crime and noir thrillers as Lady of Burlesque (1943), Guest in the House (1944), The Strange Woman (1946) and Too Late for Tears (1949).
Despite Lured's mediocre performance at the box office, Sirk was obviously fond of the movie as evidenced by his comments in Sirk on Sirk: Conversations with Jon Halliday. The director recalled, "I got on well with Hunt Stromberg, the producer. He liked my direction, and he gave me a very free hand, on the cutting and everything. I also had a great art director on this picture–Remisoff, a Russian. He did an expert job. And this was the first time I worked with Bill [William] Daniels, a very good cameraman. The cast was right. I tried with Karloff to do something like I had done with [Edward Everett] Horton in Summer Storm, and Karloff was very pleased with the role. It was a bit the same with Charles Coburn, who was considered a comedy actor, and this gave the part of the detective an added quality, with his bonhomie. Lucille Ball, too, was known as a comedy actress. Here…I think I got some irony into the character, and some of the shifting identity…: all three of them seem to others to be something different from what they really are. In the casting I was operating on a two-layer principle. And it was my first attempt at a crime picture."
After Lured went into release, United Artists had second thoughts about the title and changed it to Personal Column. Sirk commented, "They changed the title during the run in America as well. Lured was a great title, it has a sound to it. The picture had been doing very well, and the change ruined the run. Personal Column sounds like Hedda Hopper [Hollywood gossip columnist] to me. Stromberg wanted something 'more dignified.'"
The film has since reverted to its original title and is currently distributed on DVD by Kino International. It is an acceptable print but could certainly use a Criterion quality remastering. Perhaps Criterion's Eclipse label could do a boxed set of the lesser known Sirk films during his early years in Hollywood– Summer Storm, Scandal in Paris, Lured and Sleep My Love.
Annette Warren: The Singing Voice of Lucy, Ava, Iris & 'Lured'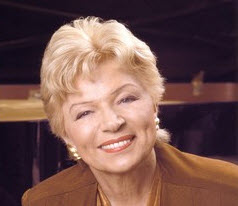 In the nightclub scene in Lured, the blonde nightclub singer is played by Etheldra Leopold but her singing voice is supplied by Annette Warren in what was her first film dubbing assignment. A year later, 1948, she dubbed Iris Adrian's singing voice in The Paleface, starring Bob Hope. She would then dub Lucy's singing voice in two movies also starring Bob Hope (1949's Sorrowful Jones and 1950's Fancy Pants), and in 1951, in what was were most ambitious and challenging dubbing assignment, she provided Ava Gardner's singing voice in the second film version of Jerome Kern's groundbreaking Show Boat, beating out popular and bigger-name competitors such as Dinah Shore and Lee Wiley.
A sampling of Annette Warren's voice dubbing for Lucille Ball (in Sorrowful Jones and Fancy Pants), Iris Adrian (in The Paleface) and Ava Gardner in Show Boat)
Annette Warren sings 'Empty Arms' in this clip from a 1949 burlesque revue, Midnight Frolics, filmed on a stage in downtown Los Angeles and directed by W. Merle Connell. Apparently hired to provide PG entertainment to keep the vice cops away, Ms. Warren was one of the musical acts booked between raunchy comics and titillating dance numbers featuring scantily clad females. The movie opened in San Francisco on May 4, 1949. Sunny Knight, 'The Golden Girl of the West,' was the billed star of the film.
In addition to her movie credits, Ms. Warren provided the voices of Frankie and of Nelly Bly in John Hubley's acclaimed 1951 cartoon "Rooty Toot Toot," an update of the Frankie & Johnny story featuring some of the most distinguished names in animation and popular music. Thurl Ravenscroft is the voice of Johnny. In 1994 "Rooty Toot Toot" was voted by fellow animators as #41 in a poll of the 50 Greatest Cartoons of all time. Two years prior Hubley had created the cartoon character Mr. Magoo, inspired by Hubley's uncle Harry Woodruff (with a smattering of W.C. Fields influence as well) and directed the first Magoo cartoon with Jim Backus lending the character his legendary voice in a script, "The Ragtime Bear," written by blacklisted Millard Kaufman. Magoo was originally conceived as Kaufman's and Hubley's (Hubley, an ex-Communist, had participated in the Disney animators strike in 1941), parody of Joe McCarthy-style reactionary rantings. Legend has it that Hubley turned over the Magoo series after the first episode to creative director Pete Burness in order to avoid more government scrutiny into his professional and personal affairs.
Hubley's refusal to name names before the House Committee on Un-American Activities forced him out of UPA in 1952, but the next year he founded Storyboard Studios and produced commercials (minus any credit for himself) but had to turn down many projects owing to his blacklist status. He was hired to direct the animated film version of Richard Adams's best selling Watership Down but died shortly after production began in 1977 following heart surgery; he was 62. Some of his work, notably the opening sequence, remains in the final edit, which was completed by producer Martin Rosen. In 1955 he married Faith Elliott, and thereafter collaborated with his spouse on virtually every film he made, with their final production being a November 1977 Doonesbury special (with creator Garry Trudeau) for NBC. The Hubleys' daughter Georgia is a drummer for Yo La Tengo; daughter Emily is a filmmaker and animator whose work includes segments for the film version of Hedwig and the Angry Inch. Two other children, Mark and Ray Hubley, voiced characters for the 1959 Academy Award winning Best Animated Short Film, Moonbird.
'Rooty Toot Toot' (1951)
"Rooty Toot Toot" (1951) stands as one of the high points of UPA's output and as one of the most highly praised seven-minute cartoons ever made. It is in no way a children's film; it deals with strictly adult characters and situations. Gerald McBoing Boing and The Ragtime Bear had performed very well at the box office, so Columbia approved a larger budget for UPA cartoons–they would now be budgeted at nearly $35,000 each. Meanwhile, John Hubley was anxious to make his own definitive statement at UPA (he directed the first Magoo cartoon but would soon hand the character over to others). Hubley took the new budget allowance and ran with it, pulling out all the stops to make a thoroughly modern and graphically exciting update on the old "Frankie and Johnny" story of jealousy and murder. "Rooty Toot Toot" would go over schedule and budget, but it earned nearly as much critical and press attention as Gerald McBoing Boing.
Hubley brought in a number of interesting collaborators on "Rooty Toot Toot." Dancer Olga Lunick was hired to choreograph the ballet-style dance moves. There was no rotoscoping involved; her moves were only referenced by the artists and animators, not slavishly traced. Paul Julian designed the backgrounds and utilized some non-typical techniques; in his essential history of UPA, When Magoo Flew: The Rise and Fall of Animation Studio UPA (Wesleyan, 2012), Adam Abraham quotes Julian on one of them: "'I found a kind of oddly corroded gelatin roller–an ordinary print roller that had been pitted and pocked in some way, chemically.' With this device, he produced distressed-looking backgrounds that suited the sordid tale." In addition, Hubley and the studio brought on jazz musician Phil Moore to write the score. Moore had done orchestrations for many MGM musicals in the 1940s, but uncredited–this would be a rare on-screen credit for the black musician. Legendary animator Grim Natwick also joined the crew. Natwick had been active since the silent era and had designed and animated Betty Boop for the Fleischer Studios. He went on to work on such key films as Snow White and the Seven Dwarfs (1937) and Gulliver's Travels (1939). For "Rooty Toot Toot" Natwick animated the memorable shots of Nellie Bly on the witness stand.
Credits: Producer-director–John Hubley; Story—John Hubley, Bill Scott; Color and Design—Paul Julian; Music—Phil Moore; Lyrics: Allen Alch; Choreography—Olga Lunick; Animation—Art Babbitt, Pat Mathews,Tom McDonald, Grim Natwick.
Cast: Thurl Ravenscroft (Jonathan Bailey, Honest John the Crook); Annette Warren (Frankie/Nelly Bly).