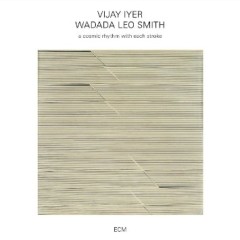 A COSMIC RHYTHM WITH EACH STROKE
Vijay Iyer/Wadada Leo Smith
ECM
Between 1939 and 1961, Metronome Magazine produced studio recordings of all-star bands of top instrumentalists culled from its readers' polls. If jazz critics today were commissioned to put together their own musical dream teams, Vijay Iyer and Wadada Leo Smith would no doubt be among the five-star recruits.
Pianist Iyer and trumpeter Smith have been hanging out together at or near the top of critics' polls for much of the past decade. Since 2009, when the Vijay Iyer Trio's Historicity won Jazz Album of the Year in the Village Voice Jazz Critics Poll (which has since morphed, under Francis Davis's guidance, into the NRR Jazz Critics Poll), individual recordings by Iyer (from Accelerando through Mutations to Break Stuff) and Smith (Spiritual Dimensions, Ten Freedom Summers, The Great Lakes Suite, Celestial Weather) have appeared regularly in year-end best-of lists.
In 2012, Iyer was named Jazz Artist of the Year, top Pianist, and Rising Star Composer in the 60th Annual DownBeat International Critics Poll; his trio was top Jazz Group and its Accelerando was top Jazz Album. He reprised the Jazz Artist and Jazz Group honors in 2015. In 2013, Smith was the DownBeat poll's Composer of the Year and a finalist for the Pulitzer Prize in music, and Iyer was the recipient of a MacArthur "genius" fellowship. Such accolades and awards no doubt bolster the artists' self-esteem and help cement their places in jazz history. But in the end, what are they good for? As Edwin Starr said about war: absolutely nothing. What matters is the music—and the fact that ECM Records founder, talent-scout-in-chief and sonic arbitrator Manfred Eicher brought these two giants from different generations—Smith is 74, Iyer 44—into a New York studio and recorded them making music for more than an hour.
'Passage,' Vijay Iyer and Wadada Leo Smith, from A Cosmic Rhythm with Each Stroke
Although they've played together in Smith's Golden Quartet and Ensemble, this is something completely different, a series of probing duets that create otherworldly sensations of time and space, in a zone that Rod Sterling described as "another dimension—a dimension of sound, a dimension of sight, a dimension of mind." The core of the album is the seven-part title suite, bookended by Iyer's opening composition, "Passage," and Smith's closing homage, "Marian Anderson." A Cosmic Rhythm with Each Stroke is dedicated to the Indian artist Nasreen Mohamedi (1937–1990), whose abstract line-based drawings have an austere, unconventional rhythmic quality that could almost serve as graphic musical scores, along the lines of those created by Anthony Braxton and Smith himself.
Over the course of 66 minutes, Iyer and Smith apply their own strokes, uncannily in tandem despite their individual character. Rather than evoking the dryness of pencil sketches, however, their improvisations move fluidly from cerebral rumination (the draftsman contemplating the empty page) to the emotionally untidy, passionately spontaneous expressiveness of Jackson Pollack's splatter paintings. From Smith's trumpet you will hear virtually every bleat, squeal, splash, color, cry, whisper and sweet nothing possible on the instrument. Similarly, Iyer recombines multiple historical strains of jazz-piano DNA—Thelonious Monk, Bill Evans, Jaki Byard, Cecil Taylor—in wholly unpredictable fashion, and he extends the evolution with the dreamy, meditation-bell timbres of electric piano and the cosmic-dust washes of computer-driven sound.
A Cosmic Rhythm with Each Stroke, Vijay Iyer and Wadada Leo Smith (Album EPK)
Smith is the elder here, having come to prominence in the '60s and '70s free-jazz scene of Chicago's AACM (Association for the Advancement of Creative Musicians), and his trumpet often has a piercing, in-your-face assertiveness. But Iyer, a collaborator with such younger creative-music forces as saxophonists Steve Coleman, Steve Lehman, and Rudresh Mahanthappa, as well as old guard avant-garde giants Roscoe Mitchell, Oliver Lake, and Reggie Workman, is no shrinking violet in the presence of Smith. On acoustic piano, Fender Rhodes, and electronics, he shifts from providing supportive harmonies and deferential counterpoints to forcing the issue with full-fisted, propulsive, and enveloping waves of keyboards.
The Twilight Zone reference above was intended to suggest that this music will take you on a trip to parts unknown—as much as the best Pink Floyd, Grateful Dead, Tangerine Dream, or electric Miles Davis, the last of which Smith used as a launching pad in his brilliant Yo Miles! recordings and concerts with fusion bands organized by guitarist Henry Kaiser. Still, A Cosmic Rhythm is as grounded in human feeling as the classic 1928 "Weather Bird" piano-trumpet duet by Earl Hines and Louis Armstrong. And it just might likewise stand the test of time.