Caught between two worlds and multiple identities, as wife and mother, as woman attracted to other women, singer-songwriter Julia Vorontsova spent seven years recording her sophomore release. From the simplicity and immediacy of her early work, Vorontsova has gone beyond her roots on Over (Privet Records, released January 22, 2016), gathering the scattered elements of her upbringing and weaving together complex visions and unexpected instruments, from ocarina to kalimba.
"Over is my vision of me. It took seven years to come together," Vorontsova says. "Seven is the age of reason. Like a child whom we nurtured raised and prepared, Over is finally ready to go and see the world."
Vorontsova spent her childhood in Russia, memories that underpin the fantastic, atmospheric "Gypsy," the celebratory "Maslenitsa" (the Russian answer to Mardi Gras), the bitter disorientation of "St. Pete." "I feel very Russian, but sometimes feel like I hopped in a time machine in the 19th century, only to leap out in the 21st," muses Vorontsova. "I feel between eras, between places, but that in-between place is a very creative place."
The title track from Over, by Julia Varontosa
As a young teenager, she moved from her native land to Warsaw, and then eventually to the US. The adjustment to both new homes proved challenging, and Vorontsova picked up the guitar as a way to cope. Eventually she returned to Russia, in hopes of studying at one of St. Petersburg's universities. Her parents discouraged her, and she spent time in the U.S., France, and back to the U.S. She got used to living in quiet exile: "Home is where your shoes are," she reflects.
She wrote songs, with global influences but with Russian lyrics, drawing on the storied world of Russian poetry and on her own idiosyncratic universe. "I have three characters inside me, and often I write songs from these characters' perspective," Vorontsova explains.
She was living in New York, part of a lively bohemian circle. After meeting Vorontsova at an art opening, Mark Dagley and Lauri Bortz of Abaton Books decided to release an album of her songs, the critically acclaimed From St. Petersburg with Love (Abaton Book Company, 2004). "From St. Petersburg with Love was an album of the moment–spontaneous, candid, instinctive and raw. Some of the tracks were recorded in one take. It was Mark and Lauri's portrait of me."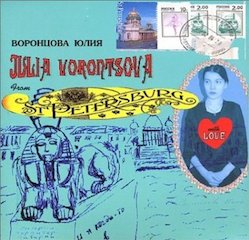 It did well and caught the ear of tastemakers like the BBC's late, great Charlie Gillett, who became a mentor to Vorontsova. She had a growing number of devoted fans, packed shows and shared the stage with the likes of Sharon Van Etten (who opened for Vorontsova back in the day). Success was dizzying and played a role in the long incubation period of Vorontsova's sophomore effort. "I was only 20. It was so sudden, felt so intense." She portrays this innocence in the complex "Gretchen," a shout-out to both Goethe and Gillett. "I knew I had more music, more songs in me, but I also knew I was more than a pretty girl who sang in a weird language."
It might have been new and unexpected for American listeners, but Vorontsova's work springs from a long line of singing poets, often called "bards" in Russian. Springing to life under the Soviets, the bard movement crystallized centuries of poetry and popular song, from Pushkin and Lermontov to Vysotsky, Galitch and Okudzhava to drama-rich Romany ballads (romansy). With voices that struck powerful personal notes and mounted complex critiques of society, with simple but driving guitar work, these poet-performers became the sounding board for concerns that were not addressed elsewhere in Soviet Russia. Vorontsova retunes this tradition, taking bard music into a new century.
'Knight Violin,' Julia Vorontsova with Josh Shapiro (bass) at 55 Degrees Wine, Super Acoustic Tuesdays, Los Angeles, 2015. From the album Over.
To paint her own portrait, to move her work forward, she joined forces with a variety of striking collaborators, including jazz trumpet master Ibrahim Maalouf and Czech guitarist David Dorůžka, which sparked new ideas yet never felt quite right. She kept writing songs, working on past compositions, as tunes and poems came steadily to Vorontsova, at the least convenient moments. But it wasn't easy, to figure out how to get back in the studio.
Part of Vorontsova's hesitation was artistic. Part was deeply personal: She wed and raised a family–and she struggled with her own identity. "I came out," she explains. "Most of the songs are about my first relationship with a woman. I moved to France after that and married a man. Once my pain went away, I thought, I would start loving my husband. But I got crushes on new women. I finally said, I'm not going to play this game anymore. I knew then it was okay to record those songs." "Those songs" are such as "Pick" and "Over," emotional chronicles of attraction, desire and separation.
'Prayer,' Julia Vorontsova with Josh Shapiro (bass) at 55 Degree Wine, Super Acoustic Tuesdays, Los Angeles, 2015. From the album Over.
'Gretchen,' from Over—in honor of both Goethe and the artist's late, great mentor, Charlie Gillett
Time passed. Vorontsova gained clarity (and a new home in California), she began to get a feel for her sonic direction as well. She listened to Lhasa and Leonard Cohen, to Souad Massi and Camille, and knew it was time to record her next album. Expanding on the strummed guitar and raw-edged vocals of the bards, Vorontsova adds cello, drum kit, bass, and other instrumentation to create driving statements and tender ballads. She resolved to produce it herself, and started working with Grammy-nominated film composer and producer Mac Quayle, who guided Vorontsova as she worked piece by piece on arrangements.
Quayle brought in the right musicians, including Ian Walker on bass (K.D. Lang, Neil Young) and Aaron Sterling (John Mayer, Regina Spektor) on drums. Vorontsova tapped indie rock/Latin guitarist Zeke Zema (who's played with Diego Garcia of Elefant) and her friend the cellist Marie-Sophie Leturq to expand the album's sonic palette beyond the voice-and-guitar starkness of her debut.
'Gypsy,' from Over, by Julia Vorontsova
After years of tracking and back-and-forth, "then started the most challenging process of detangling and understanding the sounds in my head, removing the hum of ideas, tailoring, verifying each note, adding and removing sounds to come as close as possible to what I hear and envision." One of the first songs Vorontsova completed, "Knight Violin," financed the rest of the project when BCBG Max Azria chose the track for a campaign featuring Russian gymnast Nastia Liukin.
"I wanted to destroy the image of the little girl, focus more on the music. Adding instrumentation I wanted to have this force, this beauty, the power of creation and destruction clashing and combining." The force is palpable, after ten years of struggle and contemplation, and it harnesses the power of Russian history and very personal longing.
Courtesy World Music Newswire, January 26, 2016