Anyone else remember 2014's Little Melba and Her Big Trombone, written by Katheryn Russell-Brown and illustrated by Frank Morrison? There's art from the book here at 7-Imp; it won a 2015 Coretta Scott King Illustrator Honor.
Well, today I have some more artwork from Frank, this time from Pat Zietlow Miller's The Quickest Kid in Clarksville (Chronicle Books, February 2016). That's right: Clarksville. As in, Clarksville, Tennessee, which is only about 70 miles from where I live. Tennessee represents. WOO!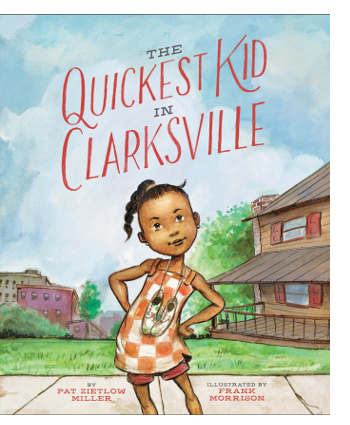 This is the story of Alta, the spirited girl of the book's title, who likes to pretend she's three-time Olympic gold medalist Wilma Rudolph, "the fastest woman in the world." (An Author's Note explains that Wilma herself grew up in Clarksville.) As Alta considers the Clarksville parade, coming up tomorrow, a new girl in town sashays her way up to Alta and her friends to show off her new shoes. This girl's name is Charmaine, and she struts in these "only-been-worn-by-her shoes with stripes down the sides and laces so white they glow." Charmaine even compares her shoes to Wilma's. (Gasp!) Alta is stunned; her own shoes are falling apart.
Alta gets defensive, pointing out that Wilma "wore a leg brace and flour-sack dresses before she got big." But eventually Charmaine challenges Alta to a race. Things don't go so well for Alta, who heads home with her feet dragging and her head hanging low. But the next day, when Alta sees Charmaine again, they decide to work as a team. And when they make it to the parade, lo and behold: It's Wilma Rudolph herself, who rides by and waves.
This is a story with spunk to spare, and it addresses class issues (something we see more and more in picture books, as of recently) with ease. For one, when Alta shows her grandmother her shoes, post-race with Charmaine, her grandmother reminds her: "Oh, baby girl. Those shoes have to last." The author manages to pay tribute to the triumphs of Rudolph via these girls and their determination. Morrison's watercolors, writes the Kirkus review, are "vibrant and evocative, capturing the thrill and pride in this African-American community for its famous daughter." I always enjoy seeing his artwork, and in these detailed and expressive paintings, he captures the characters with precision.
Here's one more illustration …
THE QUICKEST KID IN CLARKSVILLE. Copyright © 2016 by Pat Zietlow Miller. Illustrations copyright © 2016 by Frank Morrison. Illustrations used by permission of the publisher, Chronicle Books, San Francisco.
Julie Davidson (Jules) conducts interviews and features of authors and illustrators at her acclaimed blog, Seven Impossible Things Before Breakfast,, a children's literature blog primarily focused on illustration and picture books. The above blog was posted at 7-Imp on February 28, 2016.