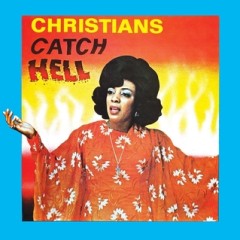 'when soul, begotten by gospel, taught its parent a thing or two'
CHRISTIANS CATCH HELL: GOSPEL ROOTS 1976-79
Various Artists
Honest Jon's Records
http://honestjons.com/shop/artist/Christians_Catch_Hell
Those of us who moved and grooved to 1970s hits by the likes of George McCrae and K.C. and the Sunshine Band on Henry Stone's TK label had no idea the veteran record man had a subsidiary reserved for the sacred.
He did. It was called Gospel Roots and, thanks to Honest Jon's Records, Christians Catch Hell is a top-quality retrospective of the label's life and times.
The title and front cover of the album reference the extended title track of the Reverend Edna Isaac and the Greene Sisters' album for Gospel Roots. If (as on this cut) most of the lyrics to the songs on the anthology can be classified as traditional church messages, the majority of the music is not traditional churchy piano and organ accompaniment but 1970s deep soul groove. In fact, if you were not listening carefully to the words of the Reverend T.L. Barrett's "After the Rain" and "Said It Long Time Ago," you'd think you were listening to aural highlights from TV's Soul Train.
'Said It Long Time Ago,' Rev. T.L. Barrett, from Christians Catch Hell
'Wake Up Everybody,' The O'Neal Twins, from Christians Catch Hell
Funky bass and heavy drumming support singers who deliver with such confidence that their vocal lines strut like the cartoon characters from Robert Crumb's "Keep on Truckin'" images. The collection is a fine example of the symbiosis between sacred and secular sounds, and the experimentation taking place, during the late 1970s as gospel artists from the Hawkins to the Winans to Andrae Crouch were modernizing the soundtrack, if not always the lyrical content, of gospel music.
It's not surprising, given the times and the path cut by the Staple Singers, that message music also made its mark on Gospel Roots. The Phillipians' "Never Say What You Want" aims a spotlight on the complex problem of poverty through a conversation between a rich and a poor woman. On "Tell Me," the Fantastic Family Aires shake their collective heads as they sing, "Tell me, what is this world coming to?" The O'Neal Twins, arguably the most popular gospel group of the day among those anthologized, sing "Wake Up Everybody" to encourage listeners to join them in making the world better.
'Blessed Be The Name of God,' The Brooklyn All Stars, from Christians Catch Hell
'Elijah Rock,' Camille Doughty, from Christians Catch Hell
Although deep soul treatments comprise the majority of cuts on Christians Catch Hell, there are some throwback sounds, too, courtesy of the Fabulous Luckett Brothers, the Bright Clouds, and the Brooklyn All Stars. But even here, the quartets were incrementally updating their style to keep one foot in traditional while remaining relevant to a contemporary church. It makes perfect sense, then, for former Psalmeneer Camille Doughty to explore her inner Lady Soul on the Mahalia staple, "Elijah Rock."
'Tell Me,' The Fantastic Family Aires, from Christians Catch Hell
'Christians Catch Hell,' Rev. Edna Isaac & The Greene Sisters, from Christians Catch Hell
The package design and forty pages of photos and insightful album notes, written by gospel collector and historian John Glassburner, are alone worth the retail price. Christians Catch Hell comes in CD and LP format, and two songs are coupled as a 45 rpm record with a photo cover. The mixing was done at Abbey Road; the entire project benefits from top-shelf treatment.
The Fantastic Family Aires of Chicago appear four times on the anthology, showcasing a range of color in their singing. I suspect, however, that we could have foregone two of their appearances to make room for Gospel Roots artists not included in the playlist, such as Pastor Mitty Collier, Roscoe Robinson, soul collector favorite King James Version, and gospel star Isaac Carree's mother Nancy.
Nevertheless, Christians Catch Hell provides a fascinating glimpse of a time when it was clear that soul, begotten by gospel, was teaching its parent a thing or two in return.
Picks: "Never Say What You Want," "Elijah Rock."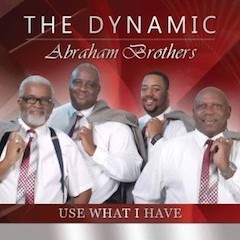 '…an archetypal gospel quartet album'
USE WHAT I HAVE
The Dynamic Abraham Brothers
New Ham Records
I don't know what else the Dynamic Abraham Brothers could possibly have done to make Use What I Have a more archetypal gospel quartet album.
First, the quintessential quartet drive tempo quickens the title track as well as the handclapping "God Wants to Move" and "No More Yokes." Whereas gospel quartet albums today have one, maybe two, drive songs, Use What I Have has three.
Second, the lyrics cover well-trodden quartet territory, which means country church wisdom that has been the foundation of gospel music for decades. The opening shout sets it up: "There's chaos all over the world." Indeed, there is plenty of chaos, and songs such as "Don't Let Satan Ride" and "Family Reunion" provide life lessons on how to overcome it. "The Touring Singers Prayer," recited at a live performance, asks the Lord for traveling mercies as it reminds us of the auto accidents that plaque quartets.
'Use What I Have,' The Dynamic Abraham Brothers, from Use What I Have
Promotional video for The Dynamic Abraham Brothers' new album, Use What I Have
Third, there's the nod to history. "Medley" offers a brief story of the group in word and song style—this is the second and third generation of a group whose founding fathers began recording in the days of 78 rpm shellac. To this I add "Touch Me Master," which rolls on an old-fashioned country beat that demonstrates the symbiosis between gospel and country music that does not get discussed nearly enough. Even Thomas A. Dorsey's early songs had the country beat.
If anything is out of place, it's the brief instrumental "Musical Prelude," which seems extraneous, neither traditional nor contemporary, nor thematically connected to any other track.
In a fairer gospel music world, quartets such as the Dynamic Abraham Brothers would get greater attention. They certainly deserve it. They put everything they have into Use What I Have.
Picks: "Use What I Have," "God Wants to Move"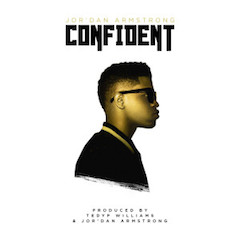 '…gives the listener plenty to contemplate'
CONFIDENT
Jor'Dan Armstrong
SeaQ/Good Guys
Almost immediately after the clock signaled the start of 2016, Jor'Dan Armstrong dropped his six-track EP, Confident, possibly making it the first gospel release of the new year.
The timing is not coincidental. Armstrong has deemed this EP somewhat of a new direction for him. Indeed, while the messaging is just as positive and encouraging as his other releases, such as last year's lively 25 Days of Summer, the music—-from the opening siren strains of "All I Know" to the concluding tones of the evangelistic "So For Real"—-is more introspective and atmospheric. Each song links to the next in a seamless, steady roll of ethereal nuance.
Armstrong and producer/comrade TedyP Williams (of the Good Guys) explained that they are intentionally creating secular-sounding music to reach those who are not saved. As such, the duo experiments with ethereal electronic beats, and sometimes with no beat at all. On "Thirsty," what sounds like a pan-African musical mélange drops out altogether at points during the selection, giving the sensation of free falling until the music starts again.
'Bless Up,' Jor'Dan Armstrong, from Confident
'So For Real,' Jor'Dan Armstrong, from Confident
Confident offers plenty of word play. "Bless Up" uses a common vernacular phrase to riff on the importance of salvation to overcome obstacles. During "Thirsty," Armstrong sings that if you drink of God's water, "you'll never have a thirst day." "Swish" employs basketball imagery to express Phillipians 4:13 ("I can do all things through Christ, who strengthens me"). If the Caravans sang "Hold to God's Unchanging Hands" in the late 1950s to encourage the faithful to stay strong despite life's distractions, Armstrong expresses the same message in 2016 on "Real," when he repeats the mantra, "Focus on the Real."
While Stronger remains Jor'Dan Armstrong's strongest release to date, Confident gives the listener plenty to contemplate.
Pick: "Bless Up."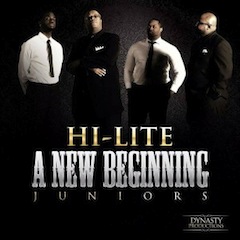 'Working within the contemporary gospel blend…'
A NEW BEGINNING
Hi-Lite Juniors
Dynasty Productions (2015)
https://www.facebook.com/Hilitejuniors/
Back in the day, "Junior" quartets were the next generation of singers to come up under the tutelage of a more senior group. Thus, the Seven Star Juniors were the younger proteges of the Seven Stars quartet, and so on.
So it is with the Hi-Lite Juniors of Paterson, New Jersey. The quartet was formed in the early 1970s by Milbert "Doc" McKenzie, uncle of the Juniors' lead singer, Eric McKenzie. Working within the contemporary-traditional blend of Doc's Gospel Hi-Lites, the Hi-Lite Juniors—-now grown men—-offer ten selections on their latest album, A New Beginning.
The quartet's meaty voices, shouting leads, and traditional lyric content, full of classic gospel couplets, are given the contemporary treatment of smooth synth, thumping bass guitar, and treble harmonies.
No new age theology here: no atmosphere, no rain, no vessels, no vertical praise. The majority of the songs on A New Beginning are laden with plaudits, plain and simple, for one blessing or another; a report of being cancer-free after a 2003 diagnosis comes up at least three times during the album. Other topics include a pulpit-ready warning to prepare for the end days ("Get It Together"). The group offers up the "HLJ Prayer," which hearkens back to when quartets had their own prayers and theme songs.
'Lord I Love You,' Hi-Juniors, from A New Beginning
The album's two strongest tracks are the drive-tempo hand clappers "Thank You" and "He'll Answer Prayer." The latter opens with a lyric riff on "Do You Know Him," and is more vamp than song. That is a good thing, as it usually is with drive-tempo quartet selections. An electric guitar fills the space between lines with blues curlicues made popular by 1960s quartets.
The Hi-Lite Juniors may hail from the Garden State, but their sound and style has more in common with their peers south of the Mason-Dixon Line.
Picks: "He'll Answer Prayer," "Thank You."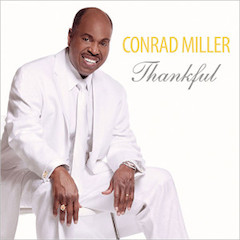 '…rides in a musically conventional lane'
THANKFUL
Conrad Miller
Millcon Music Ministries
If you don't know Conrad Miller from his relatively newfound career in the sacred music field, you may remember him as a member of 1970s smooth soul groups the Soulful Seven or the Softones.
Miller's throaty croon that helped to float the Softones' "Carla, My Love" onto the airwaves can be heard on his latest gospel album, Thankful.
Like his previous release, Keep Pressing, Thankful rides in a musically conventional lane. True to the album's title, most of the songs contain straightforward lyrics of praise and thanksgiving, which Miller renders with a mixture of inner soul and cultured vocal training. His conservative style, dapper demeanor, and overall professional polish are among the reasons Miller is called the "Distinguished Gentleman of Traditional Gospel Music."
'So Good,' Conrad Miller, from Thankful
'Caught Up,' Conrad Miller, from Thankful
All but one of the album's eleven selections come from the pens of three gospel veterans: Stellar Award-winning Minister Earl Bynum, John P. Kee alumnus Garland "Miche" Waller, and Martin Luther Wardlaw of the Wardlaw Brothers. Gospel executive Glyne Griffith, who helped write for Robert E. Person's 2015 Love Divine, contributes "Raise Up," a song that recommends praise and prayer as the best antidotes for life's problems.
Wardlaw's "Save One For Me" has the catchiest lyrics of the collection; to a gospel quartet feel, Miller asks the Most High, who bestows blessings with bounteousness, to "save one blessing for me." It sounds like a song the Williams Brothers would have done in the 1980s. "So Good," an old-fashioned call and response written by Waller and featuring his vocals and harmonizing by the quartet ReBorn, is the album's other traditional selection. Bynum's "Caught Up" captures well the contemporary choir sound, though no BGVs or musicians are explicitly identified in the album notes—thanked, but not credited.
To my ears, Conrad Miller's 2009 My Journey with its echoes of Philly-style soul suggests where the singer's distinct advantage lies, especially in a sacred field crowded with inspirational crooners.
Picks: "Save One for Me," "So Good."
'…a meditative, hypnotic collection of songs'
HEAVENSCAPE: A CALL TO WORSHIP
Kassandra McGhee
www.mypower4living.com (released 2015)
Ten tension-taming tracks comprise Evangelist Kassandra McGhee's latest album, Heavenscape: A Call to Worship. True to its title, and in keeping with McGhee's work as a praise and worship singer in and around Chicago, the songs in lyric and arrangement are all about vertical praise.
It is clear from the opening selection, "Prelude of Worship," that McGhee's songwriting and voice have matured greatly since her 2009 release, Completely. First off, she is a more confident soprano, showing greater strength and support, but not to the level of an evangelist's iron lungs. She's just not that kind of singer. Rather, McGhee sings sweetly, gracefully. She delivers a delicate song such as "Surrender to Destiny" in an almost lullaby voice. At other times, she approaches grace notes like Faith Hill or the late Whitney Houston, and glides on a melody like Yolanda Adams, but without the melisma.
'Prelude of Worship,' Kassandra McGhee, from Heavenscape: A Call to Worship
'Upraised,' Kassandra McGhee, from Heavenscape: A Call to Worship
While a spirit of meditative calm envelops the album, "Worship At Your Throne" possesses a pop sensibility that demonstrates an understanding of modern song construction. The best example of McGhee's craft is "Upraised," which has the kind of melody you swear you've heard before, yet all the songs on the project are McGhee's own and have not been covered by anyone else to date.
Heavenscape: A Call to Worship is Kassandra McGhee's best work yet: a meditative, hypnotic collection of songs that one might assume are part of a whole, given the title and the project's overall ambience, but they can certainly stand on their own.
Pick: "Upraised."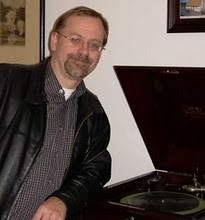 Bob Marovich is a gospel music historian, radio announcer and author. His "Gospel Memories" radio program of vintage black gospel music and artist interviews airs live first Sundays from 3 a.m. to 7:30 a.m. on Chicago's WLUW 88.7 FM, and streams live at the station's website. Snippets of recent broadcasts can be heard online at the Gospel Memories Radio Show. Bob is also the founder and editor of The Black Gospel Blog, now the Journal of Gospel Music, the source for the reviews published here. Bob launched JGM on the tenth anniversary of The Black Gospel Blog, which he founded July 28, 2004, as the first blog to cover African American gospel music. His first book, Shout Troubles Over: The Birth of Gospel Music in Chicago, is scheduled for publication in March 2015 by the University of Illinois Press as part of its Music in American Life Series. Bob lives in Chicago with his wife, author Laurel Delaney, and their two cats.