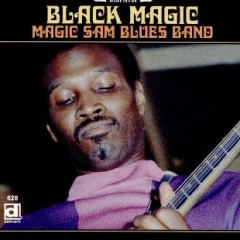 BLACK MAGIC
Magic Sam Blues Band
Delmark
When "Magic Sam" Maghett began recording Black Magic, he was feeling his oats as an artist, having turned heads in the Chicago blues scene with a spate of singles released on small local labels such as Cobra, Chief and Crash, and then serving notice of the enormity of his gift with 1967's Delmark debut, the towering West Side Soul. Sam himself had a high opinion of what he wrought with Black Magic, telling blues historian Jim O'Neal, "I think my album's the best I've heard. I'm not sayin' it because it's mine—it's got more of a soul selection and a feel than anything I've heard in a long time."
Blues fans have been arguing about the relative merits of West Side Soul versus Black Magic in a friendly way over the years, surely because both are outstanding albums that positioned Sam for greater things to come. The range of opinions is exemplified by Dan Forte, reviewing the Digipak edition of West Side Soul in the May 2011 issue of Vintage Guitar, and declaring Black Magic "not as transcendent as its classic predecessor"; on the other hand, Ron Weinstock, reviewing Black Magic in his January 9 In a Blue Mood blog, concludes his laudatory appraisal by hailing the reissue as "a most welcome new Deluxe Edition of Delmark's classic blues albums, of which it is one of the finest."
'What Have I Done Wrong,' Magic Sam Blues Band, from Black Magic
On balance, when it comes to the music, there's not much to criticize. Sam was a master at rewriting some of his songs into new forms. Indeed, a couple of his Cobra sides show up here with a fresh coat of paint. But in the end, what does it matter, given the Sam magic? Aiding his efforts is an ace band featuring Mighty Joe Young on guitar, Lafayette Leake on piano, Odie Payne, Jr. on drums, Mac Thompson on bass and Eddie Shaw on tenor sax. The percolating soul and sly, suggestive come-on of "I Just Want a Little Bit" and the soul stomp of "You Belong to Me" (check Leake's rollicking piano behind the pumping horns and Sam's high, urgent vocal setting up his stinging guitar solo) remain powerful touchstones of Sam's unique blues-soul hybrid. Elsewhere the seductive, sax-enriched (by the estimable Mr. Shaw) "Easy Baby," a sensual Willie Dixon-penned blues ballad (reprised from the Cobra years) keyed by Sam's tremulous vocal, foreshadows "Thrill is Gone"-era B.B. King. Sam's "What Have I Done Wrong" is a scintillating blend of stomp and groove supporting Sam's heartfelt cry of loneliness and befuddlement in the wake of his gal taking her leave of him. (The alternate take of "What Have I Done Wrong" included with this edition is a little busier on the guitar end; the comparative restraint of the final version better serves the impact of Sam's emotional vocal.) Two of Sam's foremost influences get his nod here, first in a spirited take on Freddie King's "San-Ho-Zay," with Sam's guitar and Shaw's sax shadowing each other the entire way; and at what was the end of the original release, a driving shuffle take on Otis Rush's "Keep On Loving Me, Baby," an occasion for another outstanding Sam vocal beautifully attuned to the textures of alternately pleading and loving lyrical sentiments.
Two from Black Magic: 'You Belong to Me' (written by Magic Sam) an 'Easy Baby' (written by Willie Dixon)
The 1968 release heralded a bright future denied Sam. A year after these sessions, the then-32-year-old artist died of a heart attack—a hard life ended abruptly, leaving a legacy burnished by time. Though his nickname arose from a mispronunciation of his surname, Sam did have a special magic about him. Much of it is on memorable display here.