ONLY A LOOK
Ronald L. Greer
Westbow Press (2015, 231 pages)
It seems odd, at least at first glance, that in the more than forty years since the death of Roberta Martin, one of the most important pioneers of modern gospel music, nobody has written a book about her.
Let me clarify: Irene V. Jackson's impressive dissertation had been for decades the only full-length treatment of Martin, but it is difficult to come by and not for sale. We'll Understand It Better By and By, edited by Dr. Bernice Johnson Reagon, dedicates an entire section to Martin, and is based on the 1981 Smithsonian Institution reunion of the Roberta Martin Singers. But the book is primarily about gospel songwriters, and includes equally substantive sections on Thomas A. Dorsey, Lucie A. Campbell, and Rev. W. Herbert Brewster.
What's not odd is that the first person to pen a book for sale that is only about Miss Martin is her number one living fan: Ron Greer of Bay City, Texas.
Only A Look was born of Greer's longtime friendship with the late Eugene Smith, the singer-narrator and manager of the Roberta Martin Singers. So close were the two that Smith gave Greer a wristwatch for his high school graduation. From 1976 until Smith's passing in 2009, Greer spent hours talking with the man and jotting down his reminiscences on scraps of paper. Greer opened up his file folder and emptied it into Only a Look.
Roberta Martin, 'He Knows How Much We Can Bear' (1969)
The Roberta Martin Singers with one of their signature songs, 'God Specializes.' Lead singer is Gloria Griffin, who wrote the song.
The volume is a number of things: historical timeline, chronology of the group's comings and goings, discography, song list by lead singer, data on Roberta Martin Singers personnel, vignettes and anecdotes supplied largely by Smith, Martin's funeral program, and a collection of facts about the group—the behind-the-scenes glimpses only people close to Martin would know. A number of the facts shed new light on commonly held conceptions about the Roberta Martin Singers.
Among the book's most important contributions are the candid photographs of Martin that her son, Leonard "Sonny" Austin, supplied to Greer. Here you will see Martin at her music studio, singing in church, with her group, in fellowship with Thomas A. Dorsey and Sallie Martin, cutting her wedding cake, hanging out with friends. Most of these photos have not been seen by the general public. Austin himself had not viewed the pictures in years, believing them lost in Hurricane Andrew, along with other Martin Singers memorabilia. Fortunately, his daughter discovered the box of memories in time for the publication of Only A Look.
What the photos suggest is that Roberta Martin, despite her fame and considerable fortune as a songwriter and publisher, saw herself as an everyday person. She was as comfortable in service before thousands as she was hanging out at the family's Michigan cabin with their dog, Lobo. Her million-dollar smile, which warmed even the hardened heart of Savoy's Herman Lubinsky, was genuine. In a day of McMansions and red carpets laid out for everyone, such humility is refreshing. I suspect Ron Greer's unpretentious and sympathetic narrative would suit the unpretentious and sympathetic Miss Martin.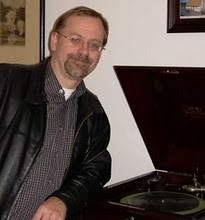 Bob Marovich is a gospel music historian, radio announcer and author. His "Gospel Memories" radio program of vintage black gospel music and artist interviews airs live first Sundays from 3 a.m. to 7:30 a.m. on Chicago's WLUW 88.7 FM, and streams live at the station's website. Snippets of recent broadcasts can be heard online at the Gospel Memories Radio Show. Bob is also the founder and editor of The Black Gospel Blog, now the Journal of Gospel Music, the source for the reviews published here. Bob launched JGM on the tenth anniversary of The Black Gospel Blog, which he founded July 28, 2004, as the first blog to cover African American gospel music. His first book, Shout Troubles Over: The Birth of Gospel Music in Chicago, is scheduled for publication in March 2015 by the University of Illinois Press as part of its Music in American Life Series. Bob lives in Chicago with his wife, author Laurel Delaney, and their two cats.