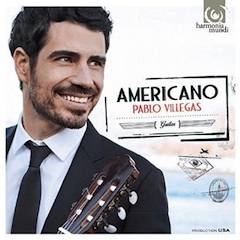 AMERICANO
Pablo Villegas
Harmonia Mundi (2015)
More than being the finest classical guitar album of 2015, Pablo Villegas's Americano ranks with the finest classical guitar albums of the nascent 21st century. Now based in New York City, the La Rioja, Spain, native reminds us that the title is Americano, not Americana—apropos of an artist who is a founding leader of Music Without Borders Legacy, a non-profit dedicated to bringing classical music and at-risk youths together in the U.S., Spain and Mexico (the program now reaches 15,000 children), Villegas's concept is to address music from all the Americas, not merely the North end. He's only being true to a fundamental truth about the tool of his trade: "The guitar is the instrument of the Americas," he has said. "It has been the instrument of the different musical expressions of each region and of each country. It's the instrument of the people."
To excerpts from Americano, Pablo Villegas explains the concept and purpose of his latest album
To that end Villegas demonstrates his impeccable technique and deeply emotional interpretive touch on works ranging from Venezuela to Mexico, from Paraguay to the Bayou, from Broadway to the rural South by respected composers such as Venezuela's Pedro Elías Gutiérrez (the lively Joropo "Alma Llanera" that opens the album on a dramatic note with its alternating, simultaneously played tempos and dramatic glissandos heightening the exuberance quotient); Heítor Villa-Lobos (two Preludes, #1 and #3, the first offering challenging, colorful dynamics and tonal shifts, the second a soothing, romantic ambiance with its impressionistic harmonies and thoughtful passages enhanced by a quote from J.S. Bach's e minor Fugue BWV 855 to add an intruiging touch of the Baroque to the proceedings); Luiz Bonfá's "Passeio No Rio" ("Walking in Rio"), a bright, evocative, dynamically rich musical emulation of strolling the city's streets from one of the founding father's of Samba-Canção and Bossa Nova; and Leonard Bernstein, represented by Villegas's utterly charming interpretation of a West Side Story triptych comprised of "I Feel Pretty," a haunting "Marie" and an electrifying "America"—an amalgam of Latin American rhythms, brassy jazz and Italian contabile, masterfully executed and brimming with joie de vivre.
13 Bernstein_ West Side Story – I Feel Pretty
From Americano, Pablo Villegas performs 'I Feel Pretty' from West Side Story
From Americano, Pablo Villegas goes bluegrass on Earl Scruggs's 'Dear Old Dixie'
Teaming with guitarist James Chirillo, Villegas closes with a riotous nod to bluegrass via three Earl Scruggs tunes–a driving "Dear Old Dixie"; sunny, easygoing uptempo blues via "Kansas City Kitty"; and the ragtime inflections fueling a breathless romp through the 1:01 of "Big Eared Mule." With the new Star Wars episode now burning up the box office, Villegas is right on time with "Rounds," a moody piece—Williams's first guitar composition—with a burst of energy at the midway point in six minutes-plus of stimulating exploration of textures and tones in striking chordal passages and sensitive single-string yearnings. A complete triumph, Americano is guitar and conceptual artistry of the first order—in short, a classic conceived to grow richer over time.