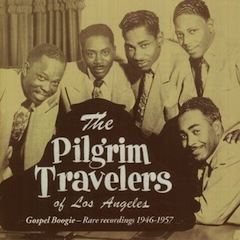 'the lesser-known gems'
GOSPEL BOOGIE–RARE RECORDINGS 1946-1957
Pilgrim Travelers
Gospel Friend (2015)
Per Notini of Gospel Friend has developed a handsome catalog of well-produced collections of classic gospel music that covers quartet, choir, and piano-led groups alike. His latest production, Gospel Boogie–Rare Recordings 1946-57, spotlights one of the top hit makers during gospel's golden age: the Pilgrim Travelers.
What is most striking about this 27-selection retrospective is how it aurally captures the California quartet as it altered its sound to keep up with the musical times, but without diluting one ounce of quality. A musical chameleon, the group started by emulating the a cappella rhythmic harmonies of the Golden Gate Quartet. When gospel quartets began adding musicians to compete with the piano and organ-based groups, the Pilgrim Travelers followed suit. The piano-led "Grow Closer" even captures something of the demonstrative ensemble sound of the Alex Bradford Singers.
Later, when vocal harmony groups were the rage, the Pilgrim Travelers incorporated the snappiness of doo-wop into their singing (listen to "Come Home," a modern group harmony-style reworking of "Softly and Tenderly"). As "The Travelers," the group joined Sam Cooke's tour and lent their stylish harmonies to a few secular sides, featuring the expansive vocals of future soul star Lou Rawls. But as Notini explains in the illustrated album notes, the group's career was interrupted in 1958 when members of the quartet were involved in a tragic car wreck that killed the driver and put Rawls in a coma. Cooke survived. Physically and emotionally exhausted, the group disbanded.
'Come Home' (a group harmony-style reworking of 'Softly and Tenderly'), the Pilgrim Travelers on Andex, as featured on Gospel Boogie–Rare Recordings 1946-1957
'He Will Never Let Go Your Hand,' the Pilgrim Travelers on Andex, as featured on Gospel Boogie–Rare Recordings 1946-1957
'Gospel Boogie,' The Pilgrim Travelers (1948), as featured on Gospel Boogie–Rare Recordings 1946-1957
But along the way, the Pilgrim Travelers cut many wonderful records, and more than a few are gathered on this collection. What makes the records splendid is the passion of the group's lead singers, notably Kylo Turner, J.W. Alexander and Rawls. Most beautiful among the selections are the a cappella, and near-a cappella, renditions of "Amazing Grace" (aka Roberta Martin's arrangement "God's Amazing Grace") and "Motherless Child." Sam Cooke can be heard harmonizing with the group on the latter, though Alexander's crystal clear falsetto makes the track most compelling. The 1953 recording of "Silent Night" is most suitable for the season.
Gospel Boogie doesn't aim to simply reprise work already anthologized by Specialty/Fantasy, but focuses more time on the group's lesser known sides for Big Town and Andex. Lesser sides in terms of distribution and sales, perhaps, but certainly not in quality. This collection makes it apparent why the Pilgrim Travelers were, for years, more popular than just about any professional quartet on the gospel highway, including the Soul Stirrers.
Picks: "Amazing Grace," "Come Home," "Motherless Child."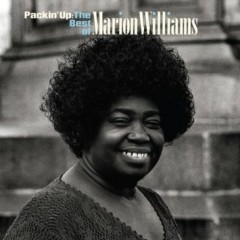 '…what couldn't she sing?'
PACKIN' UP: THE BEST OF MARION WILLIAMS
Marion Williams
Spirit Feel/Shanachie (2015)
If you thought you'd heard everything Marion Williams recorded, alone or with the Ward Singers or Stars of Faith, think again.
In addition to the thirteen hand-picked solo tracks by Williams's longtime friend and producer, Anthony Heilbut (The Gospel Sound, The Fan Who Knew Too Much), Packin' Up: The Best of Marion Williams features thirteen previously unreleased tracks. One of the unreleased gems showcases Williams with the Ward Singers at the 1957 Newport Folk Festival. The cuts span the years 1957 to 1993. Heilbut's extensive liner notes place Williams' career and each song on the CD in their proper historical and musicological context.
Listening to the CD is evidence enough why Rolling Stone called Williams "the greatest singer ever," and why she is the only gospel singer to receive the prestigious MacArthur Genius Grant. The sound that bursts forth from Williams is a kaleidoscope of musical hues. She could shift from an otherworldly growl to a line of earsplitting high soprano notes in the course of a few bars. Her trademark high "whoo" gave proto-rocker Little Richard his "note."
Some of the tracks on Packin' Up possess such intimacy—Williams with Herbert "Pee Wee" Pickard on piano and an overdubbed Rev. Jonathan DuBose Jr. on guitar, for example—-that they feel like well-produced field recordings. Others are more musically robust, such as "The New You've Got to Move," where Williams and her musicians not only relish the chance to tell the rich and powerful to move on out of the way, but appear to march merrily behind their corpses like a New Orleans second line.
'Packin' Up,' Marion Williams and the Stars of Faith, a scorching live version of the title track from the new retrospective, Packin' Up: The Best of Marion Williams
'The New You've Got to Move,' from Packin' Up: The Very Best of Marion Williams
'I've Got to Live the Life I Sing About in My Song,' from Packin' Up: The Very Best of Marion Williams
Many songs on the compilation come from the pens of premier gospel songwriters Thomas A. Dorsey, Rev. W. H. Brewster, Virginia Davis Marshall, and Roberta Martin. Williams's reading of Martin's arrangement of "Didn't It Rain" captures Mahalia's bounce. On a conversational version of Dorsey's "I've Got to Live the Life I Sing About," Williams tears with sanctimonious delight into the line: "I can't go to church and shout all day Sunday/Slip around and get drunk and raise hell all day Monday."
Packin' Up makes you wonder what couldn't Marion Williams sing? "Press On Like the Bible Said" and the 12-bar blues "Sometimes I Ring Up Heaven" demonstrate how potent she could have been as a blues belter, and how potent she was rendering gospel blues. She sings a long meter "Dr. Watts" "Angels With Their Gaze." She almost gets happy singing the rarely delivered verse of "Poor Pilgrim of Sorrow" ("When Death Shall Determine My Stay Here"). "The New Burying Ground" showcases Williams' fealty to the great quartet singers. And the 1957 tracks, "Swing Low Sweet Chariot" and "Packin' Up," the latter from the Newport Jazz Festival, will make you regret that there are not more live releases from that era.
Marion Williams may sing "Nobody Knows, Nobody Cares," but we care. We care immensely. Packin' Up is an enchanting retrospective of a monumental talent. The only regret is that she didn't live longer to enjoy her Genius Grant and produce more gospel music.
Picks: "The New You've Got to Move," "Promises to Keep.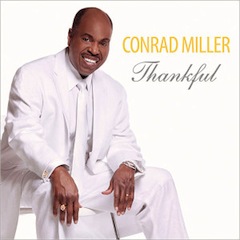 '…rides in a musically conventional lane'
THANKFUL
Conrad Miller
Millcon Music Ministries
If you don't know Conrad Miller from his relatively newfound career in the sacred music field, you may remember him as a member of 1970s smooth soul groups the Soulful Seven or the Softones. Miller's throaty croon that helped to float the Softones' "Carla, My Love" onto the airwaves can be heard on his latest gospel album, Thankful.
Like his previous release, Keep Pressing, Thankful rides in a musically conventional lane. True to the album's title, most of the songs contain straightforward lyrics of praise and thanksgiving, which Miller renders with a mixture of inner soul and cultured vocal training. His conservative style, dapper demeanor, and overall professional polish are among the reasons Miller is called the "Distinguished Gentleman of Traditional Gospel Music."
All but one of the album's eleven selections come from the pens of three gospel veterans: Stellar Award-winning Minister Earl Bynum, John P. Kee alumnus Garland "Miche" Waller, and Martin Luther Wardlaw of the Wardlaw Brothers. Gospel executive Glyne Griffith, who helped write for Robert E. Person's 2015 Love Divine, contributes "Raise Up," a song that recommends praise and prayer as the best antidotes for life's problems.
'Save One for Me,' Conrad Miller, from Thankful
Wardlaw's "Save One For Me" has the catchiest lyrics of the collection; to a gospel quartet feel, Miller asks the Most High, who bestows blessings with bounteousness, to "save one blessing for me." It sounds like a song the Williams Brothers would have done in the 1980s. "So Good," an old-fashioned call and response written by Waller and featuring his vocals and harmonizing by the quartet ReBorn, is the album's other traditional selection. Bynum's "Caught Up" captures well the contemporary choir sound, though no BGVs or musicians are explicitly identified in the album notes—thanked, but not credited.
To my ears, Conrad Miller's 2009 My Journey with its echoes of Philly-style soul suggests where the singer's distinct advantage lies, especially in a sacred field crowded with inspirational crooners.
Picks: "Save One for Me," "So Good."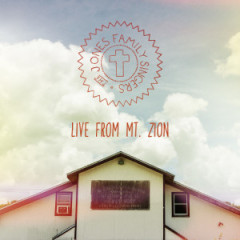 '…God gets all the glory…'
LIVE FROM MT. ZION
The Jones Family Singers
Arts + Labor (2015)
At one point in Live from Mt. Zion, Alexis Jones, the force of nature who is the Jones Family Singers' primary lead vocalist, says the group gets asked why they don't sing rock and roll.
Oh but we do, she explains. "I can rock in Jesus and I can rooolllll in the Holy Ghost!"
Spiritual rocking, rolling, swaying, and dancing are compulsory accompaniments to the Jones Family Singers' devotional repertory—from the group, the live audience, and the at-home listener. And for good reason. Live from Mt. Zion, a recording made at the family patriarch's church, Mt. Zion Pentecostal Holiness Church (Church of God in Christ) in Markham, Texas, captures the gospel group at its finest.
The Jones Family Singers of Bay City, Texas, is one of gospel music's great success stories. Headed by Bishop Fred A. Jones Sr., the group—five daughters, two sons, and three family friends—toiled locally and without much consequence for a long while before catching the attention of Texas journalist Michael Corcoran. Corcoran facilitated their performance at the legendary SXSW music festival, which inspired a documentary and companion CD, The Spirit Speaks. Next thing you know, the group is singing in New York's Lincoln Center and touring Russia.
Listening to Live from Mt. Zion explains the group's popularity. For fifty-plus minutes, the group charges through paeans to God's goodness that could make an avowed atheist join the altar call. The sisters sing, Bishop Jones prays and shouts like a veteran quartetter (he is), and the brothers and friends offer a rhythm section that sounds straight outta Muscle Shoals. Jesus is praised with a multitude of similes and references from popular culture, including "the best thing that has ever happened to me," and Campbell Soup: he's "mm mm good."
'You Woke Me Up This Morning,' The Jones Family Singers, from Live from Mt. Zion
'Try Jesus,' The Jones Family Singers, from Live from Mt. Zion
But it's Alexis Jones who steals the show. Her singing is likened in the album notes to Janis Joplin, which is actually quite accurate. Her effortless interaction with the audience and sassy vocals that run from recitative to gospel shout also evoke Tina Turner and Lisa Knowles. She evangelizes, too, even taking time to drop in humorous comments, such as on "He Took the Key," where she explains how superhuman Jesus's sacrifice was in dying for the world. "If it were me," she says, "I wouldn't have done it for y'all!"
With the exception of the opening and closing tracks, each song is an extended workout, with "You Woke Me Up This Morning" the up-tempo aisle walker you knew was coming from the start of the program. The song's 1960s "Shout" chord structure inspires Bishop Jones to want to "do the mashed potato."
The audience/congregation is only faintly heard in the background but is most assuredly there, responding to and encouraging the singers. By the conclusion, with Alexis having all but sung herself to exhaustion after the hypnotic "I Love You," what's left is doxology. Bishop Jones offers the closing message in a gentle but confident voice: "the Lord loves you." After nearly an hour of praises on high, this final blessing confirms that the circle of love remains unbroken.
Live From Mt. Zion is a stunning performance, offered humbly but with great conviction, and God gets all the glory.
Pick: "You Woke Me Up This Morning."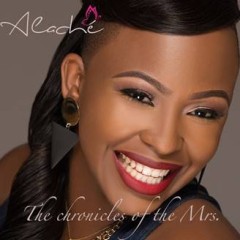 '…intimate personal reflection…'
THE CHRONICLES OF THE MRS. (EP)
Alache'
MADE, Inc./Elevate Entertainment/Syntax Distribution (2015)
The Nigerian-born Alache' has learned to be a lot more comfortable about life in the five years that have passed since her last music project. The petite singer-songwriter is now married, has two children and is ready to jump back into the music business.
She also wants to share her lessons with you on an EP of intimate personal reflection, titled The Chronicles of the Mrs.
The feathery-voiced Alache' traverses several stylistic platforms in the EP's limited running time, though if run through a Venn diagram, the songs would overlap in the urban neo-soul groove, something between today's female worship leaders and Kierra Sheard in her edgier Kiki days.
For example, on "Another Day," blasts of pulsing EDM punctuate Alache's gushes of gratitude for being able to "see another day." African rhythms shadow her prayerful pleading for spiritual healing on "Awaken Me." Other songs are mellower, as "Same Tears Different Pain" (a diplomatically stated play on an uncouth aphorism), which finds the artist in a running conversation with God about working through life's problems.
'Hiding Place,' Alache', from The Chronicles of The Mrs.
'Another Day,' Alache', from The Chronicles of The Mrs.
"Heaven's Angel," a duet with kindred worship spirit Ron Kenoly Jr., is the most personal rumination on the album. Alache' uses the song to come to terms with the pain of losing her sister-in-law. Kenoly rues that we "have to let you go" but is optimistic that we will "see you again I know." The song is available on the EP as both a radio single and acoustic selection.
The EP's high point is the melodic "Hiding Place," which likens God to a place of refuge, an embrace that is not so much an eternal covering as a respite and recharging station.
One complication of introducing new songs performed in a variety of styles is that it can be hard to figure out where the artist is most comfortable and where she fits commercially within the galaxy of established gospel stars. In Alache's case, she comes across best in emotional inspirational balladry. A CD of songs more in line with "Hiding Place" would be a natural progression from this comeback EP.
Pick: "Hiding Place."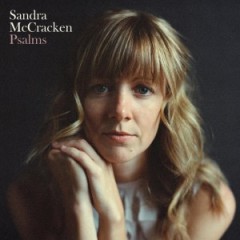 '…breathing new life into traditional church music…'
PSALMS
Sandra McCracken
www.sandramccracken.com (2015)
Nashville singer-songwriter Sandra McCracken–more accurately described as a singer-hymnist—-is breathing new life into traditional church music. On Psalms, her latest in a string of solo albums going back fifteen years, McCracken demonstrates that the austere melodies and lyrics that served as the soundtrack to Sunday mornings for centuries are just as relevant today.
On record, McCracken sounds like the artistic sister of the Eagle Rock Gospel Singers who holed up in her room listening to Laura Nyro when they were digging the drive tempo selections of the Canton Spirituals and Dixie Hummingbirds. McCracken's voice has power in the middle and fragility at the edges, both of which evoke the essential humanness of church music: we sing with strength to overcome our hurt and worry.
In toto, Psalms sounds like a late night jam session in the basement of a church, where McCracken and her band of musicians have uncovered dusty copies of the Sacred Harp, Southern Harmony, and other nineteenth century songbooks, and are putting their own touch to the selections. This is not surprising: McCracken is part of Indelible Grace, a mass movement that aims to reintroduce the power of the hymn to today's church.
'My Help, My God (Psalm 42),' Sandra McCracken, from Psalms
'My Soul Finds Rest (Psalm 62)," Sandra McCracken, from Psalms
Most of the songs on the album are based on specific psalms. Some selections float slowly, like a morning mist, while others, such as "Sweet Comfort" and "Flourishing," prod their foursquare lyrics with a steady folk rhythm.
The opening track, "All Ye Refugees," works as both religious and contemporary metaphor. It is hard not to think of what is happening in Syria, and the unendurable anti-immigrant rhetoric infesting the current political conversation, when hearing McCracken sing with open heart: "Welcome home, gather round, all ye refugees, come in." See, hymns are relevant today. Sandra McCracken's Psalms reawakens their sound and forgotten fury. To quote one famous common meter selection, the hymns used to "drive the doubt of dark away," and still do.
Picks: "Sweet Comfort," "Flourishing."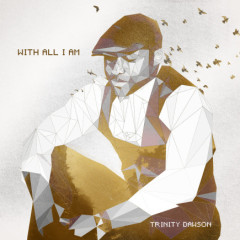 '…nothing if not honest…'
WITH ALL I AM
Trinity Dawson
New Day (2015)
Flexibility is a critical asset for a running back.
It certainly helped Tulsa, Oklahoma's Trinity Dawson. When he was a running back for the University of Toledo, flexibility helped him to enter the school record book for rushing yards.
Dawson's beguiling tenor voice is just as flexible. It is, in fact, the ideal vehicle for the easy, ambient religious music that he has embraced and showcases on his debut album, With All I Am.
Dawson's sound falls somewhere between Jonathan McReynolds and John Legend, the latter an acknowledged influence on the college football star turned singer-songwriter. The musical mark of other inspirations, such as Israel Houghton, Hillsong United and Micah Stampley, can also be detected in the easy, flowing disposition of the album's songs and arrangements. Working for the most part without background vocalists—-the harmonies are Dawson's voice multi-tracked, equally compelling singer Aaron Sledge's voice multi-tracked, the two together, and so forth—-the album's overall feel is one of austerity. "You're All I Need" even has a symphonic flow.
'Not That Easy,' Trinity Dawson, from Thankful
The a cappella title track is Dawson's opening prayer over the proceedings. He gives everything he has unto the Lord, then launches into "I Win," an EDM-drenched affirmation to leave the past behind and move forward. Like "With All I Am" and "I Win," songs on the album elide, giving the overall tone that of a personal, intimate journey toward a tighter relationship with Jesus.
Still, one can't help but feel an aching loneliness hovering over the songs, even when they articulate messages of praise and inner strength. For example, "I'll Wait" is a promise to stay faithful to God's word in the midst of life's trials. The single, "Not That Easy," is another commitment to staying the course.
Inner strength or no, there is vulnerability in the way Dawson sings these and other songs on the album. Perhaps the constant tug-of-war between courage and helplessness, something we all contend with, if we're being honest, is exactly what endears listeners to With All I Am. The album is nothing if not honest.
Pick: "Not That Easy"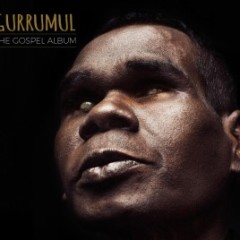 '…ethereal and remarkably soothing…'
THE GOSPEL ALBUM
Gurrumul
Skinnyfish Music (2015)
Gurrumul's The Gospel Album is historic for the Journal of Gospel Music: the site's first review of sacred music sung by an Australian indigenous artist.
That artist is Geoffrey Gurrumul Yunupingu, a blind singer and musician whose artistic underpinning comes from the traditional music of the Gumatj clan and the hymns of the Methodist church on Elcho Island, off the coast of Arnhem Land, Northern Territory. The indigenous Gumatj made the music of Christian missionaries their own, and Gurrumul, a former member of the popular Australian indigenous rock group Yothu Yindi, now interprets them for a world audience.
Explains Gurrumul's collaborator, Michael Hohnen: "We entered the studios not knowing what would come out, but we did know that inside Gurrumul's mind and memory was a body of work that had not been revealed before to mainstream audiences."
Gurrumul's songs and singing on The Gospel Album (his third studio release) are quite unlike anything you have ever heard. The best way for me to describe it is that it bears resemblance to the lullaby ambience of slowcore artist Low or the melodic, meditative mantras of France's Taize religious community. Gurrumul's lonesome vocals, sung in his native language and to simple melodies in major keys, also sound like Native American music or the work of the late Hawaiian singer Israel Kamakawiwo'ole (best known for his ukulele-led version of "Over the Rainbow").
The instrumentation is as minimalistic as the singing, with mostly stringed instruments like guitar and violin accompanying the vocals, though "Garray Jesu (My Lord)" moves along to an easy rhythm section.
Gurrumul, 'Nhaku Limurr,' a live performance of a song from The Gospel Album
Gurrumul with Paul Kelly, 'Amazing Grace,' from The Gospel Album
The Gospel Album is lovely and intriguing, an aural glimpse of the ancient community of Yolngu and of an artist whose popularity down under has captured the attention of artists from Elton John to Sting to Quincy Jones. Ethereal and remarkably soothing.
Picks: "Nhaku Limurr."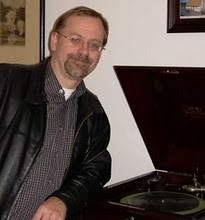 Bob Marovich is a gospel music historian, radio announcer and author. His "Gospel Memories" radio program of vintage black gospel music and artist interviews airs live first Sundays from 3 a.m. to 7:30 a.m. on Chicago's WLUW 88.7 FM, and streams live at the station's website. Snippets of recent broadcasts can be heard online at the Gospel Memories Radio Show. Bob is also the founder and editor of The Black Gospel Blog, now the Journal of Gospel Music, the source for the reviews published here. Bob launched JGM on the tenth anniversary of The Black Gospel Blog, which he founded July 28, 2004, as the first blog to cover African American gospel music. His first book, Shout Troubles Over: The Birth of Gospel Music in Chicago, is scheduled for publication in March 2015 by the University of Illinois Press as part of its Music in American Life Series. Bob lives in Chicago with his wife, author Laurel Delaney, and their two cats.